From Our President. Questions that Illuminate and Expand Learning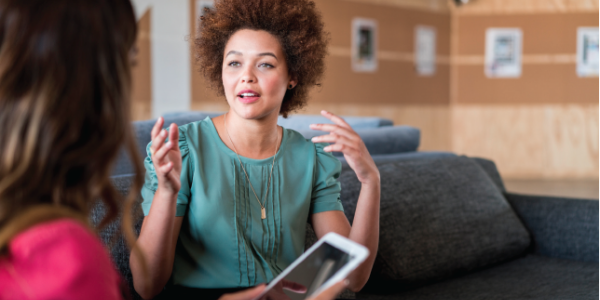 You are here
Tammy L. Mann
Born at the tail end of the baby boomer generation, I was quite young when the country was at the height of its struggles with issues of civil and human rights for Blacks and women. I cannot readily recount what I thought  about all that was happening during those very turbulent, important times, but I do remember the fear and anxiety I felt each time my family would travel from Michigan to Louisiana to reconnect with grandparents and other relatives in the South. While I may have lacked a sophisticated understanding of the issues, I was very much affected by these events. These experiences came to mind as I read a Washington Post Magazine article titled "The World According to Washington's Third-Graders" (published October 1, 2017), which focused on the myriad issues facing society today.
The article's author, Britt Peterson, investigated how young children were processing "adult" issues: the 2016 presidential election, inequality and privilege, race, immigration, climate change, and more. Many of the children's thoughts were provocative, illustrating a range of insights worth sharing. For example, on racism, one student said, "When I was in first grade, I only had friends that were black and brown. They treated me differently because I was their only white friend that had white skin, so when we were playing tag or cops and robbers and stuff like that, they said I had to be the cop or tagger for all the time because I was the only white person, and they got to have fun and run away from me." About the 2016 election, a third-grader noted, "I think that we don't need a president, I think we should be free."
On immigration, another observed, "Sending immigrants away—that doesn't help anything. They do most of our agricultural jobs and jobs we don't want to do, so when you send away that, you think that it's a good thing, but when you actually do it you're like, uh-oh, mistake." And finally, on climate change, a child commented,  "Well, this concerns me because I've been hearing stuff about the ice caps melting, and I watched this video and basically they said ... the North Pole could possibly be on top of the entire North American continent." Reflecting on their responses, I found myself wanting to ask follow-up questions to understand the children's sources of knowledge that shaped their understandings. I wondered if their teachers, and perhaps their parents, were also curious about the children's developing ideas.
My thoughts on the article reminded me that we have countless opportunities to use questions to challenge children to engage with content in ways that foster the critical thinking skills necessary for navigating both simple and complex issues. Janis Strasser and Lisa Mufson Bresson, in their recent NAEYC book, Big Questions for Young Minds: Extending Children's Thinking (2017), demonstrate that young children are capable of taking on big questions and that our learning environments are the ideal venues for posing open-ended questions that promote such skills. The framework these authors used—Bloom's taxonomy—is a familiar one, although they referenced recent scholarship that expands on this seminal work (Lorin Anderson and David Krathwohl's A Taxonomy for Learning, Teaching, and Assessing: A Revision of Bloom's Taxonomy of Educational Objectives [2000]). Big Questions for Young Minds provides examples across learning experiences about how to help children remember, understand, apply, analyze, evaluate, and create new knowledge and ideas.
Of course, asking great questions is only half of what is necessary to promote these skills. Our ability to listen, observe, and engage at the right time is also essential if we are to effectively scaffold and extend learning. Sometimes it can be difficult to maintain this stance in our work with children. Pressures to implement learning objectives and balance curricular goals can make these moments hard to see in our day-to-day actions with children. It is easy to focus on how teachers interact with children and to forget that teachers operate in work environments that may support or undermine their attempts to offer a well-rounded, engaging education. To what extent are questions part of the coaching process and supervisory experiences? How often do we use questions to help us clarify assumptions and gain deeper understandings as we teach? As we strive to create high-quality learning environments for children in our care, may we find fresh, new ways to connect with the value of asking great questions in our work with children and adults.
Read an excerpt about challenging questions from Big Questions for Young Minds: Extending Children's Thinking.
Tammy L. Mann
Tammy L. Mann is president of NAEYC's Governing Board, as well as president and CEO of The Campagna Center. Previously, Dr. Mann held senior executive positions at the Frederick D. Patterson Research Institute at UNCF and ZERO TO THREE. She has worked in the nonprofit sector in agencies devoted to improving outcomes for young children and their families for over 20 years.