The Reading Chair: March 2018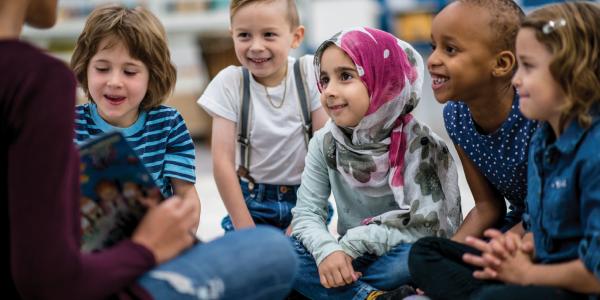 You are here
Isabel Baker, Miriam Baker Schiffer
 

New children's books too good to miss and one forever favorite!

Bedtime 1 2 3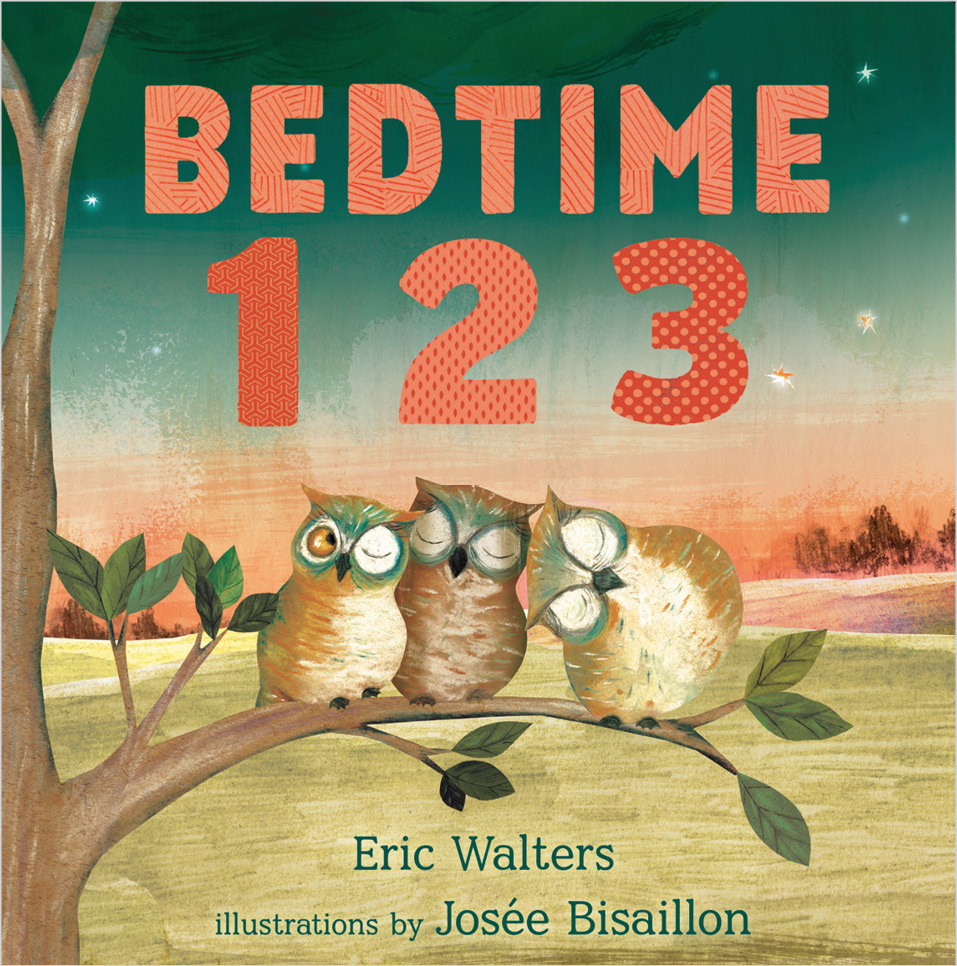 By Eric Walters. Illus. by Josée Bisaillon. 2017. Victoria, British Columbia: Orca Book Publishers. 26 pp. Ages birth to 3.
The moon is rising, the stars are coming out, and it's time for the baby animals to settle down to sleep. Each spread in this tender book features a different snoozing brood, teaches the name for babies in that species, offers an interesting verb describing how they sleep, and tells readers where they sleep, too. Count along from one to ten. ("Nine bunnies huddle tight in their burrow. Ten ducklings tuck beneath a warm wing.") These soothing illustrations could lull even the most excitable toddler to sleep. The book closes with a picture of a child dreaming peacefully in bed with a mobile of animals hanging overhead.
---
Shake a Leg, Egg!

By Kurt Cyrus. 2017. New York: Beach Lane Books. 32 pp. Ages 3 to 6.
When a baby is expected to arrive any day, it can seem like a dramatic waiting game. That's how this family of geese feels as they wait for the last chick in the nest to pop out of its shell. The book's poetic language and rich vocabulary remind readers of the importance of patience as they, too, sit at the edge of their seats. Exquisite artwork zooms in, capturing the up-close eagerness of the family, and also zooms out, showing us the natural world into which the chick will be welcomed, with buds budding, spring life brimming, and other eggs hatching nearby. The freshly hatched chick looks striking, its feathers matted and wet, as in real life. What's reassuring is the message that we all belong in this world—whether we hatch first or take our time.
---
The Giant Jumperee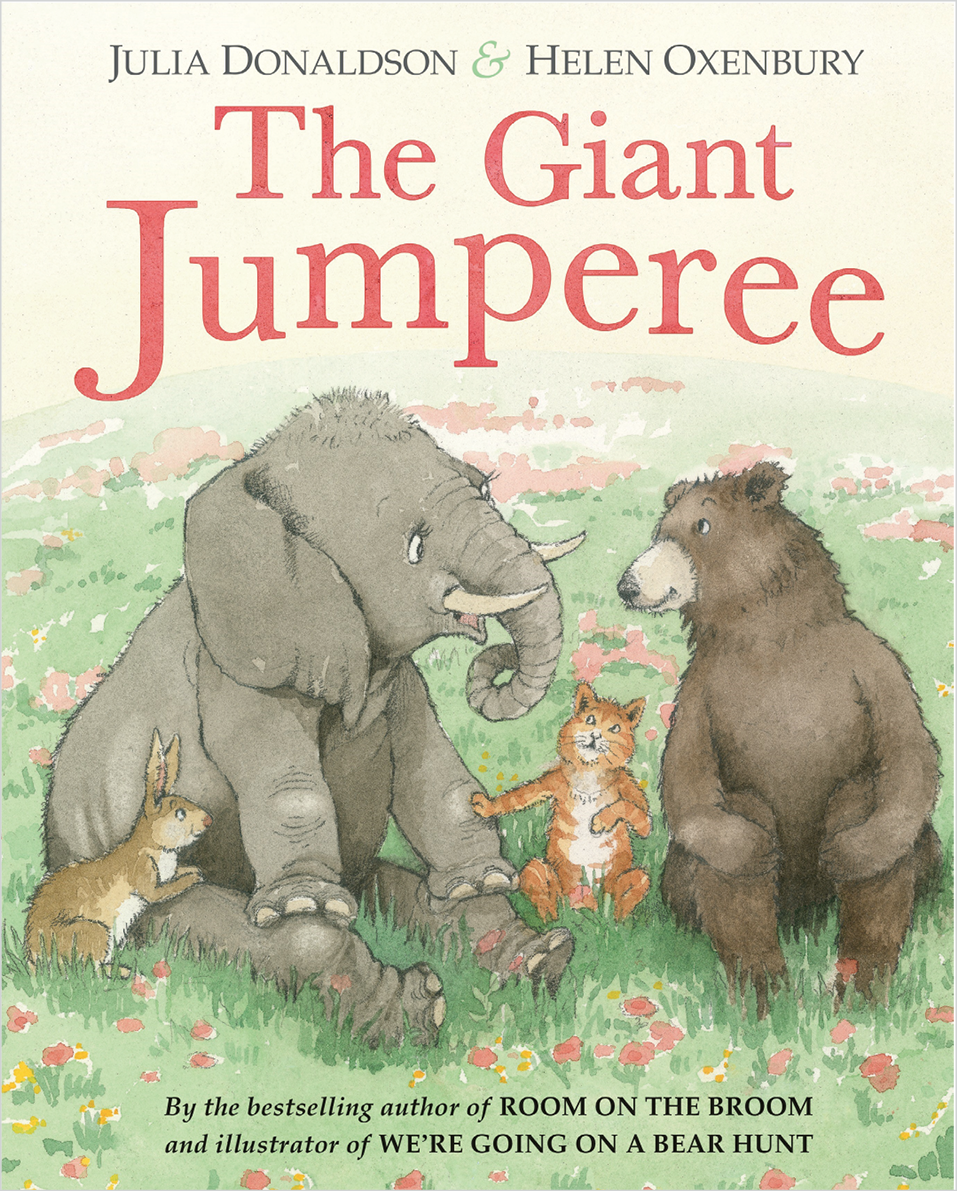 By Julia Donaldson. Illus. by Helen Oxenbury. 2017. New York: Dial Books for Young Readers. 32 pp. Ages 2 to 5.
When Rabbit reports that a scary Jumperee is in his burrow, a bunch of brave animals vow to save the day. But the Jumperee is scarier than they realized. This new story reads like a classic. That's no surprise since it includes illustrations from beloved artist Oxenbury and masterful storytelling by British writer Donaldson. Employing the repetition that children love, each animal pledges to get to the bottom of things but is scared off by the Jumperee's voice. Everyone that is, except for Mama Frog. She sternly counts, "1, 2, 3," and her cute little "beast" exits obediently from the burrow, leaving all the big animals in a fit of laughter.
Oxenbury, who has charmed audiences for decades with works such as We're Going On a Bear Hunt (by Michael Rosen) and Ten Little Fingers and Ten Little Toes (by Mem Fox), offers large images of the animals, with plenty of breathing room on the page so that their expressions stand out. The writing is deceptively simple, whipping up drama with no wasted words.
---
The Rooster Who Would Not Be Quiet!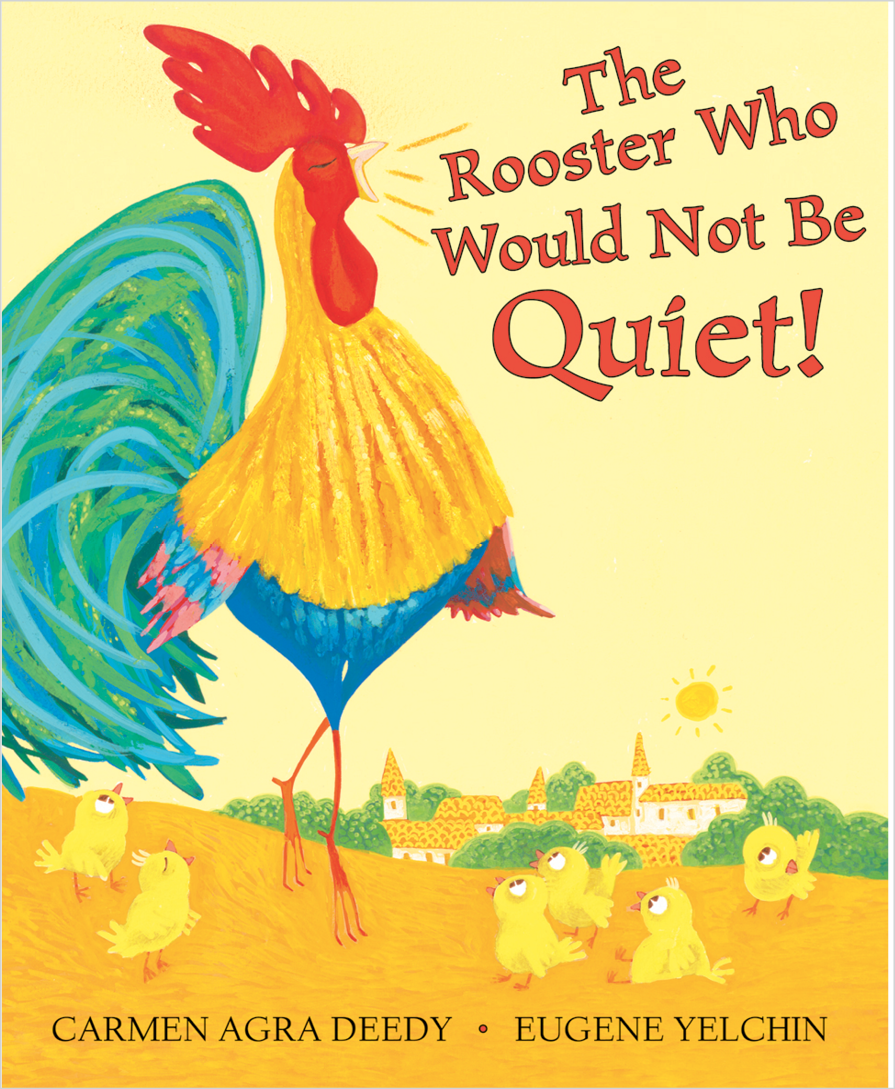 By Carmen Agra Deedy. Illus. by Eugene Yelchin. 2017. New York: Scholastic Press. 48 pp. Ages 3 to 7.
When a mayor's edict for peace and quiet becomes oppressive, a rooster stands up to the despot. His loud calls rankle the mayor, who tries to defeat the animal by stripping him of everything he holds dear. Seasoned storyteller Carmen Agra Deedy tells a weighty but humorous tale. The rooster goads the mayor with purposeful obtuseness. But he also takes a stand in the face of terror.
The rooster's bravery inspires the townspeople, and together, they oust their mayor. It's important that they make it right—the townspeople originally voted for the bullying mayor because they'd become tired of hearing each other's constant noise. How's that for a lesson on learning to get along?
Yelchin's masterful illustrations capture the humor that exists even in dark times. His work is as full of tension, grit, and glory as the story.
---
The Golden Rule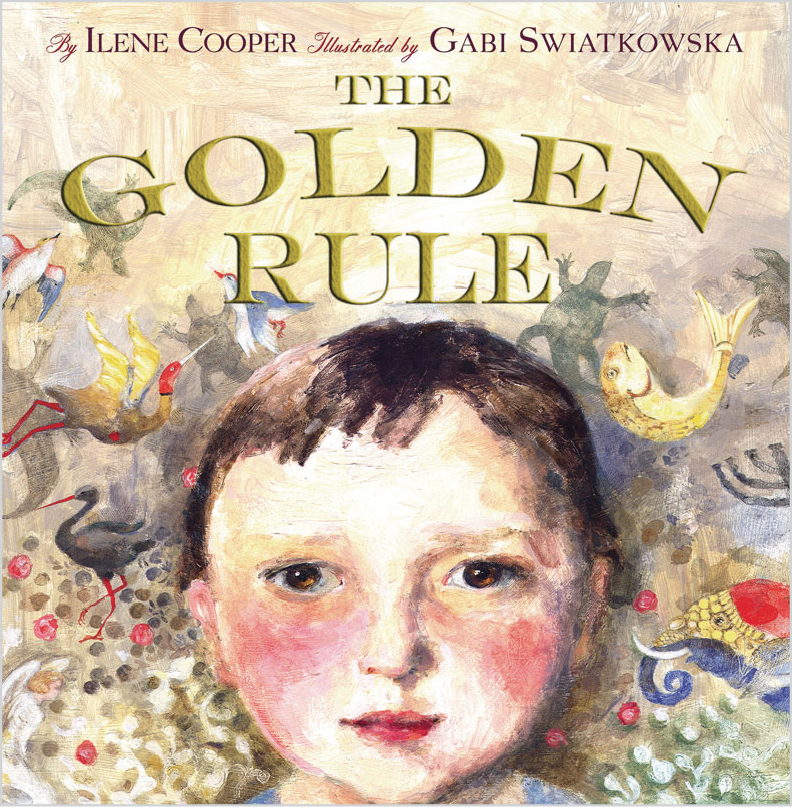 By Ilene Cooper. Illus. by Gabi Swiatkowska. 2007. New York: Abrams.
32 pp. Ages 4 and up.
The Golden Rule—that we should treat others as we'd want them to treat us—has roots in many cultural and religious traditions. And while it's easy to say, it's hard to do. In this book, a grandfather explains the rule to his grandson in an accessible way. They talk about how it can help us be kind and thoughtful in different situations, such as welcoming a new child to school. The book presents the rule as it's written in six major religious traditions (Christianity, Judaism, Islam, Hinduism, Buddhism, and the Shawnee Tribe). Swiatkowska's illustrations incorporate patterning and design elements associated with those religions.
The book provides many jumping-off points for teachers. Children can think about other important community rules. They can talk about how to apply the Golden Rule to conflicts and opportunities in class and at home.
---
Forever Favorites

In each issue we feature a classic book to (re)introduce teachers to 
old favorites.
Little Blue and Little Yellow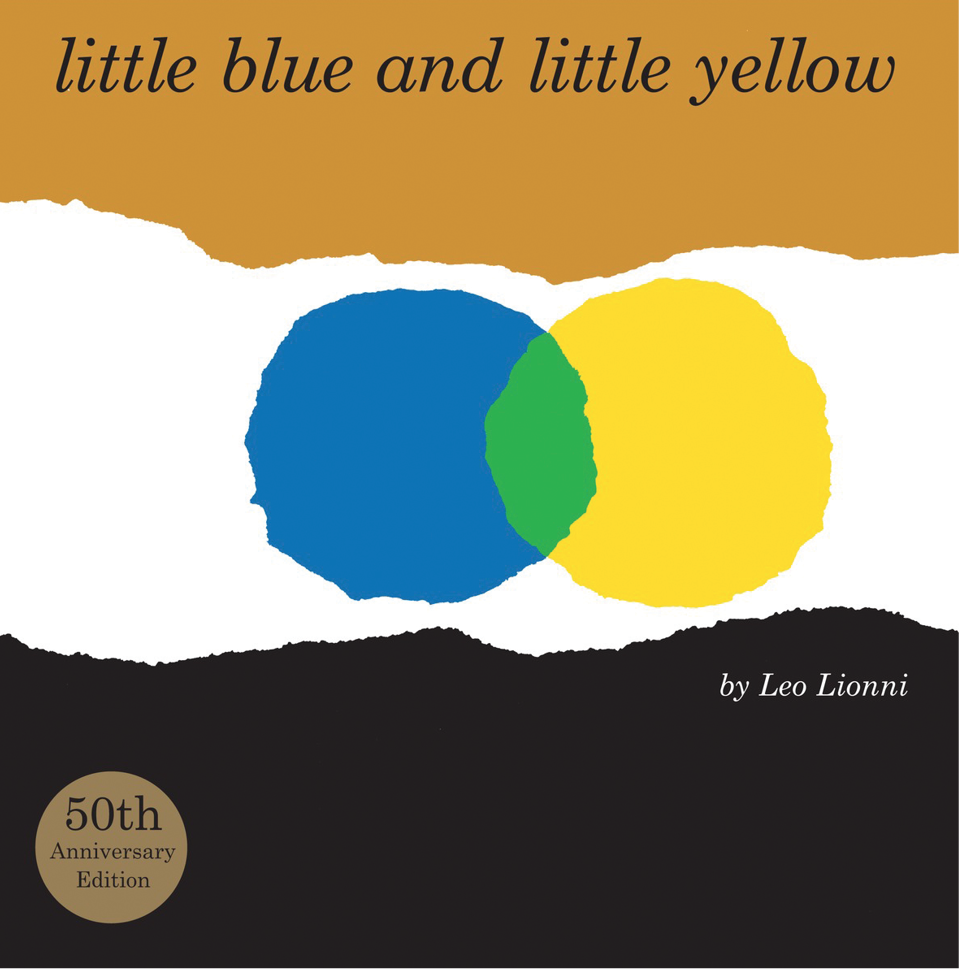 By Leo Lionni. 1959. New York: McDowell Oblonsky. 44 pp. Ages 2 to 6.
Little Blue and Little Yellow, presented visually as blocks of color made from scraps of paper, are friends. These neighbors, who love to run and play together, have been intriguing young readers since 1959. But when the two hug each other and turn green, neither the Blue family nor the Yellow family recognizes them as their own. How devastating! Once the families understand what has happened, they hug each other in joy and turn a bit green themselves.
This charming book, whose simple characters deliver a surprisingly deep emotional punch, has long been beloved for helping children explore themes of friendship, independence, and the principles of color. But a second look offers much, much more. In a September 2017 article for Publisher's Weekly, the author's granddaughter, Annie Lionni, explains that this book was published on the heels of the 1958 Brussels World's Fair. Leo Lionni had created a piece for the fair addressing the problems of racial segregation in the United States. His installation, which was shuttered early due to government discomfort, included a picture of children of different races playing Ring Around the Rosy. That same game is featured in Little Blue and Little Yellow, which, from another perspective, is a story about two children of different races whose parents fail at first to understand their deep friendship but ultimately come to celebrate it.
Isabel Baker
Isabel Baker, MAT, MLS, is the founding director of The Book Vine for Children, a national company dedicated to getting good books into the hands of preschool children and their teachers. Isabel has worked as a children's librarian and is currently a presenter on early literacy and book selection.
Miriam Baker Schiffer
Miriam Baker Schiffer, MFA, is a writer in Brooklyn, New York. She consults on book selections for The Book Vine, in McHenry, Illinois. Miriam's children's book, Stella Brings the Family, was published by Chronicle Books in 2015.