De Nuestra Presidenta. El desarrollo de liderazgo: Abrir un lugar en la mesa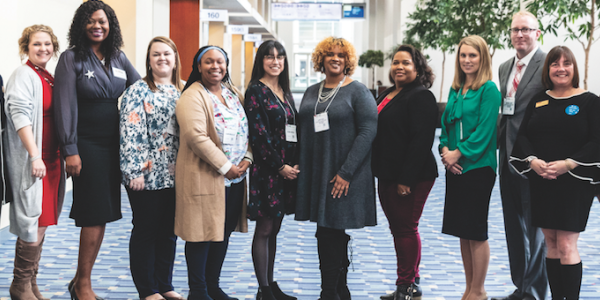 You are here
Casi 9,000 profesionales del campo de la primera infancia viajaron en noviembre al Congreso Anual de NAEYC para la oportunidad de escoger entre los 600 talleres y sesiones que se ofrecieron. Podían también
Reunirse con Marian Wright Edelman, la fundadora legendaria del Children's Defense Fund
Asistir a una doble función de Won't You Be My Neighbor?—documental de Fred Rogers que presenta a nuestros panelistas de apertura—y No Small Matter—documental que presenta el estado de la educación infantil estadounidense
GET LOUD (Hacer Ruido) a favor de la educación infantil en la celebración de cierre
El entusiasmo, la emoción y la pasión que llenaron las salas del centro de congresos eran estimulantes. Los participantes formaron nuevas conexiones, expandieron su desarrollo profesional, vieron a viejos amigos, tomaron selfies y se enteraron de maneras de participar más en su asociación profesional.
Para mí, una de las partes más memorables del congreso era ver la sala llena para la sesión "Leadership Speed-Date: Learn How You Can Be an NAEYC Leader" (Cita rápida de liderazgo. Aprenda cómo hacerse líder en NAEYC). El desarrollo de liderazgo es una prioridad de NAEYC y uno de los factores que me atrajeron a esta organización hace casi una década. Los participantes aprendieron durante la sesión sobre servir en la Junta Directiva, el Consejo de Acreditación, el Consejo Asesor para Afiliados y el Consejo Asesor para Profesionales Jóvenes, además de servir como revisores de pares en educación superior, revisores de propuestas para congresos, editores independientes y facilitadores de foros de interés.
Durante una celebración del nonagésimo cumpleaños de Barbara Bowman y de sus décadas de liderazgo en el campo de la primera infancia, le pregunté: "¿Quién le hizo un lugar en la mesa? ¿Quién alentó su liderazgo?". Les hice las mismas preguntas a los panelistas en el Seminario de la Presidenta. Todos nombraron a alguien que los había animado, orientado o motivado a creer en sí mismos.
Una manera de que NAEYC está haciendo lugares en la mesa es mediante las becas Lasting Legacy (Legado Duradero). Estas becas, patrocinadas por la campaña Building a Lasting Legacy de NAEYC, ayudan a los líderes emergentes a experimentar las muchas oportunidades de desarrollo profesional y redes de contacto que ofrecen los congresos de NAEYC. Los becados para el Congreso Anual o el Instituto de Aprendizaje Profesional de NAEYC se seleccionan por medio de un proceso competitivo y se les dan fondos para cubrir los gastos de inscripción y a veces de viaje.
Los miembros de la red de ex alumnos de la Junta Directiva de NAEYC revisan las solicitudes y referencias. Las decisiones se basan en el compromiso que demuestra el solicitante con la profesión de la primera infancia, la probabilidad de aprovechar eficazmente la experiencia del congreso y la posibilidad de contribuir significantemente como líder emergente. Hay varias becas nombradas que se establecieron en honor o memoria de individuos ejemplares del campo.
Este año 138 candidatos solicitaron becas Lasting Legacy. Gracias a donantes generosos, NAEYC concedió nueve becas de gastos completos y dos de inscripción gratuita, para un total de 11 becados que asistieron el Congreso Anual de 2018.
Conocí a los becados en su orientación al principio del congreso. Durante los días que siguieron, los vi por todos lados—en sesiones, en recepciones, en eventos y en la sala de exhibición. En la mañana el sábado, escuché sus reflexiones sobre el congreso. Fue increíble oír cada una de sus historias— tantos contextos y experiencias diferentes. Muchos de los becados hablaron de sus consejeros y de estar muy agradecidos por poder asistir al congreso. Algunos contaron historias personales sobre los familiares, amigos y colegas que los apoyaban e hicieron posible su asistencia. Para algunos, era la primera vez que habían ido a un congreso nacional, la primera vez que habían viajado solos o la primera vez que un viaje de este tipo había sido becado.
Nuestra reunión la mañana del sábado se sentía diferente de nuestro primer contacto. Se percibía la confianza de los becados y su sentido de conexión—el cambio era palpable. Sus reflexiones eran meditadas, inspiradoras y llenas de emoción y agradecimiento. Una becada comento: "Ahora sé cómo se ve NAEYC. Sé cómo se siente NAEYC". Algunos dijeron que ya percibían que integraban algo más grande que ellos mismos. Muchos observaron que estaban mucho más conscientes de la historia de la asociación y del campo, además de las personas que los precedieron y ayudaron a preparar el camino. Habían conocido y hablado con líderes renombrados de la primera infancia—personas cuyos nombres reconocían de libros que habían leído en clases de preparación docente. Una becada especialmente entusiasta declaró: "¡Cuidado, NAEYC, porque voy a averiguar de cuántas maneras puedo participar más en esta organización!".
Al reflexionar sobre el congreso, sigo pensando en lo transformativo que es este periodo para nuestra asociación. Pienso en todas las personas que me abrieron un lugar en la mesa. Ahora es mi responsabilidad hacer lugares para otros.
---
La creación de una Campaña Lasting Legacy

La Campaña Lasting Legacy (Legado Duradero) emergió de un comité encabezado por Karen Ponder y Josué Cruz (cuando Josué era un expresidente) para guiar la creación de un programa de desarrollo de liderazgo. La recomendación más fuerte del comité era la de invertir en cultivar un cuadro diverso de líderes emergentes. ¡Qué capítulo tan importante en nuestra historia!
Usted puede ayudar a respaldar este programa esencial. Para más información, visite NAEYC.org/about-us/donate/lasting-legacy-scholarship, o contacte a Nicole Zuchetto ([email protected]).
Amy O'Leary
Amy O'Leary serves as President of the NAEYC Governing Board.