Formar Conexiones. Nuestro lanzamiento a la luna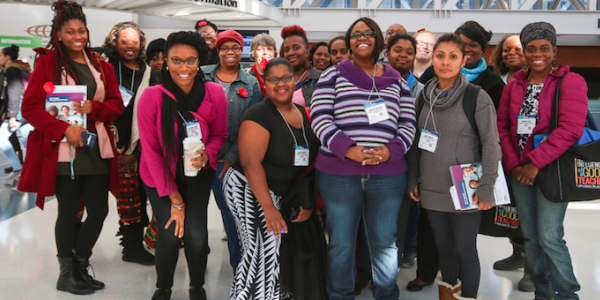 You are here
El otoño pasado participé en una reunión en Silicon Valley (California) con capitalistas de riesgo o filantrópicos, innovadores, líderes tecnológicos y líderes en el área de políticas para la educación infantil. Escuchamos a más de 45 discursos promocionales de 3 minutos dados por empresarios, tanto sin como con fines de lucro, que buscaban colaboradores y fondos con que realizar sus innovaciones en la educación infantil. Las invenciones variaban desde nuevos métodos de evaluar a niños hasta aplicaciones, soluciones tecnológicas y modelos de franquicias para mejorar el cuidado infantil familiar. Había medios nuevos para la revisión y detección oportuna en el desarrollo y aplicaciones de lectoescritura y educación. Algunos de los proyectos me impresionaron como posibles puntos de inflexión.
Me encontraba inmersa en lo competitivo que supongo que son la cultura y el ritmo de Silicon Valley: tres minutos para hacer su mejor promoción, resumir las previas series de financiamiento, inspirarnos con sus mejores ideas, demostrar lo profundo del conocimiento de su equipo y explicar cómo su producto cambiará el mundo para niños pequeños y sus familias.
Era inspirador estar con tantos pensadores perspicaces—innovadores limitados solamente por lo grande que podían soñar y lo eficazmente que podían dar vida a sus sueños. Era también un testamento de cuánto ha avanzado nuestro campo profesional.
Varios presentadores mencionaron que la educación infantil es una industria de más de 40 mil millones de dólares que está lista para capturar la atención y la pericia de algunos de los inversionistas de capital mayores y más agresivos del país.
En medio de la inspiración, tenía también sentimientos encontrados (de una manera sana-pero-agitada, de aplicación mental):
¿Qué son las innovaciones de los últimos 50 años que nos han avanzado a donde estamos hoy?
¿Por qué no hemos progresado más?
¿Estamos enfocados en los mejores mecanismos para cambiar resultados?
¿Podemos realmente hacer cualquier parte de esto en un ambiente de escasez sin serias inversiones públicas adicionales?
¿Es probable que las innovaciones impulsadas por el mercado reduzcan las inequidades educativas? Si no, ¿qué función deberían tener la inversión y la supervisión públicas a fin de aumentar la equidad?
¿Hay maneras de innovar que aún no hemos considerado los que focalizamos en políticas?
¿Cómo traemos dichos innovadores al ruedo de políticas?
Hay que ver la realidad. Sí, nos hace falta la innovación en el mercado de la educación infantil en cuanto a ideas, productos y servicios. También necesitamos traer atención similar, inversiones financieras e innovación a nuestros esfuerzos de políticas públicas a favor de los niños pequeños. Existen en la educación infantil problemas graves relacionados con tanto la oferta como la demanda. La mayoría de las familias no pueden pagar cuotas más altas, pero un 46 por ciento de los educadores de niños pequeños requieren alguna forma de asistencia pública para llegar a fin de mes—y sólo una fracción de niños reciben el apoyo de programas y los servicios que necesitan. Veo desde mi posición ventajosa en NAEYC un mercado de la primera infancia que tanto inspira como está en crisis.
Más allá de las promociones empresariales, me animó lo intrépido de las visiones para nuestro campo. Vamos a soñar grande. Vamos a pedir lo que nos hace falta. Vamos a trabajar como si el futuro de nuestro país dependiera de nuestro éxito. Vamos a poner el lanzamiento a la luna (las palabras de ellos) en la mesa.
Entonces, cortados a una promoción de tres minutos, estos son mis lanzamientos a la luna:
Permiso laboral pagado para madres y padres de bebés desde el nacimiento hasta el primer cumpleaños.
Educación infantil que sea económica, voluntaria, de día completo, de todo el año, de alta calidad y apropiada para el desarrollo, y que aproveche el sistema actual de provisión mixta.
Títulos post secundarios de 2 años (associate en inglés) y universitarios de 4 años (bachelor en inglés) que se completen libre de deuda para todos los educadores de niños pequeños.
Salarios y beneficios laborales que traigan a los educadores infantiles a la clase media y motiven a nuestros maestros más talentosos a seguir en nuestro campo profesional
La eliminación de disparidades económicas y de oportunidad que se basan en la raza—para niños pequeños, sus familias y sus educadores
Un campo de práctica profesional alineado para los educadores de niños pequeños
Revisiones del niño sano que incluyan evaluaciones completas del desarrollo para cada bebé, y apoyo para familias respecto al acceso a servicios como sea necesario
Herramientas diagnósticas y de evaluación tan refinadas que los métodos educativos y programas de intervención más eficaces se enfoquen en los niños con la precisión del aterrizaje de una nave espacial en Marte.
La mesa es lo suficientemente grande para acomodar a todos. Vamos a agradecer cada idea y cada mente. Y vamos a hacernos responsables por lograr la agenda de políticas públicas que necesitan nuestros niños, familias y educadores.
¿Qué son los lanzamientos a la luna de usted? ¡Me encantaría saberlo! Por favor, comparta sus ideas en hello.naeyc.org.
Rhian Evans Allvin
Rhian Evans Allvin is the chief executive officer of NAEYC. She is responsible for guiding the strategic direction of the organization as well as overseeing daily operations. Before joining NAEYC, Evans Allvin was a guiding force in Arizona's early childhood movement for more than 15 years, including serving as CEO of Arizona's First Things First.