De nuestra presidenta. Seamos nuestros propios mejores defensores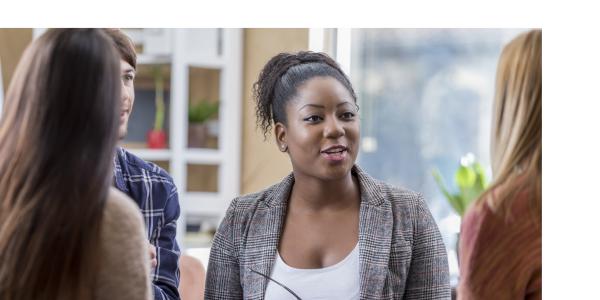 You are here
Amy O'Leary
Durante el verano de 2019, el equipo de futbol femenino de EE.UU. ganó por cuarta vez la Copa Mundial femenina de FIFA. Este logro es increíble, pero el equipo también planteó cuestiones importantes en su camino a la victoria.
¡SA-LA-RIO I-GUAL! ¡SA-LA-RIO I-GUAL! fue el grito de miles de fanáticas y fanáticos mientras el equipo femenino celebraba su victoria en la cancha tras derrotar al equipo holandés en el partido final. Los gritos continuaban mientras los fans ocuparon las aceras de las calles de la Ciudad de Nueva York para el desfile en honor a las futbolistas. La cuestión de equidad de salario se destacaba durante todo el mes de la Copa Mundial; el tema se trataba en todos los medios sociales, en las portadas de periódicos diarios y en revistas y otras publicaciones del mundo de las finanzas. Las atletas se expresaron, funcionarios del gobierno actuaron y las diversas entidades profesionales del fútbol tuvieron que tomar posiciones.
Según un artículo en Huffington Post,
En años recientes ha surgido como foco de atención la brecha salarial de género que lleva mucho tiempo asolando el fútbol femenino, ya que atletas de todo el mundo han exigido la igualdad a FIFA, la junta gobernante internacional del fútbol. Hay una brecha dramática entre el dinero de premio que reciben los atletas masculinos y las femeninas. Este año la Copa Mundial femenino ofrece $30 millones de dólares en dinero de premio, según informó el periódico New York Times, mientras que la Copa Mundial de los hombres de 2018 ofrecía un total de $400 millones. (https://bit.ly/2P0CDt4)
El artículo del 7 de julio pasa a decir: "FIFA no es la única entidad del fútbol que no logra compensar igualmente a las mujeres. En la última semana más de 50 congresistas dirigieron una carta a U.S. Soccer Federation para exigir que pague justamente al equipo femenino, en vista de que las futbolistas reciben un salario base de aproximadamente $30,000 menos que los futbolistas masculinos".
El 11 de julio, tras el fin de las celebraciones de la victoria, Ashley Reese redactó un artículo para Jezebel.com con el título "Una campeona de la Copa Mundial también lucha por costear el cuidado de niños". El artículo destaca a Jessica McDonald, quien cuenta:
Yo soy la única mamá en el equipo nacional [USWNT, siglas en inglés]. Y luego entre National Women's Soccer League [NWSL], somos siete. Es tan difícil, Dios mío. La única manera en que puedo describirlo es que te requiere mucha resistencia mental. De mi carrera en NWSL, jugué una sola temporada en que no era mamá. Probablemente lo más difícil es tratar de arreglárselas para hacer una rutina, y como me cambiaban mucho a otros equipos, siempre tenía que encontrar a nuevas niñeras y guarderías. Era muy difícil en particular con las guarderías, ya que son caras y no nos pagan mucho. Si yo inscribiera a [mi hijo] en una guardería, cuesta todo mi cheque, ¿sabes? (https://bit.ly/30phbys; énfasis en el artículo original)
¿Le suena a usted? Me sorprendía lo prominente del tema de igualdad de salarios durante la Copa Mundial; pero se editó el artículo sobre las luchas con el cuidado infantil después del final de la competición. Parecía una ocurrencia tardía, como vemos a veces el tratamiento del cuidado y educación infantil en los medios informativos.
Todos hemos escuchado las estadísticas sobre lo muy caro que es el cuidado y educación infantil para las familias con hijos pequeños. De hecho, Child Care Aware of America y el Centro para el Estudio del Empleo en el Cuidado Infantil (Center for the Study of Child Care Employment) colaboraron en la producción de un video breve que contesta la pregunta de su título: "¿Por qué gastan tanto los padres y madres por el cuidado infantil, mientras que los educadores de niños pequeños ganan tan poco?" Se puede ver el video y leer más información aquí: https://bit.ly/2z71RuZ.
Para ser buen defensor, hay que informarse. Este video explica las cuestiones complejas de las fuentes de fondos, los modelos de negocio y los aspectos económicos de la educación infantil. Es un punto de partida excelente de donde continuar esta conversación importante.
Otro componente importante de la abogacía es el de contar su propia historia. Imagínese si los educadores, padres y madres vieran este video juntos y luego tuvieran la oportunidad de contar sus historias y reflexiones personales. Imagínese al gran aumento en lo que sabrían los padres sobre todo el trabajo y la preparación que requiere la provisión de una experiencia de alta calidad para sus hijos. Imagínese si los padres entendieran mejor cuántos educadores de niños pequeños se inscriben en clases, estudian para ganar títulos, se buscan mentores y mejoran sus prácticas a la vez que (en la mayoría de los casos) ganan poco más que el sueldo mínimo, prescinden del seguro médico y mantienen otro empleo para ganarse la vida. Imagínese si los padres y madres pudieran expresar sus esperanzas y sueños para sus hijos, explicar por qué es difícil a veces escuchar que el día le ha ido mal a su niño o expresar sus preocupaciones sobre tomar buenas decisiones para su hijo.
Imagínese si los padres, las madres y los educadores pudiéramos ser aliados más fuertes en la abogacía—luchando juntos por inversiones mayores en la educación infantil y en los educadores. Imagine las manifestaciones ante las legislaturas estatales en todas partes del país, con letreros que dijeran: "Los padres no pueden costear el precio. Los maestros no pueden aguantar el bajo sueldo. ¡Con la inversión pública sí se puede!"
¡Podemos hacer más que imaginar! Podemos realizarlo. Tenemos que expresarnos, pedir a nuestros funcionarios gubernamentales actúen, inscribirnos en NAEYC y tomar posiciones. Vamos a recordar las creencias fundamentales de NAEYC de nuestra Dirección Estratégica y utilizarlas: excelencia e innovación, trasparencia, reflexión, equidad y oportunidad, y relaciones colaborativas.
Durante el próximo año, ustedes tendrán oportunidades de narrar su historia; ayudar a lograr un censo exacto que cuente a todos los niños; darles poder a padres y educadores en su comunidad para que voten; y unirse a conversaciones en los medios sociales y en reuniones al estilo "town hall" con padres y colegas en todas partes de los Estados Unidos.
Únase a nosotros—como los defensores que son y tienen que ser—para insistir en que nuestro país cumpla la promesa de una educación infantil de alta calidad para nuestros niños, familias y comunidades.
Convicciones fundamentales

Excelencia e innovación. Somos imaginativos a la hora de asumir riesgos y estamos siempre dispuestos a desafiar supuestos, sin perder de vista nuestra misión y obligaciones fiscales.
Trasparencia. Actuamos con claridad y franqueza.
Reflexión. Tenemos en cuenta múltiples fuentes de pruebas y diferentes perspectivas al momento de examinar nuestras acciones pasadas, tomar nota de los avances y los éxitos alcanzados y comprometernos a lograr una mejora continua de la calidad.
Equidad y oportunidad. Somos partidarios de las políticas, prácticas y sistemas que fomentan una participación plena e inclusiva. Hacemos frente a los prejuicios que generan barreras y limitan el potencial de los niños, las familias y los profesionales de la primera infancia.
Relaciones de colaboración. Compartimos la responsabilidad y el liderazgo en nuestro trabajo con los demás. Dedicamos tiempo y esfuerzo a garantizar una participación diversa y resultados más eficaces. Actuamos con integridad, respeto y confianza.
Para más información sobre los valores, las creencias y la misión de NAEYC, visite NAEYC.org/about-us/people/mission-and-strategic-direction.
Photograph: © Getty Images
Amy O'Leary
Amy O'Leary serves as President of the NAEYC Governing Board.