From Our President. Leadership Development: Making Room at the Table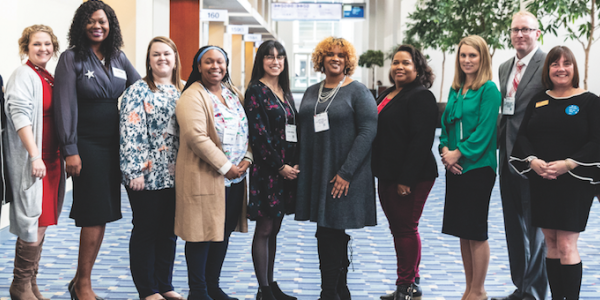 You are here
At the NAEYC Annual Conference last November, nearly 9,000 early childhood professionals traveled to Washington, DC, for the opportunity to choose from more than 600 sessions and workshops. In addition, they could
Rally with Marian Wright Edelman, the legendary founder of the Children's Defense Fund
Attend a double feature of Won't You Be My Neighbor?—a documentary about Fred Rogers that features our opening keynote panelists—and No Small Matter—a documentary that highlights the state of US early childhood education
GET LOUD for early childhood education at the closing celebration
The enthusiasm, excitement, and passion that filled the halls of the convention center were exhilarating. Participants made new connections, expanded their professional development, saw longtime friends, took selfies, and heard about ways to get more involved with their professional association.
One of the conference highlights for me was to see the room packed for the session "Leadership Speed-Date: Learn How You Can Be an NAEYC Leader." Leadership development is an NAEYC priority, and it's one of the reasons I was drawn to this organization nearly a decade ago. During the session, participants learned about serving on the Governing Board, the Council for Accreditation, the Affiliate Advisory Council, and the Young Professionals Advisory Council, and about serving as higher education peer reviewers, conference proposal reviewers, consulting editors, and Interest Forum facilitators.
At a celebration of Barbara Bowman's 90th birthday—and of her decades of leadership in early childhood—I asked Barbara, "Who made room for you at the table? Who encouraged your leadership?" I asked the same questions of the panelists at the President's Seminar. Everyone could name someone who had encouraged them, mentored them, or pushed them to believe in themselves.
One way NAEYC is making room at the table is through Lasting Legacy Scholarships. Funded by NAEYC's Building a Lasting Legacy Campaign, the scholarships help emerging leaders experience the many opportunities for professional development and networking available at NAEYC conferences. For scholarships to NAEYC's Annual Conference or its Professional Learning Institute, scholars are selected through a competitive process and are awarded funding to cover registration fees and sometimes travel costs.
Members of the NAEYC Governing Board alumni network review applications and references. Decisions are based on applicants' demonstrated commitment to the early childhood profession, likelihood of using the conference experience effectively, and potential to make significant contributions as an emerging leader. There are several named scholarships established in honor or in memory of exemplary individuals in the field. This year, 138 candidates applied for Lasting Legacy Scholarships. Thanks to generous donors, NAEYC awarded nine full-expenses paid scholarships and two complimentary registrations, for a total of 11 scholars attending the 2018 Annual Conference.
One way NAEYC is making room at the table is through Lasting Legacy Scholarships.
I met the scholars at their orientation at the beginning of the conference. Throughout the days that followed, I saw them everywhere—at sessions, at receptions, at events, and in the exhibit hall. Then on Saturday morning, I listened to their reflections on the conference. It was incredible to hear each of their stories—so many different experiences and contexts. Many of the scholars talked about their mentors and about how grateful they were to be at the conference. Some shared personal stories about their families, friends, and colleagues who supported them and made it possible for them to attend. For some, it was the first time they had been to a national conference, the first time they had travelled alone, or the first time such a trip had been funded.
Many of the scholars talked about their mentors and about how grateful they were to be at the conference.
When we met on that Saturday morning, it felt different from our initial meeting. You could feel the scholars' sense of connection and their confidence—the change was palpable. Their reflections were thoughtful, inspiring, and filled with emotion and gratitude. One scholar remarked, "Now I know what NAEYC looks like. I know what NAEYC feels like." Some said they felt like they were now part of something bigger than themselves. Many observed that they were much more aware of the history of the association and the field, and of the people who came before them who helped pave the way. They had met and talked with renowned early childhood leaders—people whose names they recognized from books they'd read in teacher-preparation classes. One especially enthusiastic scholar said, "Watch out, NAEYC, because I am going to figure out how many ways I can be more involved with this organization!"
As I reflect on the conference, I keep thinking about what a transformative time this is for our association. I think about all of the people who made room for me at the table. Now it's my responsibility to make room for others.
---
Building a Lasting Legacy Campaign

The Lasting Legacy Campaign grew out of a committee led by Karen Ponder and Josué Cruz (when Josué was a past president) to guide the creation of a leadership development program. The committee's strongest recommendation was to invest in nurturing a diverse cadre of emerging leaders. What an important chapter in our history!
You can help support this critical program. For more information, visit NAEYC.org/about-us/donate/lasting-legacy-scholarship, or contact Nicole Zuchetto ([email protected]).
Amy O'Leary
Amy O'Leary serves as President of the NAEYC Governing Board.