Enriching Lives, Advancing Equity: What We Can Learn from Around the World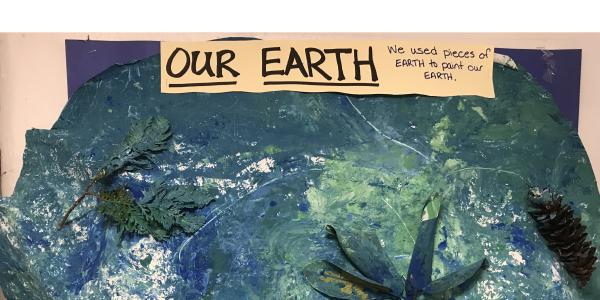 You are here
Take a moment to imagine a world where early childhood educators' wishes have come true: families with young children are well supported—offered everything from prenatal healthcare to parental leave to quality options for early care and education. Teachers are appreciated and are invested in as professionals, reaping the benefits of high-quality and accessible preparation, engaging curriculum frameworks, adequate classroom resources, ongoing and meaningful professional development, practical structures for family engagement, and more! And a well-coordinated system of governance, funding, and standards makes identifying and securing resources related to education and family well-being straightforward and uncomplicated.
That world exists.
As Sharon Lynn Kagan, guest editor for this issue, and her team of researchers have found, there are high-performing early care and education systems that show how enriching the early years can be when societies make families a top priority.
Now imagine a world where families are torn apart by war: early childhood educators struggle to help preschool-age refugees name and grapple with their emotions. That world exists too. But emerging from it, as this Young Children cluster shows, is hope. Early childhood educators are offering warmth and stability, and children are demonstrating their extraordinary ability to heal.
This issue of Young Children takes you around the world. It shows that culture matters, but that children's need for love and nurturing is the same everywhere. It shows that context matters, but that many contexts can provide for quality early childhood education. Most important, it shows that the work of advancing equity and increasing excellence—of rethinking systems, tearing down barriers, creating new resources, and enhancing teaching practices—is happening in and with radically different places and peoples.
We begin with three complementary pieces—an introduction and two articles—offering key findings from a multiyear, multinational study of high-performing early care and education systems. In the introduction, "The Early Advantage: Lessons Learned from Six Countries that Serve Children and Families Well," Sharon Lynn Kagan sums up the study's core educational findings. Kagan writes, "We found that there are many common elements of quality pedagogy, including a focus on the child, a commitment to play-based learning, and a commitment to individualized formative assessment. There also are important differences . . . high quality looked different in different countries."
In the first article, "International Curriculum Frameworks: Increasing Equity and Driving Systemic Change," Samantha A. Melvin, Eva Landsberg, and Sharon Lynn Kagan, explain how these high-performing countries create clarity about learning expectations with national curriculum frameworks. Although teachers still have flexibility in creating learning activities and environments, these curriculum frameworks are specific—they give teachers a clear sense of what to teach and of effective approaches. As a result, these frameworks increase consistency, quality, and equity across early education programs and teacher preparation programs.
In the second article, Sharon Lynn Kagan explores the social, economic, and political contexts of these systems in "Context Matters: Lessons Learned from the World's Highest-Performing Early Education Systems." Explaining that these systems offer holistic health, welfare, and education services throughout childhood, Kagan highlights their high quality and equitable distribution. She writes, "In high-performing systems, services offered to children begin early and last long. There simply is no substitute for comprehensive, high-quality services."
Indeed, there is no substitute. But anywhere a caring educator can spend time with a child, learning and healthy development can happen. The power that early childhood educators have to improve children's lives is the heart of the next article, "Creating a Sesame Street for the Syrian Response Region: How Media Can Help Address the Social and Emotional Needs of Children Affected by Conflict," by Shanna Kohn, Kim Foulds, Katie Maeve Murphy, and Charlotte F. Cole. Sesame Workshop and the International Rescue Committee have created Ahlan Simsim (Arabic for "Welcome Sesame") to support young children and their families. This is not simply a translation of Sesame Street; it's culturally attuned and specifically designed for children who have experienced conflict and displacement. For educators in the US, the article ends with practical tips for supporting social and emotional development among refugees, asylum seekers, and other children who have experienced trauma.
To close this Young Children cluster, we turn to a relatively new model for early education that is growing in popularity: forest schools. Just as the name implies, these are schools located in forests—virtually the entire school day takes place outside. Independence and nature-inspired play tend to be prized, but plenty of "typical" instruction happens too, though counting bears may be replaced by pinecones. In "Walking into the Woods: Understanding German Waldkindergärtens," Cecilia Maron-Puntarelli enables readers to feel like they've spent a day in one of Germany's 1,500 waldkindergärtens (nature and forest schools) for 3- to 6-year-olds. The children's initiative and the teachers' trust are inspiring. Reflecting on the US context—especially children in under-resourced urban communities—I hope that nature-based learning becomes part of the agenda for advancing equity.
In all, this look around the world reminds us how much more we could be doing to cherish and nurture all children. Let's imagine: what if children's well-being were this nation's top priority? We'd love to hear from you!
Send your thoughts on this issue, and on topics you'd like to read about in future issues of Young Children, to [email protected].
Would you like to see your children's artwork featured in these pages? For guidance on submitting print-quality photos (as well as details on permissions and licensing), see NAEYC.org/resources/pubs/authors-photographers/photos.
Lisa Hansel
Lisa Hansel, EdD, is the editor in chief of NAEYC's peer-reviewed journal, Young Children.