Making Connections. Why NAEYC Accreditation? Why Now?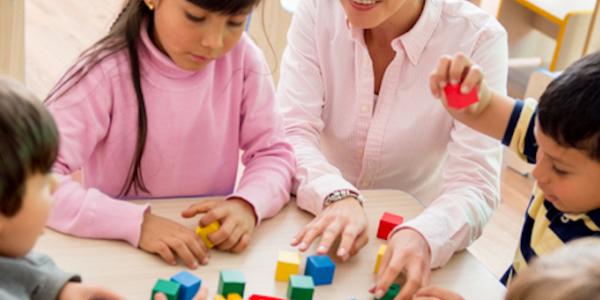 You are here
Rhian Evans Allvin
Early in my career I worked at Children's Action Alliance—Arizona's statewide child advocacy organization. It was my first experience advocating for high-quality early learning, and little did I know it was just the beginning.
In the late 1990s, the organization was looking for a special venue to stage a press event promoting a legislative initiative, and someone suggested Phoenix Day. It is Arizona's oldest child care program and the location where, in 1970, Joan Ganz Cooney tested new curriculum material for her television idea—Sesame Street. Neither of these, however, was the reason that Phoenix Day was recommended. It was elevated because the program was NAEYC accredited, which was described to me as an elite designation only a small fraction of programs across the country could claim. That's how I first heard about NAEYC.
Fast forward 23 years: it is remarkable how many people outside the early childhood field, especially parents, learn about NAEYC as I did—because of its early childhood program accreditation.
NAEYC engineers quality improvement

First launched in 1985, the system for NAEYC Accreditation of Early Learning Programs was a game changer. State regulations at the time focused predominantly on basic health and safety. NAEYC accreditation injected the fuel to define and drive program quality with 10 standards and 1,025 criteria and indicators that applied equally to all child care and preschool programs.
Programs that aspired to, and eventually earned, accreditation completed a rigorous self-evaluation. The process involved every classroom, the entire educator team, all staff, and families. The system was so strong that the US military, going through a radical quality transformation of its own child care system at the time, decided to use NAEYC accreditation to measure progress in order to make certain that the children of military families received the best possible early education and care. Now, the US military's approach is regularly described as the highest quality system in the United States.
More recently, Boston Public Schools (BPS) has adopted NAEYC accreditation as the backbone of its pre-K and kindergarten programs to ensure that they are high quality; the outcomes have been dramatic. One study found that BPS classrooms participating in the NAEYC accreditation process scored higher on the revised Early Childhood Environment Rating Scale (ECERS–R) than BPS classrooms not yet participating in the process. In addition, pre-K and kindergarten children in BPS classrooms engaged in the NAEYC accreditation process had significantly greater gains in vocabulary from fall to spring.
Yet, in spite of the widespread recognition, compelling research, and positive results, the number of programs that are NAEYC accredited has never exceeded 12 percent of the total number of early childhood programs nationwide. And while 34 states have embedded NAEYC accreditation in their Quality Rating and Improvement Systems (QRIS), the vast majority of those states have included it as an option for measuring quality; they have also created their own unique assessment systems with criteria for quality. It became incumbent upon us at NAEYC to ask ourselves why.
I thought back to my own experiences as the CEO at First Things First in Arizona and why I had supervised the development of a state QRIS rather than solely relying on NAEYC accreditation as the quality measure. Our team at NAEYC reflected on the market forces—especially the high cost of quality and the limited financing of early childhood systems—that have been impeding the spread of NAEYC accreditation. And we also took a critical look at the structure, experience, and process of accreditation itself.
Streamlining NAEYC accreditation

As a result of our review, we have made dramatic changes. The association has spent the past four years updating and validating the accreditation criteria, removing unnecessary complexity, and enhancing and streamlining the user experience. We've improved the technology, materials, and NAEYC staff support for programs at every stage of the process. Accreditation should be rigorous, reliable, and valid—but it should not be overly bureaucratic or cumbersome.
Accreditation should be rigorous, reliable, and valid—but not overly cumbersome.
The new streamlined model was piloted over 18 months and officially launched in November 2018. Here's what you can expect when striving for NAEYC accreditation of your early learning program:
Standards: 10 standards that include recommended best practices to guide your program
Streamlining: 376 measurable assessment items so that your program knows exactly what assessors are looking for during the accreditation site visit
Specificity: Assessment decision reports that help your program readily identify strengths and areas for growth
Speed: A highly efficient online Accreditation Portal that provides faster document and payment processing as well as expedited movement through the four steps of the process
Support: Onsite and on-demand training to support your program's growth, with NAEYC staff positioned as a ready resource
Improvement: An agile system that is continuously enhanced in response to feedback from research, policy, and practice.

So, what does all of this mean for state QRIS systems?

The new NAEYC accreditation process isn't meant to be easier for programs alone. It's meant to be easier for entire states to embrace as a system that will help them spend money where it matters—to increase children's access to high-quality early learning and to give families choices between quality and quality.
As it stands, we estimate that states spend more on developing, testing, and monitoring assessment tools state by state and significantly less on funding the incentives and resources that programs need to sustain quality. Yet, NAEYC has a rigorously evaluated, valid, and reliable accreditation model that successfully measures quality across states and systems and that holds programs accountable for delivering on quality—regardless of location or program type. If states and systems embrace this model's economies of scale to serve as a systemic proxy for the R (rating) in the QRIS, states can, in turn, spend more of their dollars on the elusive and important I (improvement) part of the QRIS.
The new NAEYC accreditation process is meant to be easier for entire states to embrace.
This would result in great benefits to educators and programs, which could use NAEYC's consistent measures to align their structures and systems toward quality, regardless of the state in which they operate. It would also benefit families, employers, and policy makers, who could count on the evenness of a floor of quality.
As NAEYC continues to study the results of its streamlined system, we are committed to providing data to the field about improving implementation. And we are confident that, 34 years after it changed the game, NAEYC accreditation is the key that systematically unlocks the door to quality for all children. Whether you are a private provider or a public school, on the coast or in the middle of the country, we look forward to expanding accreditation by working with you and your state system to bring quality early childhood education to scale for all children.
Rhian Evans Allvin
Rhian Evans Allvin is the chief executive officer of NAEYC. She is responsible for guiding the strategic direction of the organization as well as overseeing daily operations. Before joining NAEYC, Evans Allvin was a guiding force in Arizona's early childhood movement for more than 15 years, including serving as CEO of Arizona's First Things First.