Formar conexiones. Hacia la equidad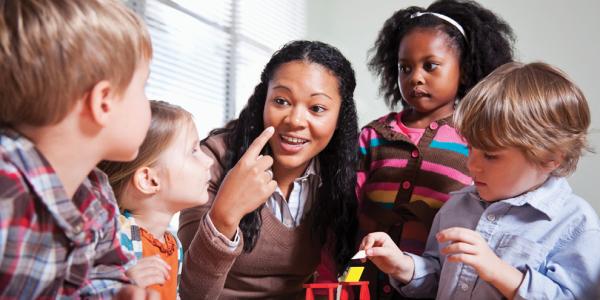 You are here
De canastas a tapices a alfombras, el tejido es una de las formas de arte más antiguas de la humanidad. Sea que empiecen con largas briznas de hierba o con gusanos de seda, los tejedores producen orden y utilidad creando algo nuevo y bello.
La junta directiva nacional de NAEYC aprobó en julio de 2017 el desarrollo de una nueva declaración de posición, "Advancing Equity and Diversity in Early Childhood Education" (Promover la equidad y la diversidad en la educación de la primera infancia). Esto inició un proceso prescrito de investigación, una reseña de literatura y la convocación de un grupo de trabajo dentro de la guía y el liderazgo del Comité de Sistemas de Aprendizaje Infantil de la Junta Directiva de NAEYC. El segundo borrador de la declaración sobre la equidad y la diversidad está actualmente circulando en el campo para evaluaciones y comentarios. Es probable que la declaración final se publique a principios de 2019.
Sólo dos meses más tarde, el septiembre de 2017 marcó un momento histórico para la infraestructura interna de NAEYC: como resultado de trabajo que se hizo durante muchos años, hay ahora 52 Afiliados, todos alineados con la marca y que tienen un personal pagado, una estructura de gobierno articulada, buenas prácticas financieras y un modelo consistente de cuotas de membrecía. Gracias a la reestructuración de los Afiliados, ya es mucho más fácil para los educadores de niños pequeños reconocer la marca de NAEYC/AEYC y para nuestro personal, mucho más fácil promocionar una proposición de valor alineado por todo el país. Como parte de la reestructuración, se pidió que los Afiliados completaran sus planes de hacerse organizaciones incluyentes de alto rendimiento.
Todo este tiempo, NAEYC ha continuado su asociación con 14 organizaciones nacionales a favor de Power to the Profession (Revalorizar la profesión), una deliberación nacional diseñada para crear un marco unificador para la profesión de educación infantil. El proceso de dos años ha atraído la participación de miles de educadores mediante sondeos, reuniones comunitarias, grupos de enfoque y deliberaciones dentro de sus propias organizaciones. Entre las muchas cuestiones planteadas durante el proceso son las de la injusticia racial que existe en la profesión de educación infantil y las opiniones vastas y variadas sobre lo que se requerirá para integrar la equidad racial en nuestro campo.
Y, por supuesto, todo este trabajo está sucediendo contra el trasfondo de una nación que se halla profundamente confundida con respecto a los derechos fundamentales de los niños de color, los cuales se están activamente amenazando y socavando.
Tal como describí en mi columna del número de mayo de Young Children, "Embracing Equity: Helping All Children Reach Their Full Potential" (Abrazar la equidad. Ayudar a todos los niños a alcanzar su pleno potencial), NAEYC está comprometida a ser una organización de aprendizaje que reflexiona sobre sí misma y está escuchando, liderando y creando un espacio para el liderazgo de otros. Sabemos que este es un momento que se basa en la historia de los que nos antecedieron y que prepara el camino para los que crearán nuestro futuro. En cuanto a lo organizativo, tenemos una historia de momentos intrépidos y decisivos de progreso, junto con tropiezos y faltas de atención.
Dentro de este contexto e inspirándose de hilos aparentemente discrepantes, la junta directiva nacional de NAEYC convocó este verano una cumbre —"Leading and Working Toward Equity" (Liderar y trabajar hacia la equidad) —con el apoyo generoso de la Fundación W.K. Kellogg. La cumbre reunió a casi 130 individuos. Además de la Junta Directiva y el equipo de la gerencia del personal de NAEYC, cada Afiliado y foro de interés seleccionó a un representante participativo, así como hicieron el Young Professionals Advisory Committee (Comité Asesor para Profesionales Jóvenes), el Affiliate Advisory Council (Consejo Asesor para Afiliados), Commission on the Accreditation of Early Childhood Higher Education Programs (Comisión para la Acreditación de Programas Infantiles de Educación Superior), y el Council for NAEYC Accreditation (Consejo para la Acreditación de NAEYC). Cada una de estas entidades representa la estructura del gobierno de NAEYC.
Nuestra experiencia de tres días fue albergada por el National Equity Project, que entretejió magníficamente una experiencia para ayudar a dichos líderes a desarrollar una comprensión reflexiva y más profunda de las siguientes áreas:
¿Qué significa que yo lidere para la equidad, tomando en cuenta mi identidad, mis experiencias personales y mi papel?
¿Qué impacto tiene la opresión en las experiencias de los adultos y niños en nuestros sistemas?
¿Qué se requiere para mejorar la calidad de las relaciones y el diálogo necesario para promover la equidad en nuestros programas, escuelas y sistemas?
¿Qué papel tengo como líder en la interrupción de las inequidades que veo?
¿Qué son las oportunidades y barreras relativas a asegurar que los sistemas de liderazgo de NAEYC sean equitativos y diversos en el servicio de nuestro deseo de ser una organización incluyente de alto rendimiento?
La experiencia de cada participante era singular y personal. La mía era una de tristeza y remordimiento, alegría y energía. La tristeza, cuando se elevaban el pasado y el presente de la injusticia racial y se compartían experiencias; el remordimiento, por los momentos cuando no reconocía o no respondía suficientemente a los prejuicios míos y los de otras personas. La alegría, por estar en un salón con tantos guerreros que luchan por la justicia racial y se dedican a utilizar la agencia individual para progresar personalmente, profesionalmente y como líderes dentro de NAEYC; y la energía, a la expectativa de la oportunidad que nos espera.
Aunque colaboramos con poderosas organizaciones de abogacía en Washington, DC y por todo el país, nuestra estructura como asociación profesional es única. No estamos simplemente trabajando a favor del campo, sino que somos el campo. De nuestro personal a nuestras juntas directivas, de los Afiliados a los foros de interés, y de consejos a comisiones, la estructura de NAEYC es una herramienta monumentalmente poderosa con que atraer la participación de toda nuestra membrecía. Pero, para lograr esto con éxito, tenemos algo de trabajo propio que hacer. Tenemos que prestar atención a nuestras prácticas de contratación y nuestros procesos de elección; a cómo y dónde nos reunimos, por qué nos reunimos y quién lidera las reuniones; a los temas de políticas y abogacía de que nos encargamos; a nuestro desarrollo profesional y al contenido ofrecido; y a nuestros sistemas de acreditación y oportunidades de liderazgo. Y cuando digo nosotros, quiero decir todos nosotros. Esta es una invitación abierta a estar con nosotros—a participar, persuadir, pensar y experimentar; a tropezar, levantarse y seguir adelante.
Los facilitadores del National Equity Project nos recordaron a menudo que no podíamos "planear estratégicamente" nuestro viaje por este trabajo, sino que teníamos que crear experiencias para ayudar a individuos a llegar a sus propias comprensiones y luego probar algunas cosas. Que avanzaríamos, sufriríamos reveses, examinaríamos lo que funciona bien y lo que deberíamos abandonar.
Eso es precisamente lo que haremos. Y trabajaremos y lideraremos hacia la equidad, hacia entretejer nuestras diversas ideas y experiencias para crear algo nuevo y bello.
Rhian Evans Allvin
Rhian Evans Allvin is the chief executive officer of NAEYC. She is responsible for guiding the strategic direction of the organization as well as overseeing daily operations. Before joining NAEYC, Evans Allvin was a guiding force in Arizona's early childhood movement for more than 15 years, including serving as CEO of Arizona's First Things First.