Making Connections: Vote.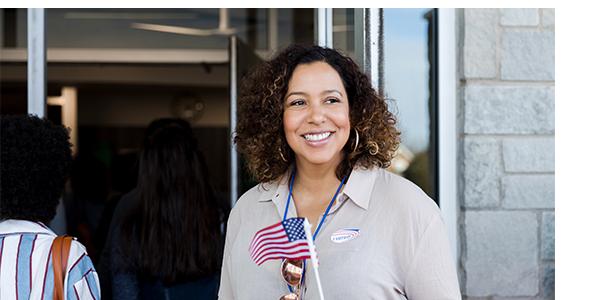 You are here
I grew up in the '80s. Like many members of Generation X, most of my memories are related to the pop culture and fashion of the decade: Duran Duran, Adam Ant, MTV, Depeche Mode, shoulder pads, and Aqua Net. But I also have distinct memories of events that began to shape my understanding of and curiosity about democracy, policy, and politics. These include the assassination attempt on President Reagan, the AIDS epidemic, and the impeachment of Governor Evan Mecham in Arizona. In 1989, when I was a high school senior, the Tiananmen Square protests and the falling of the Berlin Wall left an indelible imprint on me, not least because, in both instances, it was young people who were risking their lives to protest oppressive governments crushing the voice of the people.
Those two events shaped my intense sense of obligation and responsibility to participate in our messy, inequitable, yet indispensable democracy. In 1992, I voted for the first time in the presidential election and helped to organize the first MTV Rock the Vote on my college campus. We conducted voter registration drives across campus, drove students to the polls, and brought hot chocolate and doughnuts to encourage them to stay in four-hour lines.
I have voted in every presidential election since, which brings me to Tuesday, November 3, 2020. I view this election as the most consequential thus far in my lifetime. My vote matters—and so does yours. Meaningful elections have been decided by a single percentage point, yet too many people who can vote don't. Of individuals who are eligible to vote, data predict that only about 60 percent will do so.
Why does any of this matter for early childhood educators? Because elections matter, and not only the presidential one. There are thousands of races happening across the country and each of you can be a powerful influence in elevating early childhood education in elections for Congress, for governors, for state legislators, for mayors, for school boards, and for city councils. If you believe that the well-being of children and the profession of early childhood education benefits society just as it does individual children and families, then you have a responsibility to weigh in on the approach and commitment to early childhood education in the United States.
At NAEYC, our hope is that each of you will vote and that you will use your influence to encourage others to vote too. We want to make it as straightforward
as possible:
Register and pledge to vote at americaforearlyed.org/ourvotes.
Get a sample ballot to learn more about the candidates and issues in your state and community.
Create a plan to vote. Will you vote early, absentee, by mail, or in person? Find out what your state's rules are! If you plan to vote in person on or before Election Day, find your polling location and create a plan to get and stay there, with time to wait in line, if necessary.
Many of you, in your professional roles and as advocates, can also create conditions that support stronger voter participation:
Partner with expert organizations to hold voter registration drives.
Use your communication strategies—from emails to backpack messages to phone banks—to share nonpartisan reminders about voter registration deadlines, voting locations, and Election Day with families, staff, and volunteers.
Create a plan and Election Day schedule ahead of time to make sure you, your colleagues, staff, and families have time to vote.
Develop a strategy, either on your own or with others, to help people get to the polls or to promote efforts led by organizations that provide rides to the polls.
Your determination to vote this fall is critical for you, your neighbors, the children and families you serve, and the programs and services you have fought so hard to build and maintain. Make a plan, don't let anything get in your way, and vote like our future depends on it. Because it does.
Rhian Evans Allvin
Rhian Evans Allvin is the chief executive officer of NAEYC. She is responsible for guiding the strategic direction of the organization as well as overseeing daily operations. Before joining NAEYC, Evans Allvin was a guiding force in Arizona's early childhood movement for more than 15 years, including serving as CEO of Arizona's First Things First.