De nuestra presidenta-electa. Abogar por la educación infantil con atrevimiento y sin concesiones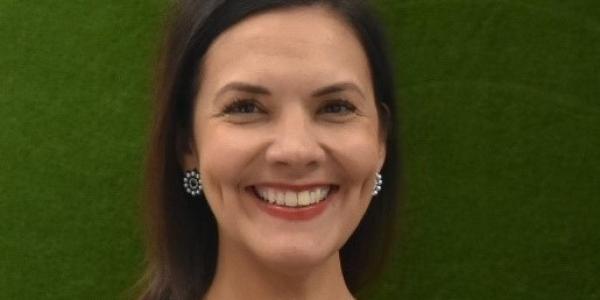 You are here
El psicólogo de renombre mundial Urie Bronfenbrenner dijo: "Todos los niños necesitan al menos un adulto que tenga una devoción irracional por él o ella".
Ahora que asumo mi cargo como presidenta de la Junta Directiva de NAEYC, quiero contarles algunas de las razones por las que decidí postularme y por qué creo que NAEYC debería abogar por los niños pequeños y promover el campo de la educación de la primera infancia con total atrevimiento.
De pequeña, quería ser psicóloga infantil. Pasé un año aterrador en la escuela primaria por una maestra que, con demasiada frecuencia, desahogaba su ira y su frustración con nosotros, sus alumnos de 9 años. Antes de eso, la escuela siempre había sido un lugar seguro y feliz. Entonces, cuando empecé a tener pesadillas y tenía miedo de ir a la escuela, mis padres—mis más grandes defensores y protectores—no solo hablaron con los directivos de la escuela, si no que me llevaron a un psicólogo infantil. En ese espacio, hice dibujos y conté cómo me sentía y por lo que estaba pasando.
Con el tiempo, mis dibujos cambiaron: pasaron de nubarrones e imágenes oscuras por las voces atemorizantes en mi cabeza a otros motivos más coloridos y más alegres. Un día, hice un dibujo que incluía cada uno de los colores del arco iris, flores y caras felices. Esa fue mi última sesión: gracias a las palabras y acciones de mis padres y del profesional que me atendió, pude terminar mi año escolar sin complicaciones. Gracias a esta experiencia, aprendí el valor y la necesidad del apoyo, las competencias profesionales y el cuidado sincero que necesitan los niños.
Mis padres tenían una devoción más allá de la razón por mí. Nací en el este de Chicago, Indiana, en el mismo hospital en que nació mi mamá y en la misma zona donde se establecieron mis abuelos en 1920. Me crie en el seno de una familia mexicano-estadounidense numerosa, afectuosa y con unos padres muy trabajadores. Mi papá trabajaba en una planta acerera, y mi mamá se quedaba en la casa con nosotros. Luego, mi mamá empezó a trabajar medio tiempo en un centro de cuidado infantil; eso quizá incitó mi interés en la educación inicial. En este contexto afectuoso, creció mi confianza y mi capacidad para soñar.
Entre la crianza de mis padres y la experiencia con un psicólogo infantil estimulante, desarrollé un fuerte deseo de crear un espacio seguro para todos los niños. Pensé que podía lograr eso en el campo de la psicología infantil. Sin embargo, fue cuando empecé mis estudios de grado en el Instituto Erikson que aprendí verdaderamente lo que significa abogar por los niños. También conocí el trabajo de NAEYC y su misión de abogar por los niños y por las personas que los cuidan. Uno de los valores centrales de NAEYC—que los niños y los adultos alcancen su pleno potencial en el contexto de relaciones de confianza y de respeto—coincidía de lleno con mis valores personales y mi sueño. Me di cuenta de que había encontrado una organización que se ajustaba a mis creencias y aspiraciones, y yo quería formar parte de sus iniciativas. Sentí la obligación de postularme para presidenta por mi férreo compromiso con la misión, los valores y las creencias de NAEYC.
Uno de los valores centrales de NAEYC—que los niños y los adultos alcancen su pleno potencial en el contexto de relaciones de confianza y de respeto—coincidía de lleno con mis valores personales y mi sueño.
Me siento honrada de asumir este cargo. Tomar el mando de la incomparable Ann Terrell, que ha sido mentora y amiga durante todo el año pasado, es un privilegio absoluto. Mi mayor agradecimiento a Ann por ser una excelsa profesional y defensora de NAEYC. Ella ha enorgullecido a nuestra organización.
Aún queda mucho por hacer mientras seguimos adaptándonos para salir de la pandemia de COVID-19 y su devastador efecto en los niños, las familias y los educadores. Los fondos federales siguen sin llegar al sector, que no cuenta con la financiación necesaria para crear un sistema equitativo; de modo que no sorprende que los educadores de la primera infancia se alejen de la profesión. El estado actual del sistema es insostenible, y necesitamos soluciones viables de manera urgente. Ahora más que nunca, NAEYC mantendrá su compromiso sin concesiones con la defensa del sector.
Ese compromiso incluye elevar a los educadores que han sido marginados por su raza, cultura y otros aspectos de sus identidades. Al comenzar en mi nuevo rol en NAEYC, no me pasa inadvertido que soy la primera mujer latina en ocupar el puesto de presidenta de la Junta Directiva. Tampoco se me escapa que, si bien NAEYC tiene la prioridad y la obligación de representar y reflejar el sector, la cantidad de afiliados a NAEYC entre la comunidad latina está penosamente atrasada en comparación con otros grupos demográficos. Menos de un 4 por ciento de los miembros se identifican a sí mismos como latinos/as. Parte de mi trabajo como presidenta consistirá en conectar con la comunidad latina y generar maneras significativas de vincularse con los educadores, miembros y defensores de la comunidad latina. Nuestra promesa a los niños morenos y negros y a sus educadores es más importante que nunca.
He dedicado mi vida profesional a transformar mis creencias en acciones, y hay un arduo trabajo por delante. Demandará nuestra atención, resiliencia y compromiso permanentes. Tanto si su trabajo está las aulas o en los pasillos del Congreso, ustedes son defensores del sector, y quiero saber de ustedes. Busquen esta columna y otros recursos de NAEYC para conocer las novedades y las oportunidades de acompañarme en esta tarea con atrevimiento y sin concesiones con y para los niños pequeños y nuestro sector.
---
Copyright © 2022 by the National Association for the Education of Young Children. See Permissions and Reprints online at NAEYC.org/resources/permissions.
Natalie Vega O'Neil
Natalie Vega O'Neil is president of the National Association for the Education of Young Children.