Flipping the Script: Educators Driving Public Policy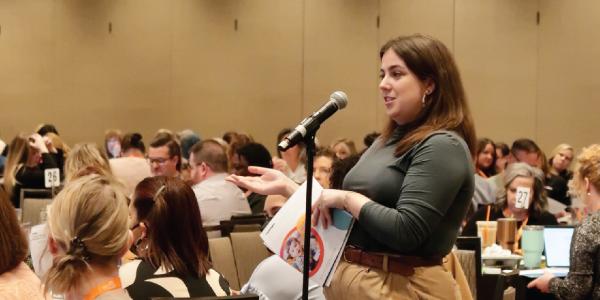 You are here
Marica Cox Mitchell, Lauren Hogan
In the theater, scripts create order. Everyone has a part to play, lines to memorize, and stage directions to follow. Productions, regardless of where they're staged, follow a similar pattern—right up until someone flips the script. Sometimes it's a small change: a surprising casting choice, a reframed set design. And sometimes it's a complete shift—The Wizard of Oz is reborn as The Wiz, then reimagined as Wicked.
In early childhood education, we may not think of our day-to-day actions as being guided by a script, but in many ways they are, with assigned roles and lines that have, for the most part, kept educators and policymakers apart. As it stands, each group stars in different acts of the play, and we rarely do scenes together. For our children's sake, however, it's time for us to flip the script. This article is a call to action, with recommendations for educators and policymakers about concrete steps that can make meaningful collaboration part of our day-to-day work.
Real Victories Are Within Reach

When policymaking centers a diverse range of educator voices, expertise, and experience, the policies that result are better in both design and implementation. There have long been national, state, and local efforts—led, demanded, and supported by policymakers and educators in varying degrees—to advance the recognition, respect, effectiveness, and compensation of early childhood educators. However, the pandemic illuminated the depths of the crises in early childhood education. It helped make evident to policymakers and the public what had been long clear to educators themselves: the need to prioritize investment in the early childhood workforce, particularly in their compensation, in order to drive the supply and quality of child care and early learning.
From the Worthy Wage campaign (Whitebook 2002) through the Power to the Profession (P2P) initiative (powertotheprofession.org), the focus on increasing educator compensation has been driven by the relentless advocacy of educators. Yet investing in compensation has been routinely deprioritized by policymakers and systems. This reality may be changing in response to undeniable shortages in the early childhood education workforce and to pressure from educators and advocates, strengthened by an increasing focus on building power and partnerships with and among educator associations, family child care networks, and grassroots and organizing leaders. At the same time, NAEYC, its affiliate network, and others have led extensive organizational efforts to support educators from centers and family child care homes in comfortably and confidently sharing their stories with national, state, and local policymakers and the press, through opportunities including White House events and congressional hearings and briefings; state-based rallies and testimonies; national and local TV, print, and radio media; and organizational resources and webinars.
The work required to center educators' voices through these opportunities, like the work of educators themselves, is challenging, rewarding, equity-driven, often unseen, in need of resources—and deeply impactful in moving the needle on policy actions and investments. During the pandemic, the collective work of early childhood education organizations, educators, and advocates helped secure more than $50 billion in federal child care relief funding. This was paired with obligations for states and localities to prioritize investments in educator wages and benefits. (To learn more about how NAEYC's early childhood education field survey data helped drive these investments, and how these investments impacted educators, visit NAEYC.org/pandemic-surveys). In the context of pandemic recovery, the White House and Congress also advanced sustainable, substantial, historic, and transformational legislation investing in child care and early learning. While these investments were not, and have not yet been, signed into law, they have shifted recognition of the scope and scale needed at the federal level. At the same time, states have taken a range of actions to invest in the education and compensation of the workforce.
These changes have been advanced in part by leaders, advocates, and policymakers at every level who, through relationships, research, data, and their own lived experiences, recognize the need for investment in early childhood education that is designed and implemented in partnership with educators themselves. While such work stretches over decades, the 2015 release of the Transforming the Workforce for Children Birth Through Age 8 report (IOM & NRC 2015) was a key moment in elevating the visibility and significance of the early childhood education profession in the policy context. Grounded in the science of child development, the report articulated the ways in which the various practitioners who contribute to the care and education of children from birth through age 8 are not acknowledged as a workforce unified by the common knowledge, competencies, and supports needed to do their jobs well. Along with its financing counterpart (NASEM 2018), the report offered recommendations on policy solutions to improve the quality of professional practice, the practice environment for professionals, and the financing solutions to support them.
In 2017, building on this legacy and related momentum, NAEYC and 14 other national professional organizations launched the Power to the Profession (P2P) initiative. P2P was established explicitly to define the first-edition Unifying Framework for the Early Childhood Education Profession, birth through age 8, across all settings, sectors, and states. The initiative was rooted in a theory of change with a broad base of research indicating that children benefit from a distinct, diverse, and defined early childhood education profession, with individuals who possess specialized knowledge, skills, and competencies, and who are compensated in accordance with the value of their highly skilled work, regardless of the setting in which they work.
P2P was led by members of the early childhood education field who shaped the framework and the decisions in it; the aim and accomplishment of the initiative were to reflect the lived experiences and expertise of those who comprise the profession itself. Deep and broad engagement opportunities ensured that those impacted most by the P2P framework and those historically marginalized in policy development (such as educators of color working in home-based and center-based settings) were centered and elevated as experts. (To learn more about P2P, the inclusive process, and ongoing work to advance the Unifying Framework by the organization- and educator-led Commission on Professional Excellence, visit commissionece.org).
In addition, as states and communities like Alabama, Minnesota, New Mexico, Vermont, and Washington, DC, among others, work to align with elements of the Unifying Framework, they are engaging regularly and meaningfully with early childhood educators across settings to ensure they have a continued and central role in shaping the present and future of their profession, including in the absence of consensus among members of the diverse early childhood field. In the context of challenges heightened by the impacts of the pandemic, policymakers, educators, and advocates continue to grapple with policy and financing choices that reflect and recognize a rich diversity of experiences, perspectives, goals, and strategies.
The work to build on the lessons that made the Unifying Framework itself more robust, co-owned, and comprehensive occurs through advocate-led efforts such as Vermont's Advancing as a Profession Task Force as well as philanthropic-led efforts such as the WeVision EarlyEd initiative (wevisionearlyed.org)—both highlighted in this issue of Young Children—that prioritize "proximity experts" inclusive of family members and educators.
Across all efforts, it has remained clear that conversations and policymaking regarding the early childhood education workforce must confront the marginalization of educators in decision-making processes, which is rooted in decades of racism, sexism, and elitism that is both internal and external to the early childhood education landscape. In most educators' careers and experiences, policies about them have happened to them and without them; in our experiences, this is particularly true for educators from communities of color; those working in family child care homes; those who do not speak English as a first language; those who live in rural communities; and those who work with infants and toddlers. These and other educators have frequently voiced well-founded doubts about engagement processes that feel like extraction and about the influence their thoughts and recommendations would have on public policy and financing. They have shared the traumas in their lives wrought from working in an underfunded, top-down system ostensibly created for them but without them. It takes extensive time and deep trust and relationship-building efforts to work through the resulting disassociation and to support educators stepping into their power as experts and owners of their professional identities.
With some of this work underway, we are now seeing evidence of efforts to center educator voices in policymaking environments. Local and state leaders, advocates, and educators, including those throughout NAEYC's national and affiliate network, are partnering to advocate with and for the early childhood education workforce, mobilize public support, and win the resources and funding increases needed to achieve a shared vision of a diverse, equitable, effective, well-prepared, well-supported, and well-compensated early childhood education profession that supports each and every child and family.
There is substantial progress yet to be made and substantial challenges ahead as the wake of the pandemic and the ending of federal relief funds for early childhood education weigh heavily on a workforce still struggling with staffing shortages caused by low compensation. These shortages negatively impact families' abilities to work, children's access to safe and quality care, and educators' health and well-being. It will take all of us working together to solve child care, and that is why in this piece we offer strategies and recommendations for early childhood educators (including faculty and professional development providers) and for policy specialists (including policymakers, analysts, and influencers) to continue to flip the script—to play new roles, learn new lines, and continue to help narrow the gaps between educators and the public policies that drive their practice and invest in their education and compensation.

---
The Early Childhood Educator Perspective

By Marica Cox Mitchell
I started my career in the early 1990s as a teacher assistant and then as a teacher. My role was to support the learning, development, and well-being of each child, giving careful consideration to family and community. The bulk of my preparation was driven by national and state professional competency standards related to curriculum development and implementation, responsive relationships, learning environments, assessments, pedagogy, and partnerships with families.
Throughout my teacher preparation courses and my later professional development opportunities, the vast majority of the lectures, group projects, reading assignments, and research reports focused solely on my classroom practices. Yet I realized early in my teaching career that while the classroom environment I intentionally curated mattered, early childhood public policy and financing conditions also had a direct impact on my professional practice. Child care facility regulations had a greater influence on my professional development than my own understanding of my professional growth areas. Likewise, NAEYC accreditation criteria influenced my classroom design and materials more than my observations and formative assessments. In the late 1990s and early 2000s, I started to see the bigger picture: Head Start Performance Standards, the then No Child Left Behind Act, school district teacher evaluation systems, teacher licensure policies, and quality rating and improvement systems (QRIS) all had—and still have—policies and requirements that influence the identity, compensation, and practice of early childhood educators.
Mind the Gap

We early childhood educators are constantly reminded, and rightfully so, that the conditions we create in our classrooms can impact the development of the young children we support. Yet we often do not fully understand the inner workings of the public policy contexts that also drive and sometimes dictate our practice. We consciously and subconsciously grant policymakers and government officials full autonomy to create public policy and regulatory systems, even though our code of ethics requires us to participate in developing policies and laws that are needed and to cooperate with families and other individuals and groups in these efforts.
A combination of factors contributes to this distance between public policy and practice. Some of these factors include
minimal professional preparation focused on early childhood public policy development
impenetrable barriers to accessing the places where policy decisions are made
limited time to focus on both classroom responsibilities and external policy contexts
inconsistent definitions of who early childhood educators are and what they do
the frustration educators experience when we feel that policies and regulations are hindering rather than helping our ability to implement practices that best support children's learning and development
the perception that public policy and advocacy are solely the responsibility of systems influencers and policy experts
educators' own reluctance to define themselves as experts who deserve to be decision makers
I experienced some of these factors during my journey from being an educator practicing in the classroom to one practicing in the public policy and systems-building arena. As a classroom teacher, I assumed others were responsible for driving policy. My role was simply to pay my membership dues so that professional and local advocacy organizations could do the policy lift. I was an implementer of policies and position statements; I saw myself as "just a teacher," with nothing to contribute in big-league policy conversations.
This division of duties between policy and practice worked for me because I was too exhausted to tackle both—time outside of my demanding work environment was for my family and my personal restoration. To me, it was the responsibility of school leaders (principals, superintendents, and center directors) to engage government agencies and their staffs during meetings that were inevitably held during times I had to teach. My fellow teachers and I would discuss the strengths and gaps of early childhood public policies and regulatory systems, but we didn't have the time or space to share our views with policymakers. Even my college faculty, who had conducted significant research in early childhood education, appeared to be policy implementers, not co-creators.
My initial entry into the public policy and systems-building arena meant climbing a steep learning curve. I felt confident about what I knew, from both experience and formal education, and also vulnerable enough to identify what I did not know. Fully embracing my gaps, I completed graduate coursework in education leadership, sought out mentors, and accessed all of the learning opportunities I could.
The transition also required significant emotional energy. I had to self-affirm the specialized knowledge and the (otherwise often missing) practice-based lens I brought to public policy conversations. I also had to prepare myself for leading change in predominantly White, socially and economically privileged policymaking spaces. Engaging individuals and businesses that were thriving—and therefore uninterested in changing who had a place at the policy table and what was discussed—required me to self-regulate and persist. From these experiences, I became committed to narrowing the gap between public policy and practice and to reassuring practicing educators that they had the expertise and experience needed to influence policies that impact early childhood education. Public policy requires shared leadership and diverse expertise.
Based on what I've learned, here are some strategies I recommend to help early childhood educators, including faculty, prepare to flip the script and become more active in the public policy and advocacy arena.
1. Know your professional practice
It is important for you to claim your space as an expert in your professional practice. To do so, you must have a command of the core knowledge base and the competencies that define the practice of early childhood educators. Educators as experts should be able to speak with authority, combining evidence and experience. For example, what factors impact the domains of child development? What are ethical assessment practices? How is effective curriculum developed and implemented? How is the pursuit of equity evident in your classroom? What do family-centered partnerships look like? These are complex questions, and responding to them requires specialized preparation.
Earning industry-recognized and accredited degrees and credentials signals that you have an understanding of the specialized research and rationales that drive early childhood educators' practice. Own the knowledge. And just as you claim your space with policymakers, so too do you need to claim your space with other members of the field. Value those who don't share your specialized competencies, professional responsibilities, and accountability, but don't cede the floor to them. All of our experiences matter, and we each have an obligation to speak on our own behalf.
Advocating for young children is our responsibility and a part of our profession.
2. Know that you belong at the policymaking table
Like young children, we too thrive when there is a sense of belonging. As educators, we sometimes feel like we do not belong in the policymaking arena. We relegate policy decisions to those whom we deem to be policy experts or leaders. In some cases, we do not feel welcome in the arena as intellectual or social equals, so we assume our expertise and experiences do not matter. However challenging and sometimes uncomfortable initial experiences in public policy may be, know that you have a professional and ethical obligation to be in those spaces. Know too that your journey into public policy and regulatory systems deepens your expertise as an educator. Finally, know how valued you are in this space: advocating for young children is our responsibility and a part of our profession. What's more, surveys have found that teachers' and faculty members' voices are trusted by likely voters—the very people we need to advance early education public policy and financing agendas (NAEYC 2015).
3. Understand the relevant government agencies and individuals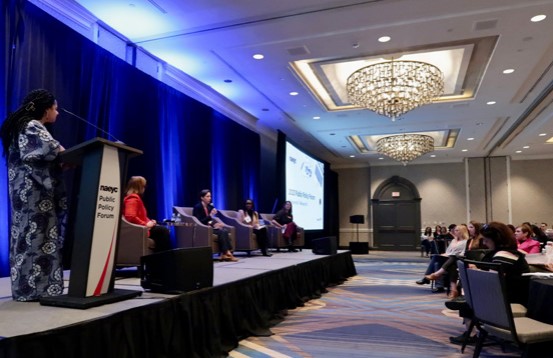 Many early childhood programs rely on a combination of government and private funding to be able to deliver high-quality services for young children and their families. Funding from the government (and from some private sources like philanthropic organizations) comes with accountability expectations or regulations. These requirements are typically developed and monitored by a network of local, state, and federal government agencies, and they inevitably impact educators' practice in intended and unintended ways. Connecting with individuals in these agencies can help you navigate the systems. Be informed about the various agencies, and build relationships with individuals in those agencies and with the policymakers leading their work. 
For example, do you know which government agency is responsible for child care regulations in your state? Which federal agency is responsible for the Head Start Performance Standards? Which state or local agency sets the standards for teacher licensure? Which state or local agency sets the standards for publicly funded prekindergarten? Does your state have a quality rating and improvement system? If so, who manages your state's QRIS? Your state likely has federal funding to support educators; which agencies decide how this funding is spent? Seeking the answers to these questions and connecting with individuals who can help you navigate these systems are crucial steps toward your successful engagement in the policy arena.
4. Increase your network—you can't do it alone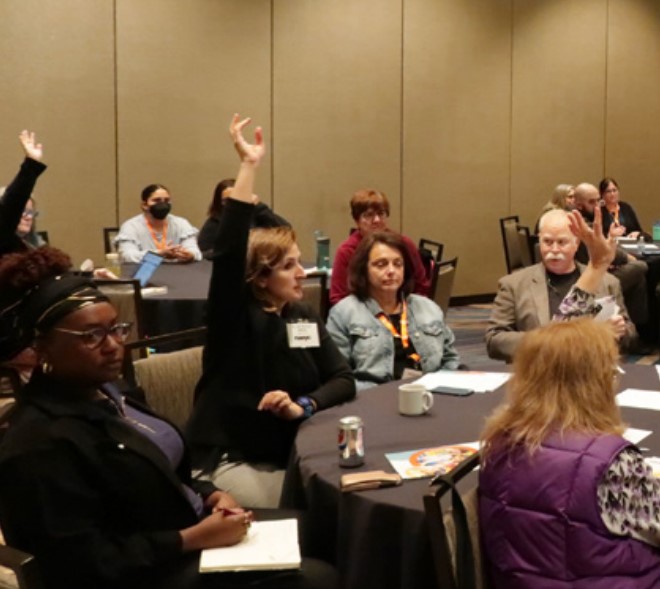 As wide as the gap between practice and policy may seem, there are many advocates working to narrow it. Join a national organization and its local affiliate to begin building your network. Your leverage is only as strong as the national organizations that represent you. And those organizations grow stronger when their members are more active. Attend meetings and conferences hosted by professional organizations to meet others with similar or divergent perspectives. Organize informal meet-ups, like book clubs, potlucks, and picnics, to deepen relationships within your network. Use social media to stay connected.
Find authentic ways to make your network as diverse as the early childhood education profession itself. For example, do the educators in your network work in a variety of settings, including home-based programs, centers, and elementary schools? Does your network reflect the racial, cultural, and linguistic diversity of the profession? Do you have mentors who share their authentic selves with you? Do you have faculty and professional preparation specialists in your network? Do you have relationships with policy specialists at the local, state, and national levels? Do you know at least one staff member in each professional organization you belong to? The wider and more diverse your network, the more opportunities you'll have to advocate and influence policy in a way that makes sense to you.
And like all relationships, your relationships with members of your network thrive when they are reciprocal. Bring something to the table, starting with your willingness to share and to listen.
5. Make your expert voice heard
As an expert in early childhood education, there are many ways you can make your voice heard. Respond to calls for public comment, explain the importance of early childhood education at school board meetings, participate in policy meetings and town halls, share feedback on social media, join online community conversations, respond to surveys, host a radio show, invite policymakers to visit your program, ask candidates for public office to explain how they plan to support early childhood education, and/or write letters to policymakers. If these typical mechanisms do not work for you, advocate for and create the opportunities you want. Don't assume that others have the perspective and experience you can bring to a conversation, and don't automatically assume that others know more than you.
National professional organizations and their affiliates have many volunteer leadership opportunities for educators, including participation on boards, committees, councils, and peer reviewer panels. (To learn how to get more involved with NAEYC, visit NAEYC.org/get-involved.) In my opinion, every early childhood educator should be a member of a professional organization that can help bring our individual and collective voices to bear in the policymaking arena.
---
The Policy Perspective

By Lauren Hogan
From school boards to think tanks to the halls of Congress, thousands of people in this country are involved in designing and influencing policy related to young children, their families, and the people who care for and educate them. I personally came to this work compelled by my experience leading an after-school program for teenagers, convinced our country needed to both start earlier and think bigger. Since shifting my focus to early childhood nearly two decades ago, I have led literacy workshops for families and conducted home visits with parents of infants—but my professional degree is in public policy, not early childhood education.
While I've advocated for every early learning setting in my work in policy departments at professional membership organizations, including NAEYC and the National Black Child Development Institute, I have never directly worked in one of those early learning settings. That has not been uncommon. Many policy-oriented people work in professional associations, mayors' offices, Congress, think tanks, unions, state legislatures, lobbying firms, businesses, governors' offices, research institutions, city councils, and the White House. Fewer of us have traditionally been in schools, child care centers, or family child care homes—and there are far too few former early childhood educators among policymakers—which is also critical to change.
Mind the Gap

In my experience, many in the policy arena will readily admit that policies would likely work better in practice if they were informed and shaped by people on the ground who best understand what it takes to achieve the shared goal of increasing access to high-quality early learning.
Yet the gap between educators and policy specialists continues to exist. It exists despite widespread recognition that traditional approaches—such as consulting with researchers, economists, and various other nonclassroom experts—do not necessarily yield the best results.
This gap exists despite professed beliefs by policymakers who say they want to listen to the voices of educators and despite the engagement of educators who want their voices heard.
This gap exists because it has been hard to bridge, built as it is on long-standing, deep-seated beliefs, assumptions, and biases, not to mention the influence of expectations and time limitations as well as the interplay of ego and power. At their best, policymakers believe that they can make something better than it is. But even with good intentions, this service orientation can lead a policymaker into believing not only that they can make something better but also that they know better than the people whose lives are affected by the policies they create.
How does this happen? The answers require us to reflect on what we believe about early childhood educators that causes policymakers to sideline their voices, to override their objections, and to design and promote policies that invest in systems and structures around the profession rather than in the profession itself.
Grappling with these issues cannot be done in a vacuum, and there is no such thing as finding a single, conclusive answer. It must be done in the context of learning, of seeking out and welcoming new voices, questions, experiences, ideas, and perspectives. Even as the professional apparatus strives to hold early childhood educators accountable for engaging in policy and advocacy work and to support them in doing so, the fundamental shift must also come from policymakers and influencers, who need to embrace engagement and extend invitations to educators.
I have heard educators offer great, workable, implementable, and innovative ideas for solving policy problems. Based on my experiences, here are some strategies I recommend to help policy specialists flip the script to become more active and intentional in welcoming these ideas and the individual early childhood educators who offer them to the public policy and advocacy arena.
1. Seek to know the early childhood education profession and its professionals
Being an effective policymaker requires specific knowledge, skills, and competencies, just as being an early childhood educator does. But it's important for policymakers and influencers to know the scope of our expertise—and where it ends. Most of us have never been early childhood educators. Yet even for those who have been educators, the experience of being in a classroom, center, or home-based setting is often part of a distant, pre-pandemic past. In addition, because the best policymaking may be anchored by, but not limited to, our own personal experiences, engaging with a diverse range of current early childhood educators who are working in varied settings is key. 
Each of us must prioritize the act of seeking out and accepting opportunities to show up so we can experience firsthand what happens in early childhood education every day. We must make time each year to visit early education centers, schools, and family-based settings so that the time never comes when we realize we have not set foot in a particular early learning setting even as we develop policy that influences the educators and children in that setting. In addition to showing up in person, virtual tools and social media can and should be used to break down the barriers between policymakers and educators so we can make good policies that are implementable in the way they are imagined.
Being an effective policymaker requires specific knowledge, skills, and competencies, just as being an early childhood educator does. 
2. Don't make people bring a folding chair to the table
Shirley Chisholm, the first Black woman elected to the US House of Representatives, famously said, "If they don't give you a seat at the table, bring a folding chair." I've always loved this quote and its never-say-no, us-against-the-world, get-up-and-at-'em activism. But a part of it has also always bothered me. Because folding chairs are, by nature, impermanent. They are brought out at the last minute to accommodate the unexpected, perhaps unnecessary guest. And the sentiment behind the quotation allows policymakers to do nothing to change our own tables or seats and to continue to operate under the assumption that if people want to participate, they will simply bring their own proverbial chairs. It is time to shift the responsibility for and the burden of making room. Educators have earned permanent seats at the table. (And seats is plural for a reason: let's agree to always include more than one educator so no one person is tokenized.) This might mean building a bigger table. It might mean making the existing table more crowded. And it might mean asking some people currently at the table to give up their seats so new voices can be heard.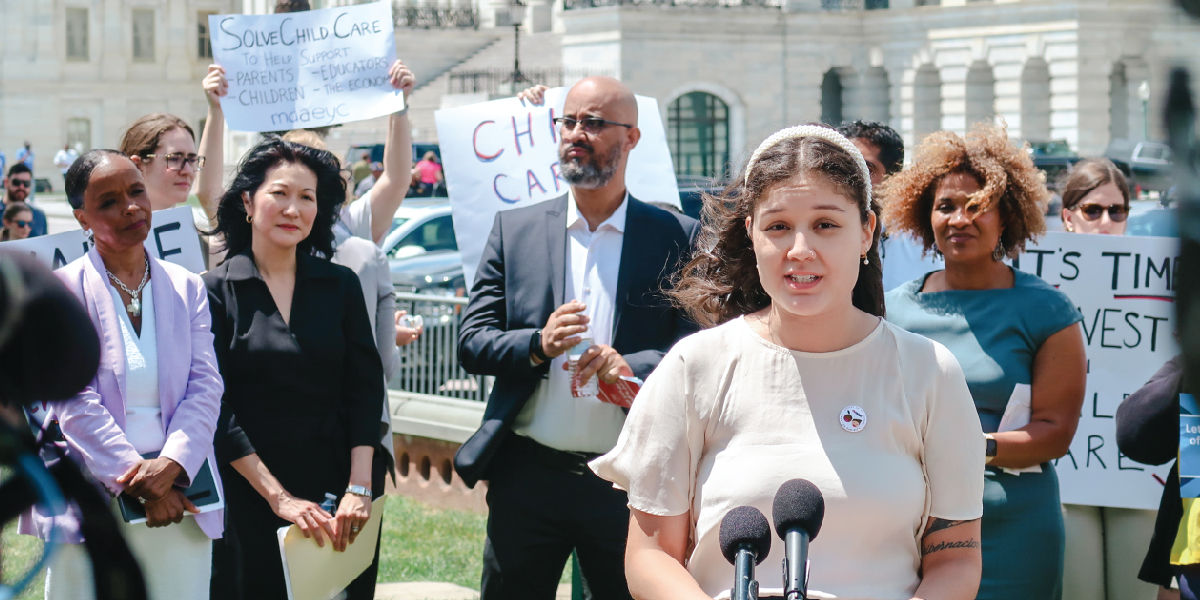 3. Make the systems understandable— and worth understanding
We policymakers ask educators to understand the systems, but it is incumbent upon us also to make the systems understandable. Chaos and complexity often serve as gatekeepers, marginalizing those who do not have the power, privilege, or time to easily access and navigate systems made obscure by a combination of history, accident, and design. These systems may include everything from licensing requirements that change when you cross a state border to unaligned, unstackable, English language-only early childhood training programs that neither improve practice nor lead to career advancement but are required by a state nevertheless. With the implementation of the Unifying Framework, there will be opportunities for policymakers to lead and to participate in setting a distinct floor for early education quality that defines the professional preparation, responsibilities, competencies, scope of practice, specialization, compensation, and accountability for early childhood educators across states and settings. We policymakers and influencers should embrace those opportunities to create and finance early childhood systems and supports that are clear, understandable, and navigable for early childhood educators and the families they serve.
4. Don't rely on a singular voice
Policymakers and influencers are often presented with the cultivated voices of highly effective teachers—the educators working in the highest-quality settings and those who have heroically overcome challenges to achieve success. This is understandable, and those voices are critical. Yet while listening to their stories, policymakers can take advantage of access to these individuals by asking them more than baseline questions, seeking to understand things like "What supports did you receive to help you achieve your success?"; "If you have watched your colleagues struggle, what do you think would have made a difference for them?"; and "How have local, state, and federal policies supported or hindered your success?" In addition, as has happened in the context of the pandemic, policymakers and influencers can seek out, request to talk with, and equally value the voices of those operating without awards, those who are openly struggling, and those who are just barely making it work every day.
Advocates routinely tell educators not to complain to policymakers (and that's good advice, particularly regarding problems that are not within the policymakers' jurisdiction to solve), but policymakers should still work to understand the challenges that educators are asking for help to solve. We should respect all educators' experiences and expertise and listen to their proposed solutions.
5. Make it possible to hear expert voices
While many policy specialists say they value educators' input, actions do not always support that claim. To have educators at the policymaking table, we need to address their core logistical challenges; namely, time, money, and capacity. One potential solution that addresses each of these barriers at once revolves around the practical and critical issues of release time and substitute pools (filled with well-prepared educators). These are sorely needed in early childhood education. They would make it possible for currently practicing educators to contribute to public policy initiatives during the work day and also to advance their own education by taking classes and doing required coursework without compromising children's health and safety or the quality of children's learning experiences.
As we lift up local and state best practices to create and fund these needed solutions, we need to establish allowable uses for time that not only let educators attend classes offered, for example, at 4:00 p.m. by the local college, but also let them provide testimony to a legislature that convenes its hearings at 10:00 a.m. or participate in an early childhood advisory council meeting that happens at 1:00 p.m. every fourth Tuesday of the month.
At the same time, we can elevate and integrate the voices of early childhood educators by requiring that existing advisory councils add members who are practicing educators, creating new educators-only advisory councils, and then holding the council meetings at a time and place when and where those educators can attend, while providing stipends and transportation support.
In addition, from bonuses built into QRIS systems to requirements built into wage supplement programs to the creation of competitive awards, we should incentivize and applaud school districts, state preschool systems, Head Start programs, family child care networks, and other groups that routinely encourage and support their early childhood educators to engage in policy development.
Finally, we should hold onto lessons learned in the pandemic and consider how our hearings and briefings can continue to support remote and video participation. We have seen how having educators testify and provide virtual tours have transformed policymaker understanding of the challenges and joys of early childhood education. There are many ways to invite, support, and expand engagement; continuing to ask educators how they would like to show up would surely yield more needed and creative solutions.
---
Conclusion

We can take it upon ourselves, educators and policy specialists, to change things together. Power dynamics and relationships shift all the time, closing some doors and opening others. It's never too late to flip the script, especially knowing that children and families will be all the better when we do.
This article is an updated version of "Flipping the Script: Educators Driving Public Policy" by Marica Cox Mitchell and Lauren Hogan, published in the September 2019 issue of Young Children (NAEYC.org/educators-driving-policy).
---
Photographs: © NAEYC
Copyright © 2023 by the National Association for the Education of Young Children. See Permissions and Reprints online at NAEYC.org/resources/permissions.
Marica Cox Mitchell
Marica Cox Mitchell is vice president, early childhood for the Bainum Family Foundation. Marcia has worked in the early childhood field for more than 20 years. Her diverse experiences have allowed her to view the field from many perspectives, including the classroom, program, district, state, and national levels.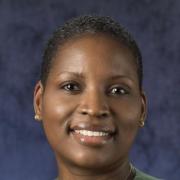 Lauren Hogan
Lauren Hogan is the managing director of policy and professional advancement for NAEYC, in Washington, DC.