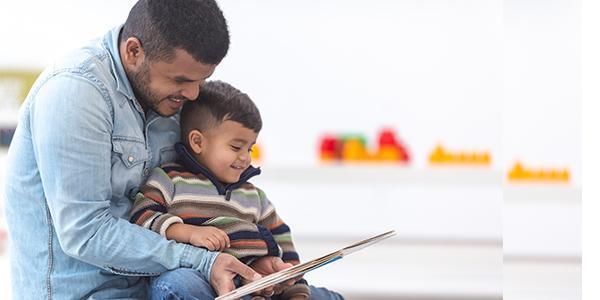 You are here
Isabel Baker, Miriam Baker Schiffer
Animals from A to Z: Exploring the Americas

By Amelia Hepworth. Illus. by Carolina Buzio. 2021.
Wilton, CT: Tiger Tales. 24 pp. Ages birth to 2.
In this browsing book for the youngest readers, each letter of the alphabet is matched up with an animal, such as L for lynx. With one animal per page, readers get a close look at a variety of interesting species. The colorful illustrations manage to be clear-cut while containing plenty of realistic detail. Many of the animals seem to direct a subtle playfulness toward the reader, helping to draw children in. Additionally, the large, chunky capital letters are easy to discern. The book contains many familiar animals (black bear, otter, skunk) and many that will likely be new (uakari monkey, quetzal, x-ray fish, Muscovy duck). A guide and map at the end of the book show where in the Americas each animal is likely to be found. Early childhood educators can use this book to introduce young learners to the natural world near and far, along with the alphabet.
---
Best Day Ever!

By Marilyn Singer. Illus. by Leah Nixon. 2021.
New York: Clarion Books. 32 pp. Ages 2 to 6.
It's a grand life for this pup, who has the best day ever frolicking in nature and playing alongside the boy he lives with. Suddenly, it's rocky times: after lots of activities outside—swimming in the lake, playing in puddles, rolling around on the ground—he comes home stinky and lands in a bath that tastes of soap. The pup knocks a lamp over running away from the bath, making matters worse. His boy speaks sharply to him, and the dog feels terrible for making a mess of things. In the end, things turn out right side up for this pair after the boy makes amends. This book is a great example of how we all have good days and bad days, but most days are a mix of both, and we can still find things to make us smile, even among things that make us sad.
The puppy embraces each moment. By his side is his human friend, who is pictured in a wheelchair. The text doesn't call attention to it; he lives and plays actively in these moments too. Positive representation of diverse abilities is important for children. Teachers can also highlight the contributions of the author—whose dog inspired the book—and the illustrator, who shares that her life "revolve[s] around three things: dogs, drawings, and life in a wheelchair."
---
May Your Life Be Deliciosa

By Michael Genhart. Illus. by Loris Lora. 2021.
New York: Abrams. 40 pp. Ages 3 to 8.
In this household, making tamales on Christmas Eve is a family affair. Abuela knows the recipe by heart, and she imparts her knowledge as each family member participates in the assembly and cooking. There's granddaughter Rosie, her mamá, sister Pancha, cousins, Rosie's tía, and more. Many cultures share love through food. Abuela's process goes one step further. In connection with each step of the recipe, she gives out wishes for a good life to Rosie. For example, as she holds the husk, which forms the outer wrapper around the tamale, she wishes protection and security upon her granddaughter. The chiles Abuela stuffs the tamales with represent spice for a special life. As Abuela leans the tamales upon each other in a large pot to steam, she says to Rosie, "May you always have the support of family and community." Readers learn step-by-step how this delicious and complicated food is made, while also embracing the family history and love that make this food so special.
There are many ways to extend this story in the classroom. Spanish is integrated into the text ("I use mis ojos, my eyes, to measure. Mis manos, my hands, to feel."), encouraging familiarity and use of two languages. And children can share family traditions of their own. Teachers can use this book as part of a broader approach to cultural learning throughout the curriculum and as a way to connect to families as well. This Pura Belpré 2022 Youth Illustrator Honor winner was inspired by the author's experiences.
---
The Great Zapfino

By Mac Barnett. Illus. by Marla Frazee. 2022.
New York: Beach Lane Books. 32 pp. Ages 4 to 8.
This stunning book is a collaboration between two of the most talented authors and illustrators working today. Barnett's story is about a circus acrobat, Zapfino, who backs out right before a big jump but is given a second chance. As Zapfino adjusts to everyday life in his new job as an elevator operator, he learns how to be himself and how to face his fears. He finally takes that big jump when real life requires him to escape a fire through a high-rise window. Frazee's black and white illustrations are vibrant as ever. The almost wordless book will leave young readers pondering profound issues, such as running from difficulty and facing our fears even after a failure.
---
Sam Is My Sister

By Ashley Rhodes-Courter. Illus. by MacKenzie Haley. 2021.
Chicago: Albert Whitman. 32 pp. Ages 3 to 9.
Brothers Evan, Sam, and Finn are three peas in a pod. But Sam starts wanting to grow long hair and wear a dress. Sam explains to Evan that, just like drawing with your other hand doesn't feel right, being a boy doesn't feel right to Sam. Mom and Dad explain that Sam was called a boy at birth, but she is a girl, and the word for that is transgender.
This story, which is based on the author's own experience as the mom of two sons and a transgender daughter, deftly captures the family's process of learning what it means for Sam to be transgender and supporting her for who she is. Just like the author's daughter, Sam beams when she gets to be freely herself. She and her brothers remain as close as ever. This excellent title touches lightly on many issues that may come up when a child transitions (lack of understanding from family and friends, bullying at school) and shows the power of a family's love and acceptance. Through this book, young children can be introduced to accurate terminology, to an understanding of the experiences of a transgender child, and to discussions of being oneself and accepting others as they are.
Isabel Baker
Isabel Baker, MAT, MLS, is the founding director of The Book Vine for Children, a national company dedicated to getting good books into the hands of preschool children and their teachers. Isabel has worked as a children's librarian and is currently a presenter on early literacy and book selection.
Miriam Baker Schiffer
Miriam Baker Schiffer, MFA, is a writer in Brooklyn, New York. She consults on book selections for The Book Vine, in McHenry, Illinois. Miriam's children's book, Stella Brings the Family, was published by Chronicle Books in 2015.