The Reading Chair: Spring 2022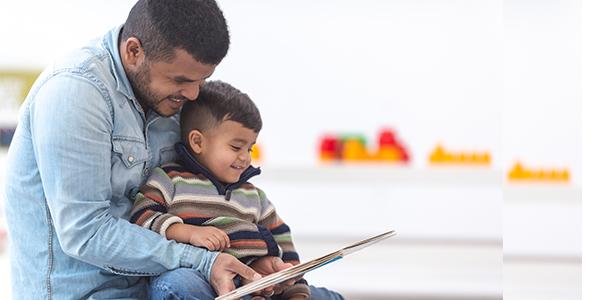 You are here
Isabel Baker, Miriam Baker Schiffer
A Is for Ant

Illus. by Kate Slater. 2020.
New York: DK Publishing. 16 pp. Ages 1 to 4.
What a wonderful science text for toddlers and preschoolers! It is full of facts about ants while remaining accessible for the very young. For example, "A is for antenna. Ants use their antennae to smell things, such as food." The book includes types of ants, body parts, reproduction, predators (such as anteaters), and the fun of an ant farm. After reading this book with children, you might explore the ants outside your own setting, connecting the facts and words in the text to what you notice together in your nearby surroundings.
Slater's illustrations are colorful, clear, and full of personality. Artful informational texts for very young children can be hard to find; this one is part of a 26-book series, and all 26 are excellent.
---
Benny Wants a Haircut

By Judith Koppens. Illus. by Marja Meijer. 2020.
New York: Clavis Publishing. 32 pp. Ages 3 to 7.
A third book in the Sam and Benny series has released, and it is a charmer. When Sam realizes it is time for a haircut, she brings her dog, Benny, to the hair salon. (We love Sam's independence.) While they wait for their turn, they take in the sights of the salon, from the curlers to the automatic hair dryers that look like helmets. When it is Sam's turn, she leans back to have her hair washed, then climbs into the chair where she will get her trim. Benny makes a ruckus, and Sam reassures him that the haircut does not hurt. The hair stylist knows what Benny is really barking about: he wants his own haircut! Sam and Benny walk home with their beautifully coiffed heads held high.
The whimsical illustrations, including the hairdresser's mustache and Sam's unkempt hair, belie the serious work this book does in addressing a part of routine self-care that can be uncomfortable for many children. Young readers will enjoy discerning Benny's nonverbal communications, sharing how they have felt in similar situations, and considering potential joys in these routines.
---
If You Come to Earth

By Sophie Blackall. 2020.
San Francisco: Chronicle Books. 80 pp. Ages 4 and up.
Two-time Caldecott Medal winner Sophie Blackall has crafted an original and complex book about the meaning of being a human resident of Earth. In a most accessible and child-friendly way, the book is narrated as a visitor's guide for creatures from another planet. Longer than most picture books, it provides page after page of far-reaching ideas for children to pore over. Woven together with sparse but meaningful text, this book captures who we (the human race) are. There are intricate expository pages: "People mostly live on the land in big cities and small towns and tiny villages or . . . just in the middle of nowhere." There are pages that name aspects of our lives we may never have thought about: "Even if we don't feel like it, we get dressed every day." There are pages that grapple with tough subjects: "Sometimes people get hurt by accident. Sometimes we hurt each other. It's better when we help each other." Blackall touches on art, animals, weather, occupations, food scarcity and abundance, bodies of various shapes and abilities, and growing up.
Blackall's exquisite illustrations excel at detail and precision, stirring readers with their specificity while maintaining clear control of the cohesion and beauty of the entire page. Children will get endless pleasure browsing this book on their own after it has been read to them, and they may even want to create their own pages of a visitor's guide to Earth.
---
Memory Jars

By Vera Brosgol. 2021.
New York: Roaring Brook Press. 48 pp. Ages 3 to 8.
New from Caldecott Honoree and award-winning cartoonist Vera Brosgol comes this inventive and quirky story. After picking blueberries with her grandma, young Freda frets about how she will eat them all. Grandma explains they will preserve them in jars. This unleashes Freda's imagination about what other special things she might be able to preserve in a jar. It starts out simply, with a cookie and a toy, and then it veers into the absurd, with Freda giving the same treatment to her best friend, Jack, who is about to move away. Yes, Jack cheerfully goes into a jar. But, as Freda learns, saving something for later means you can't enjoy it right now. Once Freda has put everything special away for later, she notices that life is pretty dull.
Freda and her grandmother are a dynamic pair, helping readers playfully explore big life questions. Do we enjoy something now versus later? How do we accept that nothing lasts forever? The bold illustrations bring the unexpected to life: imagine storing everything good—from Grandma to the Eiffel Tower—in a jar! This story will prompt lots of conversation! The book also includes a delicious blueberry jam recipe that adults and children can make together after reading the story.
---
Just You and Me: Remarkable Relationships in the Wild

By Jennifer Ward. Illus. by Alexander Vidal. 2021.
New York: Beach Lane Books. 32 pp. Ages 3 to 7.
From nonfiction picture book writer Jennifer Ward comes a new title about symbiosis, or when two different species live together in a mutually beneficial relationship. While that may sound very scientific, the concept is also very accessible to children, who understand that friends help each other out. There is the Egyptian plover bird who cleans leftover food from a crocodile's teeth and gums—and gets a meal out of it. There are the ostriches and zebras who combine the power of the ostriches' eyesight and the zebras' smell and hearing to alert each other to danger. And there are algae that make a home on a sloth's fur and provide the sloths with camouflage at the same time.
Large type text will appeal to younger readers, and older readers will also enjoy additional details provided in smaller text on each page. Ward's text is full of interesting vocabulary (like symbiosis, anemone, and camouflage) and can satisfy the curiosity of children with such rich language and ideas. This tale of twos is bookended by a mother and child who talk about caring for and being cared for by the Earth, which is another very important partnership, and can spur deeper investigations of animals or the environment.
Forever Favorite 

Goodnight Moon 
By Margaret Wise Brown. Illus. by Clement Hurd. 2016 (1947). New York: HarperCollins. 32 pp. Ages birth to 5. 
Margaret Wise Brown wrote Goodnight Moon 75 years ago as a nurturing prequel to her earlier book, The Runaway Bunny, in which the bunny ventures out into the world alone. In Goodnight Moon, the bunny drifts to sleep in the great green room after saying goodnight to everything in his bedroom. Such a feeling of safety and comfort the book conveys! The story can mystify many adults, who don't always know what to make of it. For example, the line, "Goodnight nobody," often throws adults for a loop, but children find it perfectly acceptable. Brown's rhyme, her intuition in connecting with young children, and her quirky imagination create a story that has remained close to readers' hearts through the decades.  
There are some details to appreciate that even long-time fans of this book might have missed and can be fun to point out with children: the clock continues to change time, the mouse moves on every page, and the logs continue to burn down. Did you know that the cow doesn't have proper teats? Isabel had the good fortune of meeting Clement Hurd many years ago at an autographing. He said that when he sent the illustrations to Harper & Row (the name of the publishing house at the time), they wrote back that it was too risqué! Enjoy this book with fresh eyes. 
Brown was prolific in her short lifetime. Here are some other not-to-miss titles: Big Red Barn, The Noisy Book, The Runaway Bunny, Home for a Bunny, and The Dead Bird. 
---
Copyright © 2022 by the National Association for the Education of Young Children. See Permissions and Reprints online at NAEYC.org/resources/permissions.
Isabel Baker
Isabel Baker, MAT, MLS, is the founding director of The Book Vine for Children, a national company dedicated to getting good books into the hands of preschool children and their teachers. Isabel has worked as a children's librarian and is currently a presenter on early literacy and book selection.
Miriam Baker Schiffer
Miriam Baker Schiffer, MFA, is a writer in Brooklyn, New York. She consults on book selections for The Book Vine, in McHenry, Illinois. Miriam's children's book, Stella Brings the Family, was published by Chronicle Books in 2015.