Welcoming in, Learning About, and Learning from Families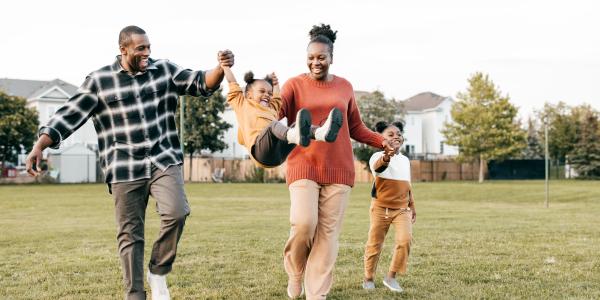 You are here
Early childhood education is most effective and rewarding when families and educators come together, developing respectful, reciprocal partnerships. This means that each and every participant is valued and engaged. In the best of worlds, children will feel support and inspiration from both their families and their teachers, radiating with sentiments like "My family made me who I am today" and "My teacher believed in me and helped me believe in myself."
While there may not always be agreement, families and educators each seek to understand, assume the best of the other, and actively work toward shared goals and solutions in a strong partnership. As NAEYC's position statement on developmentally appropriate practice advocates, these responsive practices "give educators the knowledge or insights they need to provide learning experiences that are fully responsive to each child's needs and experiences."
This issue of Young Children explores a range of topics about welcoming in, learning about, and learning from families. Opening the cluster, Hannah Kye writes about "The Preschool Birth Stories Project: Developing Emergent Curriculum with Families." This project centered on families' narratives about their children's births. Family members actively engaged in the children's learning by sharing their stories and connecting with teachers about the project's direction. In a companion piece, "We Are Makers: Culturally Responsive Approaches to Tinkering and Engineering," Kye uses another family-centered project about babies to discuss how culturally responsive pedagogy can help children see themselves and others as capable makers.
"Exploring Families' Language Practices Through a Social Studies Inquiry in Kindergarten" by Ivana Espinet, Maite T. Sánchez, Sabrina Poms, and Elizabeth Menendez describes the authors' collaboration in designing and implementing a family-focused social studies unit. Children and families explored their linguistic and cultural practices at home and in their Spanish-English bilingual kindergarten classroom. In sharing their work, the authors offer readers an example for working with multilingual families in other settings.
Creating and carrying out family-centered learning experiences depend on recognition and respect for families' funds of knowledge. "Welcoming Black Dads: Action Steps and Reflections on Becoming Culturally Competent" by Lindsey L. Wilson and Josh Thompson outlines five practices to help educators become culturally competent and build relationships with Black fathers. Voices of Black fathers are included along with action steps and reflection questions for each practice.
Spurred by recent legislation, Brian L. Wright's Viewpoint piece, "When Blue and Pink Are Not Enough: Saying 'Gay' Matters to LGBTQIA+ Families," argues for the need to both engage young children in meaningful conversations about gender identity and expression and also outlines the need to welcome LGBTQIA+ families into the classroom community. Along with situating this legislation within the history of LGBTQIA+ discrimination, Wright identifies children's books and accompanying activities to help establish a caring and equitable community of learners.
Next is "Creating a Breastfeeding-Friendly Early Learning Program" by Rebecca Dunn, Karrie Kalich, and Lynn Arnold. Informed by research and policy guidelines, the authors share strategies and resources to establish breastfeeding-friendly early learning environments. They also acknowledge how updated guidelines respond to issues of equity and different family structures.
The cluster closes with "Six Resources for Making the Most of Family-Educator Conferences" by Tricia Zucker, Michael Mesa, April Crawford, Shauna Spear, and Sonia Cabell. Based on work involving teachers and administrators in four districts, the authors describe six free, research-informed resources for effective family-educator conferences. They also embed examples of how these resources were received and used by preschool teachers at different schools.
Early childhood educators are called to foster relationships with families in strengths-based ways, which brings up many questions and complexities to navigate. I hope you find support in this issue for your work in creating learning environments and experiences in partnership with the families in your setting.
Reflection Questions for this Issue
How can you partner with families to expand on children's interests in your setting?
How are you tapping the experiences and expertise of the Black fathers in your program?
When planning family-educator conferences, how can you use the resources outlined to support your preparation?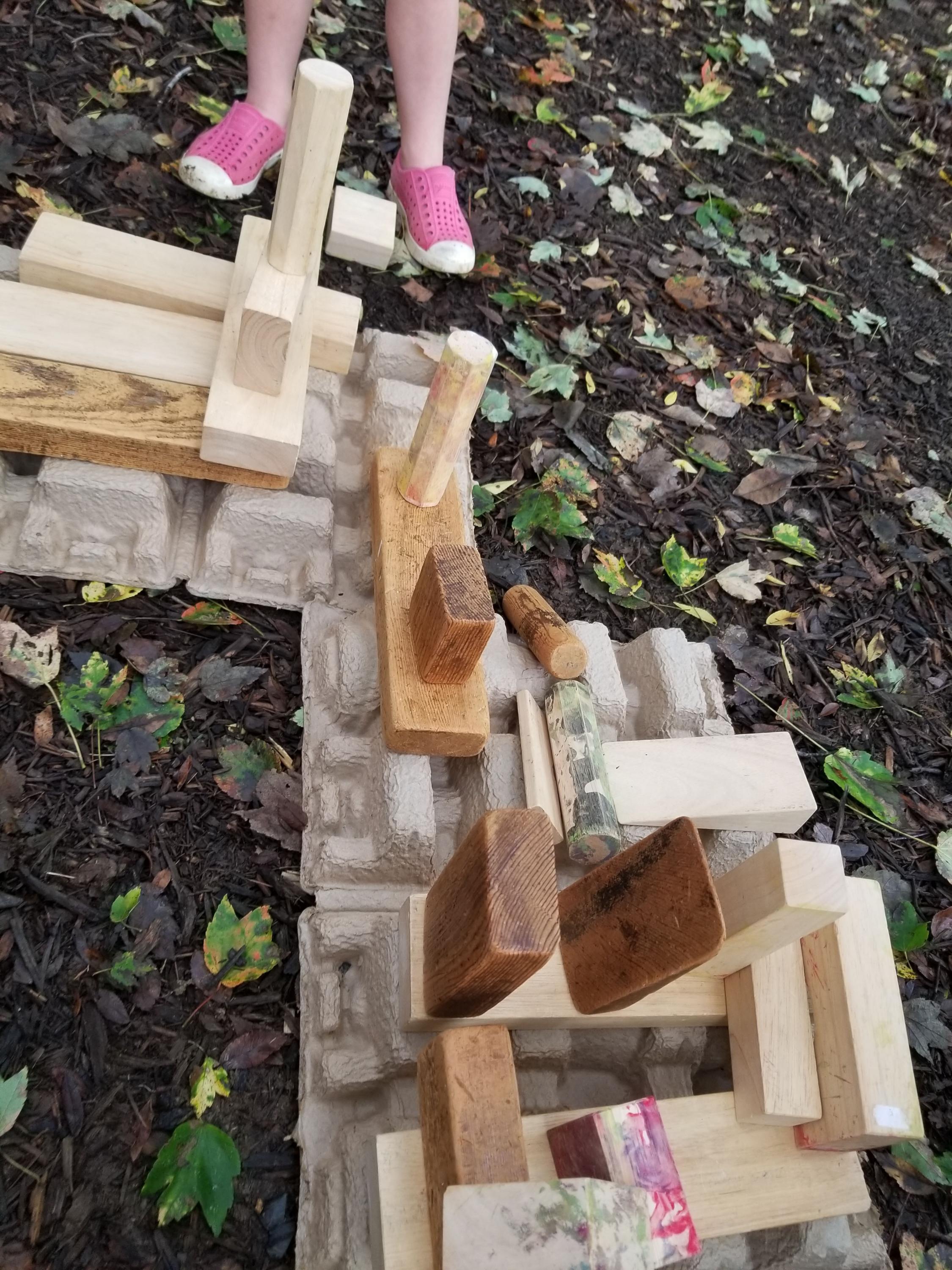 Four-year-olds in Ms. Susan and Ms. Andrea's outdoor preschool were invited to create with a bin of blocks and piles of cardboard recyclables. They worked cooperatively to build this structure.
Would you like to see your children's artwork featured here? For guidance on submitting print-quality photos (as well as details on permissions and licensing), see NAEYC.org/resources/pubs/authors-photographers/photos. We'd love to hear from you!
Send your thoughts on this issue, and on topics you'd like to read about in future issues of Young Children, to [email protected].
Is your classroom full of children's artwork? Be sure to email [email protected] for details.
Annie Moses
Annie Moses is the editor in chief of Young Children and Teaching Young Children at NAEYC.