What the Research Says: Gender-Typed Toys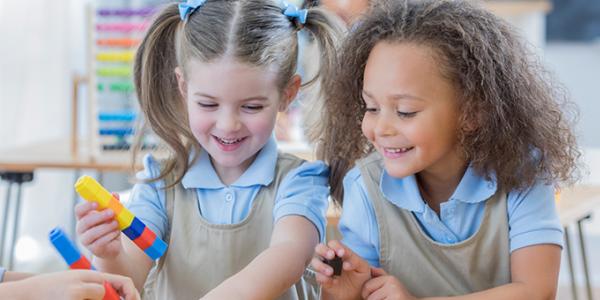 You are here
Home
/
What the Research Says: Gender-Typed Toys
What makes a good toy for a young child? NAEYC asked two researchers about what their work tells us about toys, children, and play.
Judith Elaine Blakemore is professor of psychology and associate dean of Arts and Sciences for Faculty Development at Indiana University−Purdue University in Fort Wayne, Indiana. Her primary research interest is the development of gender roles. We also spoke to Jeffrey Trawick-Smith, professor at Eastern Connecticut State University in Willimantic, Connecticut, about the impact of specific toys on play.
 
---
Tell us about your toy research.
Professor Blakemore: We identified more than 100 toys and classified them to indicate how much each toy was associated with boys, girls, or neither.
In general the toys most associated with boys were related to fighting or aggression (wrestlers, soldiers, guns, etc.), and the toys most associated with girls were related to appearance (Barbie dolls and accessories, ballerina costumes, makeup, jewelry, etc.).
We then divided the toys into six categories, based on these ratings: (1) strongly feminine, (2) moderately feminine, (3) neutral, (5) moderately masculine, and (6) strongly masculine. Toys were then rated according to their characteristics, such as able to be manipulated, exciting, educational, aggressive, musical, etc.
We found that girls' toys were associated with physical attractiveness, nurturing, and domestic skill, whereas boys' toys were rated as violent, competitive, exciting, and somewhat dangerous. The toys rated as most likely to be educational and to develop children's physical, cognitive, artistic, and other skills were typically categorized as neutral or moderately masculine. We concluded that strongly gender-typed toys appear to be less supportive of optimal development than neutral or moderately gender-typed toys.
What message do you think early childhood teachers and other educators could take from your research?
Professor Blakemore: If you want to develop children's physical, cognitive, academic, musical, and artistic skills, toys that are not strongly gender-typed are more likely to do this.
 
What message about toys do you think families of young children could take from your research?
Professor Blakemore: For parents, it's the same message as for teachers: Strongly gender-typed toys might encourage attributes that aren't ones you actually want to foster. For girls, this would include a focus on attractiveness and appearance, perhaps leading to a message that this is the most important thing—to look pretty. For boys, the emphasis on violence and aggression (weapons, fighting, and aggression) might be less than desirable in the long run.
Also, moderately masculine toys have many positive qualities (spatial skills, science, building things, etc.) that parents might want to encourage in both boys and girls. Perhaps, to some extent, it is the same for some moderately feminine toys (nurturance, care for infants, developing skills in cooking and housework).
What's the most surprising thing you think your research tells us about children, toys, and play?
Professor Blakemore: I am not sure how surprising this is to me but it might be to parents: Moderately masculine toys encourage children's physical, cognitive, academic, musical, and artistic skills more so than moderately feminine ones.