NAEYC Announces the Release of Serious Fun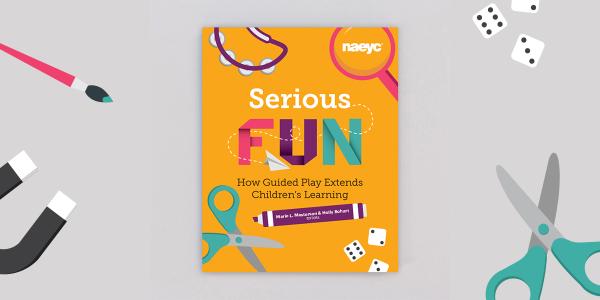 You are here
Home
/
NAEYC Announces the Release of Serious Fun
For Immediate Release:
January 23, 2019
Media Contact:
Jerilyn Gamble
jgamble@naeyc.org
202-350-8841
NAEYC Announces the Release of Serious Fun

Washington, D.C.-- The National Association for the Education of Young Children (NAEYC) launched a new book, Serious Fun: How Guided Play Extends Children's Learning, edited by Director of Quality Assessment at McCormick Center for Early Childhood Leadership, Marie L. Masterson, and NAEYC's Senior Editor of Books and Related Resources, Holly Bohart.
The publication explores the importance of providing content-rich guided play experiences to nurture children's emerging capabilities and skills.
This book is an excellent resource for preschool and kindergarten teachers. In addition, teacher educators, coaches, and trainers will find lots of helpful information, including the reflection questions at the end of each chapter. Topics covered in Serious Fun include what brain science tells us about guided play, helping children meet standards through play, and nurturing culturally rich dramatic play. According to Marie Masterson,  
This is the goal of education in the early childhood years—to build on what children already know and can do in order to instill a love of learning and ensure strong social, emotional, physical, cognitive, and language skills that will propel them to ongoing success in school and in life.
This is Masterson's second NAEYC published book, following The Essentials: Providing High-Quality Family Child Care, a work offering the basic information family child care providers need to run a successful program in a warm, welcoming setting for children and their families. Masterson and Bohart are the editors of this inspiring book; sixteen early childhood authors wrote the chapters.
Serious Fun is available for purchase in the NAEYC online store. For more information on this book and other resources, visit NAEYC.org/resources/pubs.
###
NAEYC is the foremost professional membership organization committed to transforming the lives of young children and delivering on the promise of high-quality early learning. NAEYC represents 60,000 early childhood educators who care for, educate, and work on behalf of young children, birth through age 8. Learn more about NAEYC at www.NAEYC.org.