NAEYC Joins More than 125 National and State Organizations to Call on Congress for $250 Billion to Stabilize Child Care and K-12 Education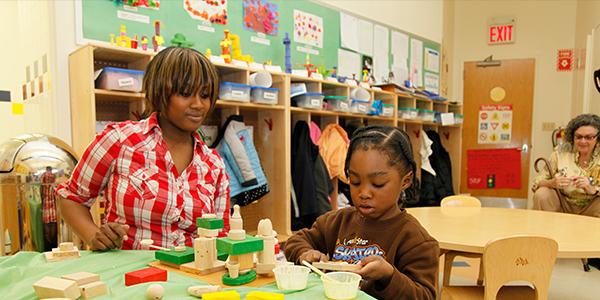 You are here
Home
/
NAEYC Joins More than 125 National and State Organizations to Call on Congress for $250 Billion to Stabilize Child Care and K-12 Education
For Immediate Release:
September 16, 2020
Media Contact
Will Bohlen
[email protected]
The National Association for the Education of Young Children (NAEYC), a leading advocate for early childhood education, joined more than 125 early childhood education, K-12 and parent advocacy groups in calling on Congress to provide the funding necessary to support child care programs and schools in safely delivering high-quality education and care in the face of the COVID-19 pandemic.
In a letter to Congress, the groups show that parents and educators working with children of all ages are facing a deepening crisis as they struggle with  a child care crunch, employment challenges, technology inequities, and the burden of increased costs related to dealing with the pandemic safely. Based on what researchers have identified, the letter asks for $50 billion to save child care, along with $200 billion to support K-12 education.
Previous pandemic allocations have been insufficient, and Congress has failed to pass the needed relief. As the letter notes, "When parents, child care providers, and teachers needed it most, Congress did not follow through to ensure our safety and success."
Among the signers are early education-focused groups such as Child Care Aware of America, First Five Years Fund, and ZERO TO THREE; parent groups such as MomsRising/MamásConPoder, United Parent Leaders Action Network and ParentsTogether Action; and K-12 oriented groups such as the National Education Association, the American Federation of Teachers, and The Education Trust. State and local groups from across the United States have signed as well.
"This broad coalition of groups representing all parts of the American systems providing care and education shows that as the crisis has persisted, the danger to our system is real and getting worse," said NAEYC CEO Rhian Evans Allvin. "But Congress can act to support children, families, and our economy by providing substantial emergency funding needed to prevent 82 percent of child care programs from closing in the next year, and to support schools in staying open safely." 
The letter outlines the sacrifices that families and educators have made since March and identifies the ways in which the pandemic has exacerbated significant existing problems.
"For years, our care and education systems have been underfunded and undervalued," the letter reads. "When the coronavirus pandemic began, parents, teachers, and child care providers stepped up. We learned new ways to help children learn, put our own lives on the line to care for children, and invested our own resources to keep ourselves, our families, our colleagues, and the communities around us safe. While other industries, like airlines, have received a large influx of funds to help them stay afloat, no such rescue package has been available for child care and public education, both of which should be essential public goods."
***
The National Association for the Education of Young Children (NAEYC) is a professional membership organization that works to promote high-quality early learning for all young children, birth through age 8, by connecting early childhood practice, policy, and research. We advance a diverse, dynamic early childhood profession and support all who care for, educate, and work on behalf of young children. The association comprises nearly 60,000 individual members of the early childhood community and more than 50 Affiliates, all committed to delivering on the promise of high-quality early learning. Together, we work to achieve a collective vision: that all young children thrive and learn in a society dedicated to ensuring they reach their full potential.