Tips for recent graduates and professionals new to ECE: Advice from your peers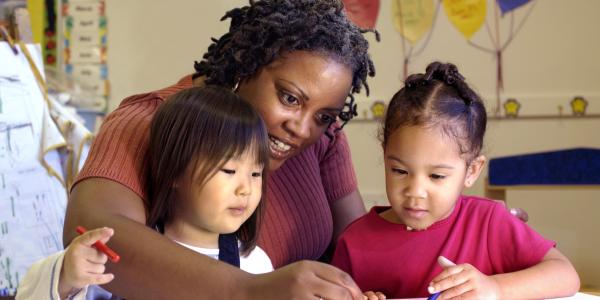 You are here
Home
/
Tips for recent graduates and professionals new to ECE: Advice from your peers
We asked both new and seasoned early childhood professionals what they wish they'd known when applying for their first ECE job. Here are some tips and advice on finding and surviving your first job in early childhood education!
---
When you are seeking your first job, you should...
1. Do Your Homework
Take some time to research the school, school district, and the community. Develop familiarity with the cultures and environments of the children who live in the area.
2. Expand Your Search
Think about the early childhood field more broadly. Consider applying as a substitute teacher, assistant teacher, or paraprofessional. These positions can be stepping stones and help you make valuable connections in the field. There are also early childhood jobs outside the classroom in policy, advocacy, research, and communications.
3. Don't Get Discouraged
There are many factors that affect the hiring process and not being selected for a job is not necessarily a reflection on you or your abilities. Don't give up if you don't get called back or if your peers get hired before you. Find a mentor that can help you strengthen your portfolio and interview skills. Broaden your search and be sure to check NAEYC's career center, your state affiliate, craigslist, college job boards, SchoolSpring and LinkedIn for job listings.
4. Come Prepared
At the interview be ready to present a portfolio. Include sample lesson plans, and relevant student work. Portfolios could also be put on a personal website and included in your application. During your interview, include an explanation on how you would meet the diverse needs of students.
5. Be Honest, But Eager
During the interview process, avoid trying to impress the interviewer with a bunch of jargon. Instead, demonstrate your willingness to learn and collaborate with peers. Consider producing a professional development plan showing how you plan to grow as a professional.
---
Starting out as a young professional, you should...
1. Remain a Learner
Education is evolutionary; the more we learn the better at it we become. We are fortunate that research and best practice guide our field and there is a wealth of knowledge available to us. When educators continue to be curious about their students and the world around them, there is endless opportunity for reflection and growth. Reading early childhood publications, taking additional qualification courses or other professional development, listening to podcasts or watching webinars, and staying current in the field will help you become a confident and informed educator.
2. Create a Network
Cultivating a professional learning network gives us an immediate source of inspiration and information from educators from around the world. Share your work beyond the walls of the classroom by visiting blogs and following educators on social media. HELLO is a great place to ask questions, invite constructive critiques, and gain an outside perspective on challenges you're facing.
3. Live and Learn
Making reflection a regular part of our practice is a great way to grow as a professional. Sometimes things go wrong, especially early on in one's career. Taking a moment to stop, step back, and assess the situation can help you make an informed decision and move forward without taking setbacks too personally. Take notes during your day, and look back over them for inspiration and guidance.
4. Make Connections
Even though there is so much to do and learn when you're first starting out, building relationships with colleagues is especially important. Colleagues help us develop and refine our practice by share ideas and serving as a sounding board. Connect with your peers to help guide you as you grow in the profession.
5. Fill Your Own Cup
There can be pressure to prove ourselves to others. While it's important in a first job to show your commitment, remember that working with young children requires patience, energy, and perspective. If we aren't taking care of ourselves, it's hard to take care of others. Ensuring that you eat healthy, get enough sleep, exercise, and find time for things you enjoy will ultimately make you a better educator.
6. Leave Your Personal Issues at the Door
Even if you have had a terrible morning; you didn't sleep well; your car wouldn't start; you had a fight with a family member; or traffic was terrible: when you open the door to your classroom, that is all left outside. Your young children are the most important thing, greet them and their parents with a smile everyday!