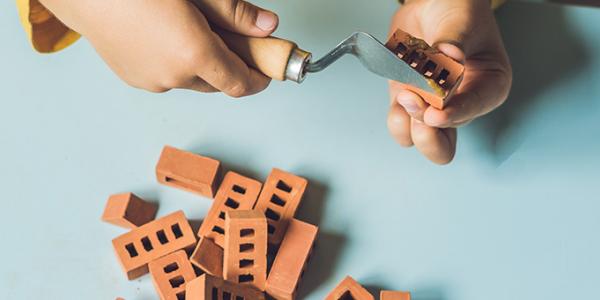 You are here
By Melissa Catena
The maker movement is clearly having its moment in the education world. Whether you call them makerspaces, hackerspaces, or DIY labs, the idea is the same—they're places where kids can tinker, invent, and build to their heart's content. They are great for fostering creativity and hands-on learning. Makerspaces are popping up mainly in schools and libraries. But you can bring the fun into your home with your own box of maker tools and materials. A selection that includes both everyday and unexpected materials helps children's imaginations run wild!
To get started on your makerspace, here are five types of household materials to collect:
1. Cardboard - Boxes, toilet paper and paper towel cylinders, egg cartons, and other miscellaneous cardboard scraps are easy to gather from around the house. They make great bases for many projects. Beyond cardboard, add molded styrofoam and shaped acrylic foam packaging. Don't forget to include different colored tapes to hold the pieces together.
2. Textiles - Fabric scraps, felt, mesh, ribbon, yarn, and string are perfect additions to a makerspace. No need to include a sewing machine—a simple needle and thread will work just fine. Glue guns are great to have and can be found at the dollar store.
3. Art and craft supplies - Paint, paintbrushes, wire, buttons, scissors, paper, old magazines to cut up, and other odds and ends provide endless possibilities for creative projects.
4. Building tools - Legos are a must-have for any makerspace. Screwdrivers, pliers, and a few other basic construction tools come in handy. Wood scraps, wooden dowels, and duct tape can be used to support handmade structures. (If the group includes children kindergarten age or younger, plan to be close by to supervise their use of some of the tools.)
5. Tech tools- You certainly don't need to buy a 3-D printer; but consider including broken technology items. Kids have fun disassembling old keyboards and using the keys in their projects. An old cell phone case could become something else entirely.
What next? Step back and let your minimakers do their thing. If children are really stumped, get their gears turning with some project ideas.
Once the creative juices start flowing, pat yourself on the back for building your very own screen-free play area. Oh, and don't be surprised if your makerspace becomes the new go-to place for children's neighborhood get-togethers. 
 
---
Melissa Catena is a freelance writer and former editor for educational publishers. She lives in the San Francisco Bay Area with her husband and two sons, ages two and four.