Coronavirus, an Emergent Curriculum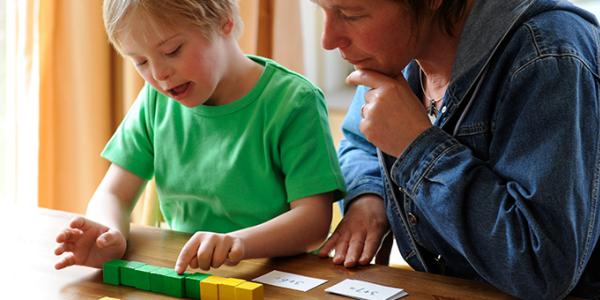 I'm an early childhood educator and my daughter has just finished first grade.  Due to the COVID-19 pandemic, she spent the Spring learning at home with me.  During this time, I was also managing remote learning for the undergraduate students in the infant-toddler section of our practicum class, and checking in with my infant-toddler students and their families, both of whom I usually engage face-to-face in the classroom.  Although my daughter and I were both struggling with these unexpected changes, we found ways to collaborate and learn from each other. 
As it becomes clear that remote learning will be a way of life for us, at least for intervals, for quite some time, I spent the spring trying to integrate our school district's online resources and assignments for first graders with my own emergent curriculum philosophy.  I anticipate this will also be needed in the fall. My sense is that if she and I can find a cohesive way to piece together all the disparate strands of learning, she and I can both handle the changes better, and we can get to a point where we can help others, bringing more meaningfulness to this challenging time.
To ground myself as I took on this task, I first re-read the NAEYC book, The Power of Emergent Curriculum, Stories from Early Childhood Settings (Wien, 2014).  I was struck by the stories of resilience, demonstrating how a difficult life changing event can become an opportunity for learning. (NAEYC has a brand-new book on emergent curriculum, From Children's Interests to Children's Thinking,  that I am excited to read soon.)
As I reflected about the classrooms depicted in the book, I wondered, how can I empower my child to learn from Coronavirus as a curriculum, emerging with "empathy, the most significant consequence?" (Wien, 2014).  How can I document our new life realities with screen time school and playdates, masks and a six-foot rule?   How can I capture how hard it is to live across from a playground you can't touch, and to be able to hear friends you can't tag as they avoid you on the bike path?  To see your grandparents and know you can't visit or hug them?  How can I help her see the hard parts, but still feel gratitude for the things we have and can do?
I listened closely.  My daughter sings to cope, and she was singing songs about her experience, including, "Why don't lizards have to wear masks, and why do they get to play with their friends, and why can they touch each other, …why don't lizards get Coronavirus?"  She then expressed to me how hard it was for kids to follow all these rules and not be together.  She also shared that she missed her classroom, and she missed volunteering to sing in my toddler room. She expressed worry about "the babies" from my classroom being bored at home. 
I decided to begin my emergent curriculum paired with our elementary school's initial response to the shelter in place mandate: What is a community helper? Who is a community helper?  How can you be a community helper? When we began with this social studies provocation, we reflected on the helper's role to protect or support people who were impacted by the Coronavirus.  She invented a song for her pediatrician, singing about how nice her doctor is and how she loves her. I recorded her song, and helped her deliver it to the pediatrician.  
We then moved on to self-reflection.  Educators are community helpers, like doctors, we thought, and maybe this was  a way we can help, by teaching others during the pandemic. Based on the success of our initial song video, we decided that videography was the easiest way to teach, and we recorded songs for my classrooms of infants and toddlers.  This was  "homework," we shared with my daughter's teacher in response to the community helper prompt.
We then moved on to recording tutorials for various activities including a recipe for making bubbles using dish soap and water, and twisting pipe cleaners into bubble wands (bubble making  is grounded in research as a good way to regulate, inviting people to take deep breaths), engineering ramps (after we attended as webinar on the topic), and designing musical instruments for a parade (after looking at Cate Heroman's  NAEYC book Making & Tinkering with STEM, Solving Design Challenges with Young Children).
 As we made the videos together and shared them with my enrolled families, we could support my professional development, engage in parent education, and center my  daughter's focus on helping other children.  What an amazing opportunity for us both: she was supporting my professional work, and I had the opportunity to enrich her school work.
We did this emergent curriculum and also made connections to the public school curriculum provided for us.  For example, when the school's home-school science topic was "sound," we  explored musical instruments and how they work in our videos.  This topic was connected to Heroman's chapter "Strike up the Band,"  so I could extend my daughter's learning by inviting her to write up our projects (journaling) and by helping her select books that she could "read aloud," as modeled by her teacher, making a "read-aloud" for the infant-toddlers.
We wrote  regularly, documenting our story about what it's like to shelter-in-place and learn at home and creating a time capsule for her to record her story.  
My daughter's journal so far has very few words and lots of pictures, while mine goes the other way.  She prefers writing "books" and has sometimes found that her ideas fill entire "books," while daily journaling is a less exciting venue.  It was important to provide her with choices about how she would document her experience, as she had lost a lot of power and choice while sheltering in place.
We were fortunate to have NAEYC feature a book that my daughter wrote in response to her first few weeks sheltering.  She was particularly proud to have her work documented because she felt she was helping other children identify their feelings and feel better. It was also interesting to watch her move from feelings of loss to feelings of gratitude for the things she has, such as her mommies and her safe home. (The assignment also aligned with her school's assignment to keep practicing writing full sentences, paired with illustrations.)
I'm not sure how this curriculum will play out for us in the future; this is always true when we engage in an emergent curriculum in my classrooms, and it seems true in the home classroom too. Maybe at home we will keep making videos. Maybe we will find another way to be community helpers, connecting our learning with ways we can support others as they shelter in place, thankful for what we have and empathizing with others' experiences.
The important thing is that it's possible to weave the formal curriculum concepts assigned by our school into a broader emergent concept of being community helpers, solidifying our own learning and supporting coping by building community relationships. "The emotional depth that is experienced among people who are coping with difficulty not only enriches relationships but also keeps experiences centered in what is deeply significant to being alive in the world.  What is difficult can also generate much gratitude." (Wien, 127) 
I'd love to hear what other families are doing to cultivate coping and gratitude in this time.  Together, we can invent new ways to build community as we navigate our virtual classrooms and home teaching experiences.
---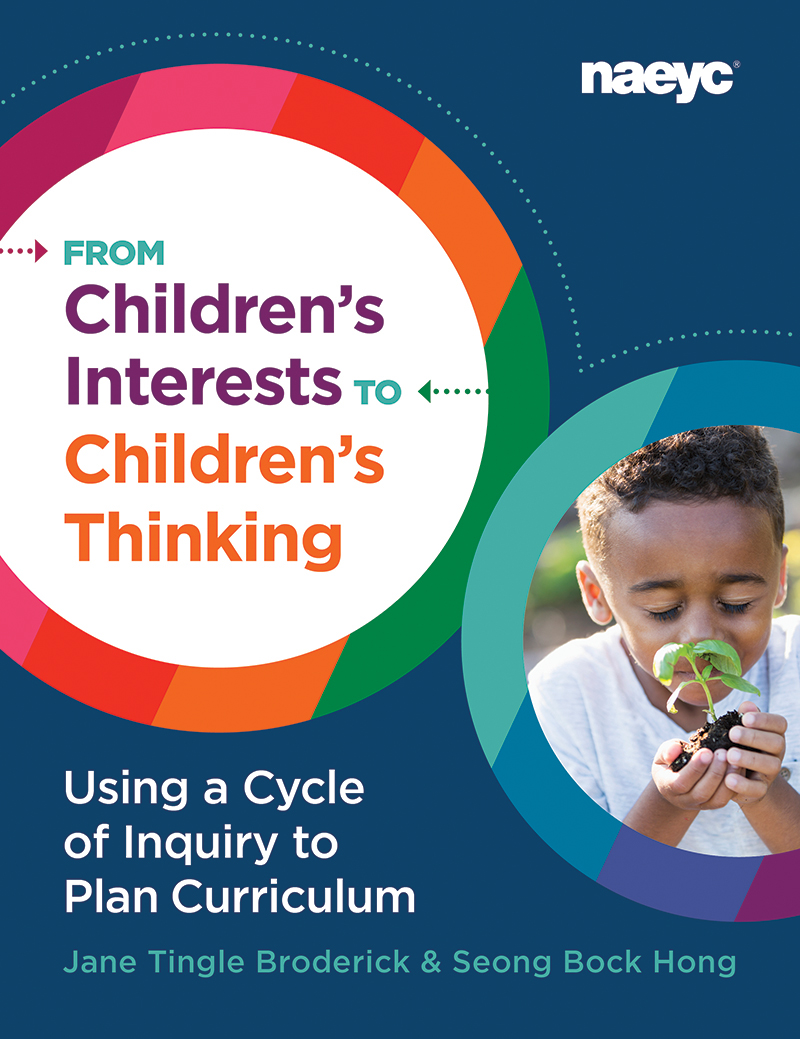 As Julia and her daughter's experience illustrates, emergent curriculum is an engaging, effective way for young children to learn and an enjoyable way for educators to teach. NAEYC's newest book on the subject, From Children's Interests to Children's Thinking: Using a Cycle of Inquiry to Plan Curriculum by Jane Tingle Broderick and Seong Bock Hong, is filled with practical guidance from observation through documentation to demonstrating how to make children's learning visible.
 

Bibliography

Heroman, C. (2017). Making & Tinkering with STEM, Solving Design Challenges with Young Children.  NAEYC, Washington DC.
Wien,C.A. (2014).The Power of Emergent Curriculum, Stories from Early Childhood Settings. NAEYC, Washington DC.
Julia Luckenbill
Julia Luckenbill, MA, is program coordinator at the Early Childhood Lab School at UC Davis.