Dear Congress, It's Time to #SolveChildCare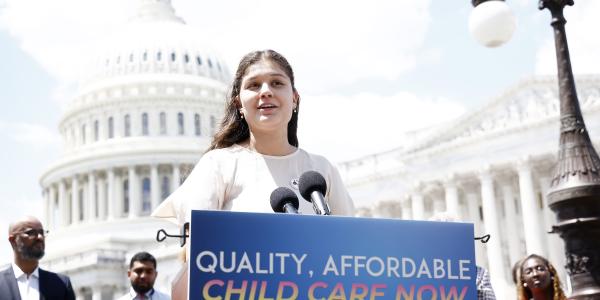 Imagine this: it's a beautiful Thursday morning with the sun shining and a slight breeze in the air. A group of people gather on Capitol Hill to rally around the call for urgency and widespread support for child care to be included in reconciliation. There are Senators, House members, and advocates from across the country speaking in unison... "We can do better, we will do better!" 
On June 9th, a press conference was held with members of Congress, families, early childhood providers, and advocacy group leaders to push child care to be a priority in the reconciliation bills. This is a key political issue, and there is a clear path forward: include the Murray-Kaine/streamlined proposal in reconciliation to lower costs for families, get parents back to work, support the child care workforce, and boost our entire economy. I was honored to be invited to speak as an early childhood educator who sees and experiences the struggles on a day-to-day basis. I felt heard as I spoke alongside other passionate advocates on the hill.  
My name is Nicole Lazarte, and I come from a family with teaching in its veins. My mother owned a family childcare home when I was growing up, which sparked a passion in both my brother and me. Today, my mother and brother teach preschoolers, whereas I work with infants in different centers in Northern Virginia. I knew I always wanted to teach. I knew I always wanted to help make a difference in the lives of children. Once I became a teacher and had my own classroom, I did my very best to help the children in my class and their families thrive. However, I soon realized that there is so much more that needs to be done outside of the four walls of my classroom. I turned to advocacy to speak out and share the knowledge I had of the importance of the early years. We cannot keep losing teachers due to burnout. We cannot keep losing families from programs because they cannot afford the tuition and therefore have to leave the workforce. We cannot keep losing childrens' chances of success because they don't have access to high-quality child care.  
My colleagues and I work for an amazing NAEYC-accredited child care center with a director who believes in and invests in us, and yet because of the overall system's challenges and underfinancing, we remain underpaid, overwhelmed, and struggling daily to stay in jobs we love and are good at, for children and families who need us — because this job too often requires us to sacrifice our own health and financial stability. This work is so much more than babysitting; child care is so much more than having a place to put kids while their parents work. I am skilled, knowledgeable, and valuable; I know what quality looks like and how to provide it; and I am responsible for day-to-day interactions that influence the developing brain architecture of children and support them and their families to thrive. I shouldn't be burdened by low wages that barely allow me to make ends meet. The parents we serve shouldn't be burdened by costs that barely allow them to make ends meet either. Yet unless things change, I fear for my future in this field, and the future of our programs, families, and children.   
Advocacy is an amazing way to be connected and be a part of something bigger. Every day, people in suits are creating the rules for our field without knowing the work firsthand. Who else better to speak about what works and what needs to be changed than us? We, the educators who spend our days filling out assessments, communicating with parents, teaching important social-emotional skills, are the ones who can best advocate for change.  We often  say we are in this field out of the goodness in our hearts, that we aren't in it for the money, but now we need the funds to keep our sector afloat. We need people who are knowledgeable in child development and understand the struggles that are happening currently for providers, children, and their families to speak up and share their stories. With enough voices, we can make a difference! 
How to begin advocating:  
Reach out to your members of Congress to let them know that we need significant and sustained investments in child care now.  
Tweet at your Senators and Representatives using #SolveChildCare to urge them to act on child care.  
Write an op-ed sharing your experiences as an educator and what federal funding for child care would mean to you. NAEYC's Policy Team can help you get started! If you're interested in writing an op-ed, reach out to

[email protected]

.   
Join town hall meetings. 
Follow up with your representatives and offer support. 
Get connected with your local NAEYC affiliate for more opportunities. 
Nicole Lazarte
Nicole Lazarte is an Infant Lead Teacher at ACCA Child Development Center in Northern Virginia. She works as a Board Member and the Advocacy Chair for the Northern Virginia Association for the Education of Young Children, as well as being the new Student Governing Board Member for the National Association for the Education of Young Children.