Beyond the Pages: Intentional Conversations Through an Online Book Study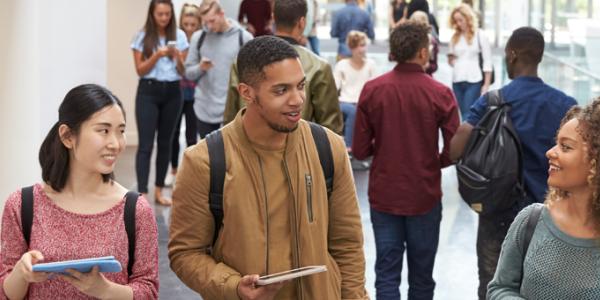 Dawn Braa
During a preconference session at NAEYC's 2014 National Institute for Early Childhood Professional Development, Stacie Goffin challenged the attendees to reflect on ideas for moving the profession forward as a field of practice. Goffin charged those in early childhood education to engage in conversations with intent. She believes that collectively we can make a difference. We can step forward as change agents to develop leadership, organize as a profession, and determine the outcomes for our field. As I listened to her speak, I was thinking, "What can I do to move the profession forward? I'm only one person."
After the session, I approached Stacie about interviewing her for my early childhood blog. She agreed and encouraged me to consider other ways to continue the conversation about promoting our profession as a field of practice. This led me to think about hosting a book study through the blog.
A book study provides an opportunity for professionals to come together and create a community of learners, engage in reflective dialogue, and collaborate. When we take that conversation online, all of those things can happen regardless of time or location. I wasn't quite sure how to pull it off, but I wanted to encourage conversation about the selected book and foster colleagues' reflection. I had never facilitated a book study before, much less one online!
The idea of the blog book study filled my thoughts as I sat on the airplane to Louisiana for NAEYC's 2015 Institute. I thought about ways to structure an online book study. Would people want to hear my reflections? Then it hit me—I would ask experts in the field to share their reflections about the book's chapters. My colleague and airplane seatmate, Sharon Bergen, and I brainstormed whom I might ask to participate in what she suggested I call "Beyond the Pages."
First, I needed to choose a book for the premier online book study. I had just finished reading What If Everybody Understood Child Development: Straight Talk About Bettering Education and Children's Lives, and was meeting author Rae Pica in New Orleans that afternoon for beignets. (They were delicious!) I inquired with Rae about using her book for the inaugural study. She approved and encouraged me to continue. Throughout the conference, I pitched my idea to my colleagues. Although many were supportive and intrigued by the idea of having an online book study, no one knew what the framework would look like—including me. Connecting with everyone at the conference definitely inspired me. I was filled with energy and excitement. Never underestimate the power of inspiration! I developed a model for my vision and began working on the project. I spent numerous hours connecting with people, developing a marketing strategy, and organizing details of the project.
The first blog-based book study was launched through Dakota County Technical College's Early Childhood and Youth Development blog on August 31, 2015, with 16 guest content experts. I was so honored (and humbled) to have an all-star list of commentators! Angèle Sancho Passe, Gwen Simmons, Mike Huber, Diane Levin, Walter F. Drew, Teacher Tom, Richard Rairigh, Lorie Barnes, Deborah Stewart, Michael Gramling, Scott Wiley, Kelly Pfeiffer, Tamara Kaldor, Blakely Bundy, Laurie Greeninger, Deborah Hirschland, and Stacie Goffin all graciously agreed to write guest commentaries to inspire participating readers. Participants voiced their opinions and reflective thoughts online through intentional dialogue. I marketed the study through social media (Facebook, Twitter, LinkedIn, and my blog) and through local networks. The study lasted 15 weeks.
During week 4 one participant said, "This group has been so valuable for me! It really feels like an early childhood support group. I can log on and get the encouragement I need to keep sharing my ideas and advocating for families. The book's succinct writing style and conciseness is perfect. Then, when I go online I find resources and even more food for thought."
My original intention in creating a blog was to provide a 24/7 learning environment accessible to anyone with an Internet connection. I wanted to offer a convenient source for early childhood education resources and relevant information that would benefit my students and the community (e.g.,providers, educators, nannies, specialists, and parents). I thought about those in the field who didn't have direct access to experts, and those who couldn't take time off from work or afford to attend conferences. What if offering a book study on a blog could become a platform to unite early care providers and educators across the country or even the world?
I'm excited to announce that the next online book study will center on Stacie Goffin's book Professionalizing Early Childhood Education as a Field of Practice: A Guide to the Next Era. Current comprehensive members of NAEYC received a copy of the book in fall 2015. This FREE book study will again have guest experts to lead the dialogue and guide our reflective thinking. It will be hosted at http://enhancingyoungminds.com. And you can find all the details and FAQs here. Please consider this your invitation to participate! United together, we can move the profession forward. Why you? Why not you?
Dawn Braa
Dawn Braa, MAEd, teaches early childhood and youth development at Dakota County Technical College, in Rosemount, Minnesota.