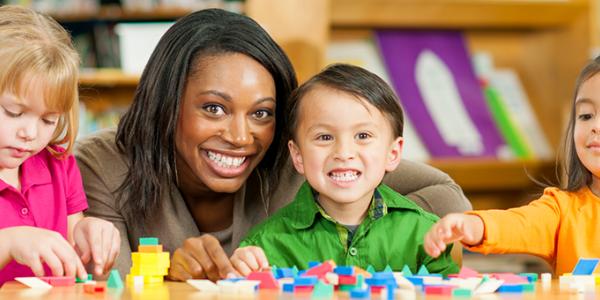 You are here
Public Draft: Decision Cycles 7+8
These Decision Cycles address the resources, infrastructure, and accountability structures needed across states and systems to support a prepared, diverse, well-compensated early childhood education profession. 
Join us! Read the draft and share with your colleagues. 
Revised: Decision Cylces 345+6
This document, which outlines recommendations related to differentiated preparation, pathways, specializations, and compensation, is the result of extensive field engagement, conducted through surveys, focus groups, interviews, and conference sessions that together engaged thousands of early childhood educators across states and settings, from diverse racial, linguistic, geographic, and cultural communities. This draft reflects feedback from the field based on two rounds of public comment and is not open for additional feedback at this time.
Power to the Profession Modules: Summary Statements, Study Guides and Additional Resources
Concept of Decision Cycles

All the components of the framework for a unified profession are interconnected and dependent on one another. In order to manage this complexity, we are structuring the initiative into a series of coordinated, iterative and strategic decision cycles. These cycles are designed to be predictable and intentionally sequenced to build on one another in order to lead to a unified framework.
The goal of using cycles to approach this conversation is to be able to focus on one aspect of the unified framework at a time without losing its connection to the whole. The outcome of each cycle will be a defining document for each element of the unified framework. However, each document has the possibility to be revisited at a later cycle as new insights and connections are revealed.
Anatomy of Decision Cycle

Deliberations with Task Force meeting
Pre-meeting Information gathering including review and synthesis of research
Each Task Force meeting will end with a working draft statement on the topic of each cycle

Review and feedback from the field
Draft statement available for review the Task Force meets
Draft statement first sent to Stakeholders
Comment period on working draft

Analyze feedback from the field and implementation analysis
Task Force deliberates on changes, makes recommendations for working draft 2

Review and feedback from the field
Draft statement available after first public comment period closes
Comment period on working draft 2 open
Collect and analyze reaction to working draft 2

Task Force approves final draft