Teachers' Reflections on DAP in Action: Share Your Own Story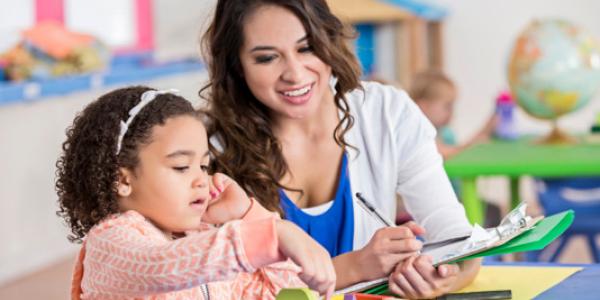 Susan Friedman, Amy D. Blessing, Ron Grady
The updated edition of NAEYC's book on developmentally appropriate practice (DAP), Developmentally Appropriate Practice in Early Childhood Programs Serving Children from Birth Through Age 8, Fourth Edition, contains 85 vignettes describing scenarios from a wide range of early childhood classrooms. A number of those vignettes are written by teachers themselves and describe how they see and think about DAP in relation to their everyday practice in their own contexts and settings. Key to DAP are teachers' own self-reflections and intentional decisions based on the specifics they come across in their own teaching.  
Below are excerpts from the DAP book by two educators, kindergarten teacher Amy Blessing and preschool educator Ron Grady. 
---
The Power of Play in the Kindergarten Classroom  

In "The Power of Play in the Kindergarten Classroom: Transforming Centers into Places of Engaged Learning," teacher Amy Blessing describes the process of how she transformed the centers in her kindergarten classroom into a place of active, engaged play and joyful learning as she learned about implementing DAP. 
"As a kindergarten teacher in a public school in North Carolina, I began my teaching career believing that the more organized and in control I was, the more the children I taught would learn. My classroom had learning centers for literacy, science, and math; however, like many other teachers, I did not use the centers as tools for children to make choices, explore, play, and tinker as they pursued their interests or problem solved with peers. My classroom ran like a well-oiled machine. I told children exactly what to do and where to go. But what were the children learning? Was I preparing them to be problem solvers and creative thinkers, or was I training them to be passive in their own learning? Through years of experience and professional development, I learned the value in autonomy, both for myself and for young children. I began to give children opportunities to make choices. I learned that in the letting go came freedom and joy!" Read the entire story.
---
A Scribble Is Never Just a Scribble 

In "A Scribble Is Never Just a Scribble: Art, Story, and Process in a Classroom of 2s and 3s," preschool educator Ron Grady describes his thinking as he moved away from drawing what children asked him to draw and instead engaged the young children in active art explorations and storytelling. 
"At the beginning of the year, the 2- and 3-year-olds in our class often asked us, the teachers, to draw particular things: family members, dogs, and other people and animals they encountered regularly. The children enjoyed the work we teachers produced but remained convinced that any work they themselves did was subpar because it did not match their teachers' style. Typically, their drawings were done hastily, left just as quickly, and forgotten. We wanted the children to see the value of their work and be proud of what they created, so we stopped drawing for them. Instead, we focused on encouraging them in the work they did. Here's how we made the shift and got the children excited and talking about what they drew." Read the entire story.
---
These teacher stories are at the heart of DAP as they show how educators think about and adjust their practice. Teachers may adjust plans, materials and approaches to support children based on their specific needs.  As described in the DAP book, "No educational practice or learning experience is developmentally appropriate in and of itself in all settings and with all children. Educators make adjustments to planned activities, selected materials, the environment, and their interactions with children to best meet the individual needs and goals of each child based on the specific circumstances and contexts" (48). 
We are honored to share these educators' own self reflections and DAP stories with our readers. 
Share your own DAP Story 

We hope you will find these stories inspiring. We invite you to share your own DAP reflections and examples here: Share Your Own DAP in Action Story 
Susan Friedman
Susan Friedman is senior director of publications and content development at NAEYC. In this role, she leads the content development work of NAEYC's books and periodicals teams. Ms. Friedman is coeditor of Each and Every Child: Teaching Preschool with an Equity Lens. She has extensive prior experience creating content on play, developmentally appropriate uses of media, and other topics for educators and families. She has presented at numerous educational conferences, including NAEYC's Professional Learning Institute and Annual Conference, the South by Southwest Education (SXSW EDU) Conference & Festival, and the School Superintendents Association's Early Learning Cohort. She began her career as a preschool teacher at City and Country School in New York City.
Amy D. Blessing
Amy D. Blessing, MEd, NBCT, is a North Carolina Kindergarten Demonstration classroom teacher with Pender County Schools, in Burgaw, North Carolina. Amy has taught kindergarten for 20 years and has worked with statewide professional development initiatives designed to effect change for children by modeling best teaching practices in child-centered classrooms.
Ron Grady
Ron Grady is a PhD student at the Harvard Graduate School of Education in Cambridge, Massachusetts.