Excerpt from Learning About Language and Literacy in Preschool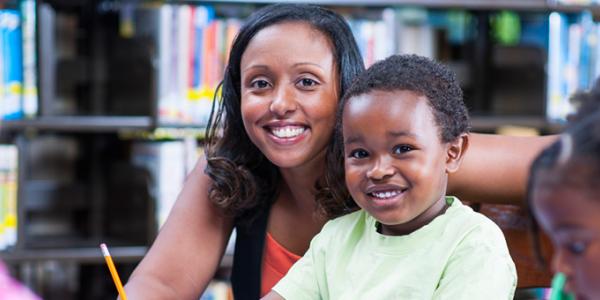 Literacy Learning Center

by Laura J. Colker
What Children Do and Learn 

Language and Literacy

Learn new words like Parasaurolophus.
Play with the sounds of words or phrases like sheep tug and sheep shrug in the rhyming book Sheep in a Jeep, by Nancy E. Shaw.
Learn letter names and that letters represent sounds and that words are made up of letters.
Remember and understand stories by retelling them using puppets or flannel boards.
Listen to and look at books with teachers to learn how print works.
Sign their names to artwork, make signs for the block area, write homemade books and letters.
Math

Count along in stories such as The Baker's Dozen: A Counting Book, by Dan Andreasen. Every time the baker  makes another treat, children can count and wink along with him.
Write or use stamps and ink pads to add page numbers to homemade books.
Look at and discuss concept books.
Put out materials for two children in front of two chairs at the writing table.
Social and Emotional

Develop relationships with school staff and community members by drawing, dictating, or writing thankyou letters.
Make "All About Me" books. Children can create and reread books on their favorite subject—themselves.
Learn about people by reading about people who have different cultures, life experiences, or points of view.
---
From Learning About Language and Literacy in Preschool. Copyright © 2015 by the National Association for the Education of Young Children.
Buy the Print Book