Message in a Backpack™: 2017 NAEYC Week of the Young Child™!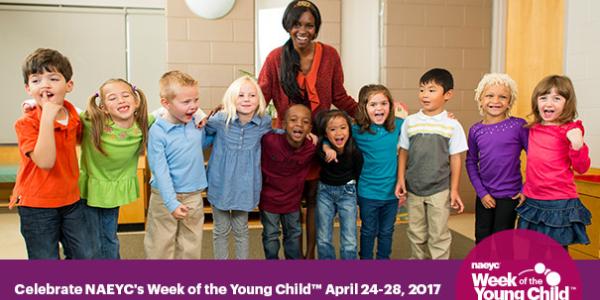 You are here
Support the National Association for the Education of Young Children's (NAEYC) annual event, and celebrate early learning, young children, teachers, and families.
Come together with early learning programs in fun, hands-on learning experiences. Enjoy music, explore food and cooking, build together, create art, and celebrate your family.
Don't forget to share the fun—use #woyc17 on Facebook and Twitter!
---
Music Monday (April 24):

Sing, dance, celebrate, and learn!

Pick a favorite song and practice clapping, drumming, or stomping to the beat while counting. By discovering and responding to the beat, your child will connect math, music, and movement.
 
Tasty Tuesday (April 25):

Promote healthy eating while cooking, eating,
and having fun!

Find a healthy recipe that excites your child. Together, read, measure, and mix ingredients. Your child will learn about wholesome food while developing literacy, math, and science skills.
Work Together Wednesday (April 26):

Work together, build together, learn together.

Collect building blocks, recycled materials (paper bags, aluminum cans), or natural materials (pinecones, twigs, and leaves) and work with your child to create something that stems from their imagination! Working together to plan and create something encourages teamwork and helps children develop social skills.
Artsy Thursday (April 27):

Think, problem solve, create.

Bring chalk or finger paint outside and see what your child paints or draws—it could be something they see outside, like a favorite climbing tree, or something from their imaginations. Children develop creativity and fine motor skills when they do open-ended art projects that let them make choices!
Family Friday (April 28):

Engage and celebrate families!

Get the whole family together to read a book, eat a meal, have a game night, or try another fun activity! Families are children's first and most important teachers, so celebrate your family and the special role you play in your child's life.
 
---
Photos © iStock
---
Message in a Backpack™ is available online in Spanish. Visit NAEYC.org/tyc to start reading now!