Mensaje en la mochila: Más allá del parque matemática, ciencia y diversión al aire libre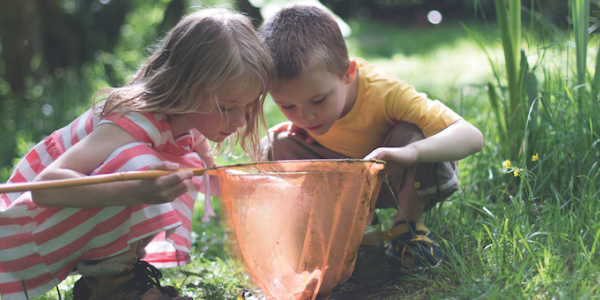 You are here
Salir a caminar o ir a un parque son excelentes maneras de ayudar a sus hijos a aprender. Además de pasar tiempo en los juegos, tomen tiempo a explorar: ¿hay árboles que puedan contar, vecinos a los que puedan saludar o señales viales que puedan leer?
Aquí encontrará algunas ideas para aprender jugando, que le ayuda a aprovechar al máximo el tiempo en familia al aire libre.
Búsqueda del tesoro con señales viales

Mientras caminan por el vecindario, anime a su hijo que observe e identifique señales viales, como "Detenerse" y "Prohibido estacionar". Hablen sobre ellas. Esto ayuda a que los niños entiendan que las palabras escritas y los símbolos tienen propósitos importantes: mantenernos a salvo, ayudarnos a trabajar juntos y compartir información esencial. Intente que su hijo piense con preguntas como "¿Qué señales ves? Me pregunto cuáles son las pistas que nos ayudan a darnos cuenta qué dice la señal". Trabajen juntos para identificar los colores, las letras y los números en diferentes señales.
Ciencia en la colina

Las colinas son muy divertidas para rolar, correr y explorar. ¿Sabía que las colinas también son fantásticas para aprender conceptos científicos y vocabulario? Intente esto en el parque con su hijo: coleccione diferentes elementos de la naturaleza (piñas, piedritas, palitos) y prueben si bajen rodadando de la colina. Use palabras como más rápido, más despacio, velocidad, masa y pendiente a medida que experimentan. ¡Los niños también adoran bajar las colinas!
Ayude a su hijo a que sea observador

Practiquen observar números, letras y otros detalles cuando exploran al aire libre. Anime a su hijo diciendo y haciendo cosas como las siguientes:
"Veo números en la señal" Veo el número tres. Me pregunto qué significa" y "¿Qué otros números podemos encontrar en nuestra caminata y qué nos quieren decir?".
"Veo algunas huellas sobre el terreno. Me pregunto quién las habrá hecho. ¿A dónde conducen?" ¡Creen una historia juntos sobre las huellas!
"Veo veo... una nube con la forma de la letra O". ¿Tú qué ves?
Identifique parques y otros espacios al aire libre en su vecindario.

A veces, los lugares más mágicos están a la vuelta de la esquina. Los sitios web, como findyourpark.com/your-parks, pueden ayudarlo a identificar parques cercanos. Incluso los espacios más pequeños pueden esconder cosas mágicas para usted y su familia!
---
Fotografía: © Getty Imagesra
Rachel J. Franz
Rachel J. Franz, MEd, is the director of education and founding lead teacher at Tiny Trees Preschool, an outdoor preschool program in Seattle, Washington. She is a founding member of NAEYC's Young Professionals Advisory Council (YPAC).