پیام در کوله پشتی ™ کمک کردن به کودک تان برای یاد گرفتن مسئولیت پذیری Message in a Backpack™ Helping Your Child Learn Responsibility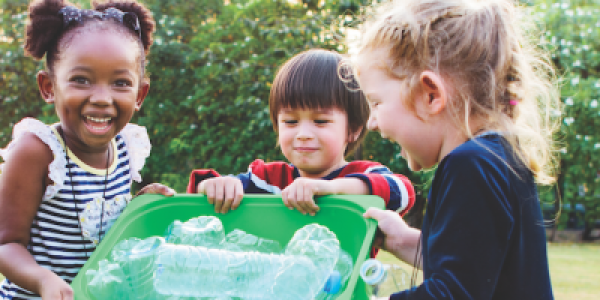 You are here
برای مسئولیت پذیر بودن ، کودکان باید توجه داشته باشند که چه کاری باید انجام شود ، به گزینه های مفید فکر کنند ،  و به سهیم بودن شان مفتخر باشند.راههای تشویق مسئولیت پذیری در اینجا آمده است.
---
توجه و بیان کنید

توجه را به راهبردهای موثر جلب کنید. « انتقال پازل به  میز ایده خوبی است. اینگونه  یافتن  قطعات پازل ساده تر است. شما و خواهرتان قوانین  بسیار خوبی را تنظیم کرده اید.»
به جای گفتن، سوال کنید

 از اقدامات مستقل  کودک تان حمایت کنید.  به جای اینکه بگویید ، « فنجان خود را روی پیشخوان بگذارید» ، سوال کنید،« چه مکانی برای  قرار دادن فنجان شما امن است ؟» به جای اصرار در گفتن « یک نفر ممکن است روی ماشین های اسباب بازی بیفتد. لطفا آنها را جابجا کنید.» بگویید که « من ماشین های اسباب بازی را جلوی پله ها می بینم. آنها  باید به کجا منتقل شوند؟ »
کودک  خود را مسئول کنید

 سوالاتی را  بپرسید که الهام بخش کودک شما برای حل مشکلات باشد. « ما به یک راه خوب برای گردهمایی همه افراد در میز شام نیازمندیم. به نظر شما چه کاری باید بکنیم ؟ » و « ما به یک جای بهتر برای کتابها [ دوچرخه ها، جورابها، دستکش ها،  اسباب بازی ها ]  نیازمندیم تا آنها را راحت تر پیدا کنیم. به نظر شما آنها را کجا می توانیم بگذاریم؟»
موفقیت را جشن بگیرید

 هنگامی که متوجه می شوید  کودک تان مسئولیت پذیر بوده است ، قدردانی خود را نشان دهید. « هورا ! امروز همه کت ها  آویزان شده اند. »، « کار شما در چیدن میز عالی است! شام بسیار برازنده بود» ، «از اینکه  کاغذهای خوراکی ها  را در زباله گذاشتید ، متشکرم. من عاشق کار کردن روی پیشخوان تمیز هستم. »
---
Photograph: © Getty Images
Marie L. Masterson
Marie Masterson, PhD, is the director of quality assessment at the McCormick Center for Early Childhood Leadership. She holds a doctorate in early childhood education, is a licensed teacher, and is a national speaker, child behavior expert, and author of multiple books and articles that address research-based, practical skills for behavior guidance, high-quality teaching, family child care, leadership, and parenting. Marie provides content expertise and consultation to organizations involved in quality improvement and leadership development.