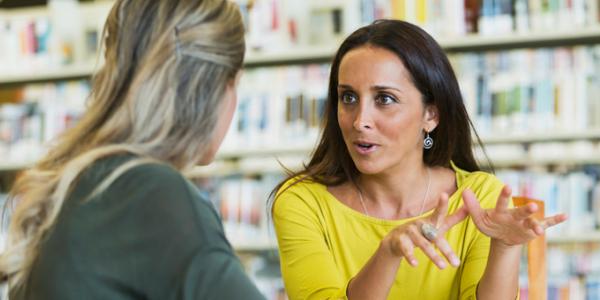 You are here
Rachel J. Franz Jenifer N. Fuller Zainia Keenan  Alexandra Green Kathryn O'Hara-Wallis Cody Summerville Nick Terrones Jillian Wendolowski
NAEYC's Young Professionals Advisory Council (YPAC) was formed to help NAEYC strengthen its engagement with young professionals in the field. We asked YPAC members about their advice for new teachers. Here's what they had to say.
Welcome to the profession! New teachers bring so much to early childhood classrooms—fresh ideas, different perspectives, and energy that is contagious. It can be the most terrifying, exciting, exhausting, and dream-fulfilling time of your life. We wish you the best for the start of your teaching journey!
You are not alone

"There is a booming network of early childhood education professionals out there! Be proactive and find them. Talking with other professionals will recharge your spirit and bolster your energy and motivation."
"Communicate and collaborate with coteachers on planning, assessment, and the best ways to support each child. Two heads really are better than one!"
"Find a mentor. If your school district does not provide you with a mentor, find your own. Look for people who already excel at your job. Watch what they do, and use their ideas!"
"Make friends quickly! Forming strong, positive relationships with other teachers and staff members is critical. Take the time to get to know your colleagues as individuals and to understand the social culture of your new workplace. Work to promote an environment in which teachers support other teachers."
Develop a growth mind-set

"Be willing to try new things. When people observe you, ask them for feedback on your strengths and areas for growth. This information can be difficult to receive, but the more you hear it, the faster your teaching practice will improve. The best teachers understand that there is always room for improvement."
"The learning process is never ending. Reflection is one of the most valuable tools. Keep asking yourself questions about how things can be done in better or different ways— whether it pertains to how you communicate with parents, guide a specific child's behavior, or transition from one activity to the next."
"Focus on improving one area of teaching. Choose an area of strength or great interest in which you want to continue to develop. You will still work on other aspects of teaching, but the focus area is what you are going to spend the most time pushing yourself to grow in."
Be positive and love what you do

"Look on the bright side of every situation. Teaching comes with its fair share of challenges and frustrations. When we teach, we're working with people. People are complex! Understand that children and adults come to us with individual needs and individual backgrounds. Try not to let differences ruffle feathers—learn from others' perspectives, and be respectful as you share your own. Working with positive people changes the structure of a staff and of a classroom environment."
"Love every child in your class, and make sure they know it! Your words, body language, and facial expressions are forms of communication. Each child deserves to come to school and feel safe and loved. Laugh and find joy in each day. The day you stop loving what you do is the day you should start to look for a new career opportunity."
There are many ways of working with children

"Different is not a synonym for wrong or inferior. Your school or program's practices might not mirror everything you learned in your teacher preparation classes. Others' educational philosophies and cultural beliefs will, at some point, conflict with your own. Consider whether their practices might also be developmentally appropriate and research- based methods of supporting learning and growth."
"Your newness to the field does not mean you should allow yourself or others to dismiss your perspective. If something does not seem right, speak up. When you raise questions, you may find yourself better able to appreciate a coworker's decisions—or you may discover yourself acting as a child's only advocate."
Be flexible

"Always have a backup plan. You never know what might happen. Be ready for whatever comes your way. Always prepare extra materials and have bonus ideas and games."
"Lesson plans don't always go as you'd like, much like conversations with children/parents/coteachers/supervisors/specialists, indoor/outdoor free play, and field trips. It is your job to change what you can and let go of what you can't—and find teachable moments in all of it, because they are simple and are always there."
Learn with children

"So far, the greatest thing I have ever done for myself as an educator and for my students was to reveal myself as being curious. The children have come to understand that I don't know everything and that I want to learn alongside them. I constantly model statements such as 'I wonder . . .'"
Take good care of yourself

"You will make mistakes, big and small; leave judgment, including of yourself, outside the classroom and demonstrate to the children through your actions the wise words of Henry Ford: 'The only real mistake is the one from which we learn nothing.'"
"On the long, challenging days, soak up the irreplaceable moments children give to you as they share love and joy. Search these moments out; they are always there, even on the hardest days."
"Be aware of your energy and take care of yourself, so that you renew your body and spirit."
"It's okay to be too exhausted to go out with friends and it's even okay to sleep from 6 p.m. on Friday until 10 a.m. on Saturday."
Your first year of teaching is like a roller coaster ride. Along the way you might feel scared, anxious, or overwhelmed. You most definitely will laugh, question why you got on this ride, and maybe even throw your hands up in the air and scream a little. Despite the mixed emotions you experience, when you get to the end, you will want to hop on again. Experiencing the thrill of teaching will hook you. 
---
For information about YPAC, go to www.naeyc.org/getinvolved/YPAC.
---
Photo © iStock
Rachel J. Franz
Rachel J. Franz, MEd, is the family and education manager at Campaign for a Commercial-Free Childhood. A former all-outdoor preschool director and teacher, Rachel also offers teacher training in nature-based early education through Twig & Thread Consulting. She is a founding member of NAEYC's Young Professionals Advisory Council (YPAC).
Jenifer N. Fuller
Jenifer N. Fuller is the education specialist at Tulsa Community College Child Development Center and is active in her local AEYC chapter in Oklahoma.
Zainia Keenan 
Zainia Keenan is the early childhood director at Children's Village in Philadelphia, Pennsylvania.
Alexandra Green
Alexandra Green Is the lead preschool teacher at the Atlanta Children's Shelter in Atlanta, Georgia.
Kathryn O'Hara-Wallis
Kathryn O'Hara-Wallis is an early childhood specialist for the Great Start Readiness Program through the Kent Intermediate School District in Grand Rapids, Michigan. is an early childhood specialist for the Great Start Readiness Program through the Kent Intermediate School District in Grand Rapids, Michigan.
Cody Summerville
Cody Summerville is a kindergarten teacher in Austin, Texas.
Nick Terrones
Nick Terrones is a teacher at Hilltop Children's Center in Seattle, Washington.
Jillian Wendolowski
Jillian Wendolowski is a teacher of 4-year-olds at the Carnegie Mellon University Children's School in Pittsburgh, Pennsylvania.