Message in a Backpack ™ Make Animal Music پیام در کوله پشتی ™ ساختن موسیقی حیوانات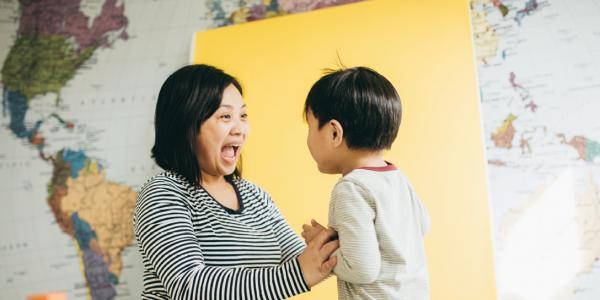 You are here
راه های بسیاری برای لذت بردن و حمایت  کردن از یادگیری کودک شما وجود دارد. در اینجا چند ایده برای چگونگی مرتبط کردن عشق کودکان به حیوانات با اکتشاف موسیقی بیان می شود.
---
تماشا و گوش کنید

حیوانات به روش های مختلف در زندگی روزانه کودک شما ظاهر می شوند. آنها ممکن است یا حیوانات خانگی باشند ، یا حیوان های موجود در کتاب های داستان باشند، یا هنگام پیاده روی دیده شوند،  یا بخشی از بازی های فرضی کودک شما باشند. بروز این جنبه ها را تماشا و گوش کنید.
بازی

اگر کودک شما در بازی فرضی، نقش یک حیوان را ایفا می کند ، به او بپیوندید! یک همبازی  بازیگوش باشید که ایده هایش را مطرح می کند اما  در عین حال رهبری کودک را (در بازی ) پیروی می کند. اگر با حیوانی روبرو شدید ، کودک خود را تشویق کنید که آن حیوان را وارد بازی خود کند.
واژگان صوتی را رشد دهید

ما اغلب می گوییم گربه میو می گوید. اما گربه چه صداهای دیگری ایجاد می کند؟ پرسش های جذاب از کودک خود بپرسید تا او را برای تهیه لیست بلندتری از انواع صداهای گربه ها - و همچنین سایر حیوانات ، تشویق کند. وقتی گربه عصبانی می شود، چه صدایی ایجاد می کند (هیس )؟ و وقتی خوشحال (پرر)؟
آوازی با صدای حیوان بسازید

به کودک خود کمک کنید تا واژگان صوتی  را به "آواز حیوانات" تبدیل کند. شما با هم ، می توانید حرکات بدنی ایجاد کنید و یا نقاشی هایی را مرتبط با هر صدایی  که یک حیوان تولید می کند، بکشید. می توانید با انواع حیوانات و اصوات بازی کنید و آوازهای مختلف بسازید.
در لحظه بمانید یا بعداً آن را به اشتراک بگذارید

این برای کودک شما بسیار جالب است که در یک لحظه از یک آواز حیوان لذت ببرد و سپس از آن بگذرد. هر چند گاهی ممکن است او بخواهد آواز را حفظ  کند تا بعداً آن را به اشتراک بگذارد. یک فیلم کوتاه تهیه کنید، یا از او بخواهید تصاویری را به ترتیب "درست" بکشد و یا با نوار چسب بر روی کاغذ به ترتیب بچسباند و جزئیات مهم آواز حیوانات را ضبط کند تا با دیگران به اشتراک بگذارد. انجام این تجربه را با آرامش و تفریح آمیخته کنید تا از رشد موسیقی در کودک خود  و لذت بردن او در ساخت موسیقی به بهترین وجه پشتیبانی کنید.
---
Photographs: Getty Images
H. Ellie Falter
H. Ellie Falter is an early childhood music educator and teacher educator. She is pursuing a doctorate in music education at the University of Colorado Boulder.