Feature Teacher: Indira Elisa Brito Acevedo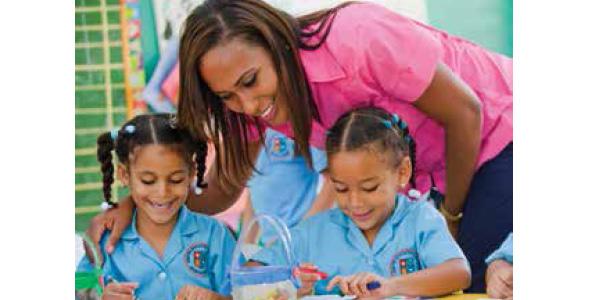 You are here
Indira Elisa Brito Acevedo is a kindergarten teacher at the Centro Modelo de Educación Inicial (CMEI), in San José, Montecristi, Dominican Republic.
What is something important a child has taught you? 
I had one child in my class who was diagnosed with autism. At first, I felt insecure about how to integrate her into the group. I was worried about what I could achieve with her and her peers. But when I used play as a strategy, I was able to capture her attention, and she was motivated to participate.
This situation led me to reflect, investigate, and create many activities and games to apply to my everyday practice. This child in particular taught me to respect all forms of diversity, cultivate patience, and work with love while also having fun. I have been able to continue with that spirit with many more groups of children.
What is most important in your classroom? 
In my classroom it is most important for children to learn and have fun at the same time.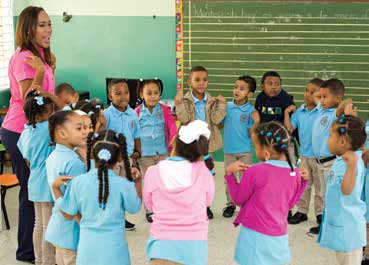 How do you communicate with children's families? 
Constantly! In the morning when welcoming the children into the classroom, at the end of the day when sending children home, during activities and projects as children develop, at parent–teacher conferences, and via telephone and social media.
What do you struggle with the most? 
I work hardest to maintain children's interest and help them find joy in learning.
What do you do when things don't go as planned? 
I reflect. I focus on what is happening in the moment and, when given an opportunity, I try again.
Words of inspiration: 
"We cannot always do great things, but we can do small things with great love."—Mother Teresa
Favorite children's book: 
The original Three Little Pigs and the Big Bad Wolf story, by the Brothers Grimm.
Why didn't someone tell me? 
How easy it is to enjoy a task as difficult as teaching!
How I take care of myself: 
I eat healthy and exercise.
My two cents: 
In early childhood, significant learning happens through direct experiences—especially those that draw children in mentally, emotionally, and physically. Teachers begin to evaluate from the moment they start planning. You must have knowledge of children's interests and needs—that means the teacher must incorporate what is meaningful to the children. It is very important to allow a child to self-evaluate, expressing what he learned after an activity. Self-evaluation facilitates children having in-depth dialogues and preparing to learn more.
Proudest accomplishment: 
In 2017, I won first place at a national conference on good instructional practices for my project "Transportes que prenden."
When I knew I had to teach: 
When I finished high school, I worked as a substitute teacher. I was overjoyed when the students called me "Teacher." That's when I said with certainty, "I want to be a teacher."
My teaching style in three words: 
Dynamic, innovative, playful.
Future goal: 
I want to become a teacher educator.
---
Photographs: Courtesy of the author