Message in a Backpack™ Building Partnerships with Your Child's Teacher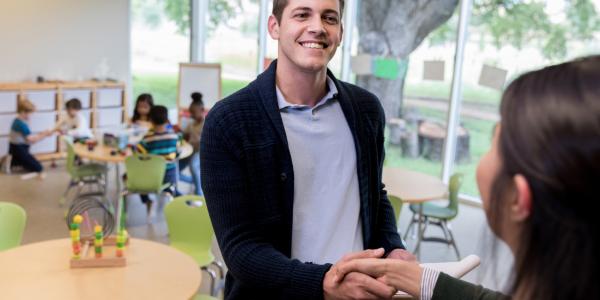 You are here
Derry Koralek, Karen Nemeth, Kelly Ramsey
Children's first and most important teachers are the family members who keep them safe and nurture their development. When a child enters an early learning program, the partnership between families and educators ensures that the experience is comforting and successful for all. In high-quality programs, leaders and teachers strive for respectful, reciprocal communication with families. They communicate clearly and regularly with families; they also seek information from families in various ways.
Here are some ways you can communicate with your child's teacher or program leader to create and maintain a great relationship.
1. Look for opportunities to communicate early on. Your child's first weeks at an early learning program are filled with activities. This is true whether they have attended a program for a long time or are brand-new. While there's a lot of information to take in, this is also a good time to ask questions about the program and your child's teachers. Carefully review any information the program shares—whether it's via email, on a secure website, or through papers sent home. If you have questions or need any clarification, ask.
2. Share information about your child. This includes their skills, preferences, interests, experiences, and needs. Update this information regularly. The more teachers understand what makes your child unique, the more they can meet their needs, encourage progress, and celebrate accomplishments every day.
3. Look beyond the questionnaire. Programs often ask families to fill out a questionnaire about their children. While this is valuable, consider sharing information in additional ways. These could include videos or audio recordings of your child playing, singing a song, or having a conversation. You also might teach program staff useful and comforting words in your home language to make communication with your child easier.
4. Communicate information about home. Let educators know if something unusual or stressful is happening in your child's life. This might include a move, a change in the family's typical schedule, an upsetting event, or a challenging behavior on the way to school. Likewise, share changes in your child's development or behavior, such as a new sleep pattern or a new fine or large motor ability.
5. Voice your questions and concerns. You know your child best. When you have a question or concern about them or their experience in the program, reach out to program staff to talk about it.
6. Let teachers know how you want to communicate. Tell them which language you prefer and how you like to get information—whether it's via phone, text, email, paper, or a combination.
7. Be responsive. Call the program to let them know if your child will be late or absent, and respond to communication as needed.
Remember that you and your child's teachers are partners in supporting your child's early education and well-being. The more teachers know about your child, the better they can support play, learning, and development. Likewise, the more that you know about how your child is spending their day, the better you can support learning at home.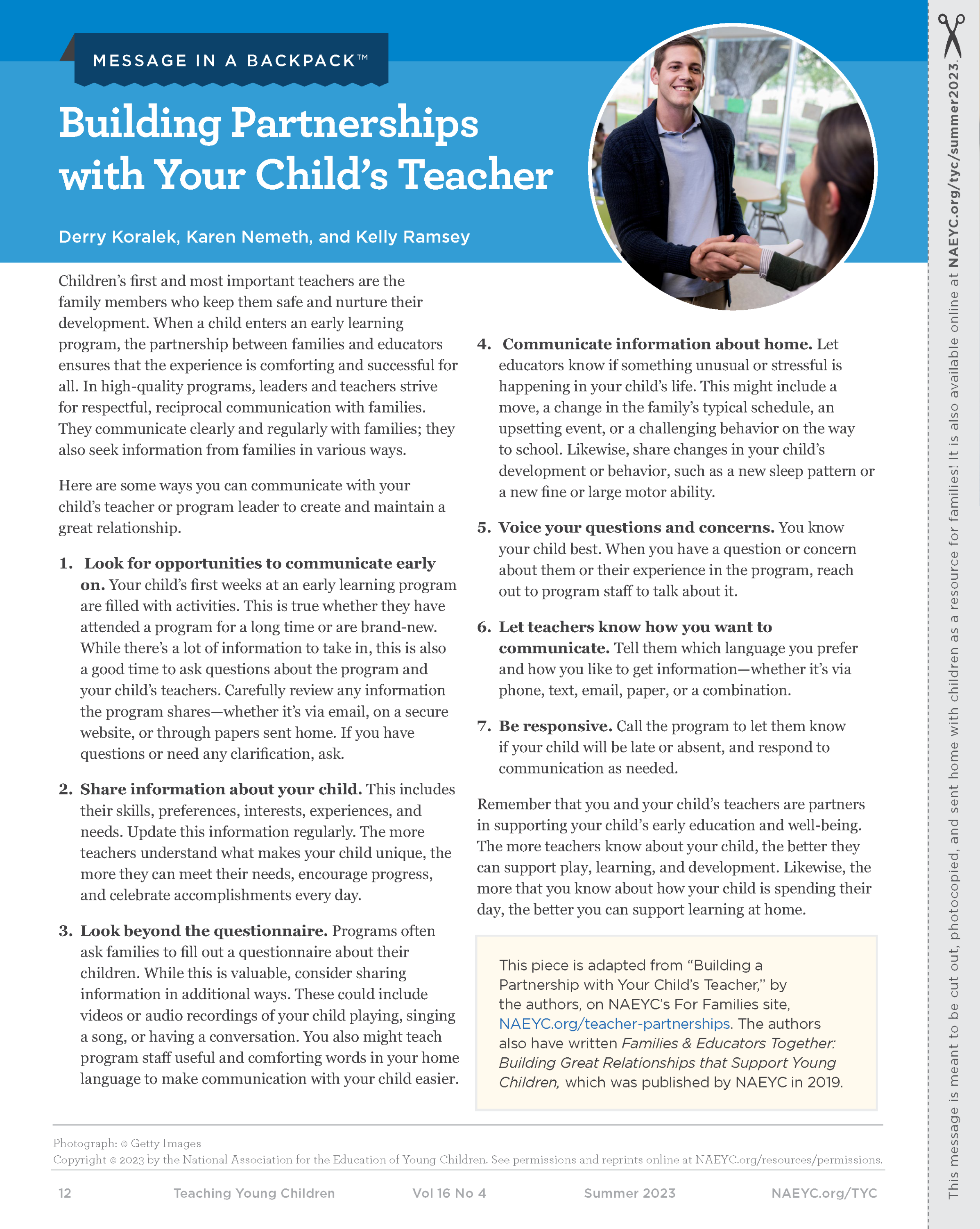 Download the PDF for this Message in a Backpack™ here!
---
Photos © Getty Images
Copyright © 2023 by the National Association for the Education of Young Children. See permissions and reprints online at NAEYC.org/resources/permissions.
Derry Koralek
Derry Koralek is the president of DGK & Company. She previously served as editor in chief of Young Children and Teaching Young Children and as NAEYC's Chief Publishing Officer.
Karen Nemeth
Karen Nemeth, EdM, is an author, speaker, and consultant on early childhood language development at Language Castle LLC.
Kelly Ramsey
Kelly Ramsey, MS, is a family advocate, leader and consultant at Developing People Inc.