Building a Partnership with Your Child's Teacher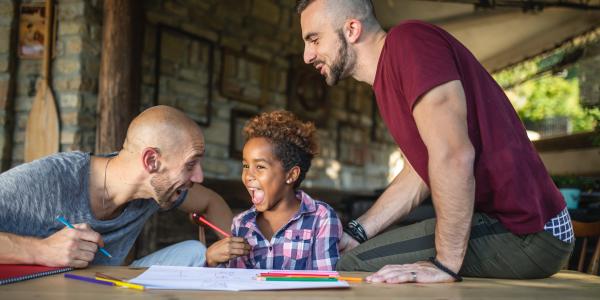 You are here
By: Karen Nemeth, Derry Koralek, and Kelly Ramsey
Every child's first and most important teachers are the family members who nurture their development and learning. When a child enters an early childhood program, her family's partnership with the teachers ensures that the experience is comforting and successful for all. In our NAEYC book Families & Educators Together, we write, "Families and teachers both have information that can be exchanged as part of an ongoing reciprocal relationship. Together, you support the healthy development and learning of each child." Research shows that children thrive when their families are involved in their care and education. Here are some ways you can collaborate with your child's teacher to create and maintain a great relationship.
Get to know your child's teacher as soon as possible so you can feel comfortable communicating with each other about your child. Be sure to participate in the orientation events offered by the program, such as
home visits
neighborhood meet ups
visits to the new program or school
introductory conversations via phone or in person
Review the ways you could be involved in your child's program. Most programs will offer a variety of options. Some people volunteer in the classroom during the day, but other families participate after hours or on the weekends. Staff will appreciate your help, and you can learn a lot about how your child spends their day. Many family members who participate in their child's program also form great friendships with other families and feel a sense of belonging. Here are some family involvement options:
Volunteer in the classroom or family child care home.
Visit the program to read to or play with the children.
Join the board of directors or participate in a committee. 
Attend program events and offer to help with planning, decorations, typing the program, or bringing refreshments for future events.
Offer to help after work or on weekends by taking care of toys, repairing torn books, or updating the website.
Share information with your child's teachers to help them understand your child's skills, preferences, interests, experiences, and needs. The more teachers understand what makes your child unique, the more they can meet his needs, encourage progress, and celebrate accomplishments every day. In addition to filling out questionnaires about your child, here are some additional ways families can help the teacher get to know their child:
Show videos of your child playing or singing a song or having a conversation.
Record your infant's babbling and attempting to say words so the teacher can respond appropriately.
Teach program staff useful and comforting words in your home language to make communication with your child easier.
Let the teacher know if something unusual or stressful is happening in your child's life. Always share changes in your child's development or behavior, such as a new sleep pattern or a new ability to crawl. Additionally, tell them  about a move, a change in the family structure, an upsetting event at home, or a tantrum on the way to school -  anything that might affect your child's behavior during the day. 
Exchange strategies for comforting your child when he is upset. The teacher will certainly want to know what you say and do to calm your child, and the teacher may share some helpful hints that you can try at home, too.
Share your own talents and interests. All of the children will benefit from learning about their friends' families and cultures. The teacher might invite you to read stories to children during the day, but that's not the only way to be a part of the program. These are some of the many ways family members have brought their specialties to share with infants, toddlers, and preschoolers:
Singing songs, dancing, playing music
Participating in field trips
Being an indoor or outdoor play partner
Pulling weeds in the program's garden
Making repairs to materials, furniture, and toys
Creating classroom labels in the family's home language
Cooking favorite foods with the children
Communicate in different ways to build a reciprocal relationship with your child's teacher. You can
Participate in the program's two-way text messaging program.
Read papers your child brings home and respond as needed.
Call the program to let them know if you will be late or your child will be absent.
Inform the teacher about the best ways to give you information--et them know which language you prefer and whether you prefer phone messages, texts, email, or paper notices.
Keep in mind that you and the teachers are partners in supporting your child's early education. Even when you are away from your children, the things you have taught them stay with them. Your values, traditions, songs, and stories are all part of your child's foundation for learning. Don't be afraid to share information, even when the topics are upsetting or worrisome—the more the teacher knows about your child, the better they can support play, learning, and development. And the more you know about how your child is spending their day, the better you can support learning at home. Remember that you and the teacher both have your child's wellbeing at heart.
---
Karen Nemeth, EdM, is an author, speaker, and consultant on early childhood language development at Language Castle LLC. She is the author of Basics of Supporting Dual Language Learners: An Introduction for Educators of Children From Birth Through Age 8. [email protected]
Derry Koralek is president of DGK & Company, providing early childhood educational consulting to a variety of clients, including teachers and family child care providers. Previously, she served as editor in chief of Young Children and Teaching Young Children and also as Chief Publishing Officer at NAEYC.
Kelly Ramsey, M.S., is a family advocate, leader and consultant at Developing People, Inc. She is a mentor-coach for early childhood programs working towards creating innovative programs for families and children. [email protected]