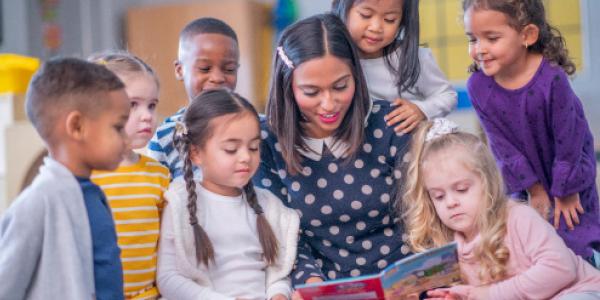 You are here
Rhian Evans Allvin
Dear colleagues,
As we usher in a new year, all of us at NAEYC understand the difficult challenges early childhood educators have experienced throughout the past year. And we know that those challenges will continue to deeply affect you, the children and families you serve, and your communities. I want you to know that we will continue to stand with you and support you in practice, policy, and research. With immense gratitude for all that you do, we are dedicated to you and steadfast in our commitment to reach the other side as a strengthened, more unified profession.
A new year is also a time for reflection, new beginnings, and a chance to deepen our commitment to ensuring ALL young children have access to the high-quality education they deserve. This issue of Teaching Young Children offers content that is both relevant to the times we're living in and looks forward to the day when we can be back in the classroom on a regular basis. Featuring a series of articles about STEM, it begins with Beyond Pinning: Choosing Developmentally Appropriate STEM Activities for Preschoolers, which shares a tool created by NAEYC's Science Interest Forum members to help you evaluate, from both the children's and educator's perspectives, STEM activities to carry out. And for those of you looking for excellent resources to share with families, this issue includes two STEM-focused Message in a Backpack™ features.
At its core, teaching STEM is about finding engaging, playful, and creative ways of showing young children how to observe and make sense of the world around them. You'll find more content filled with practical information for bringing STEM learning to life in your classroom and in children's homes, including growing gardens, creating wrecking balls, and navigating mazes and maps. Look for future TYC issues to focus on other important, foundational early learning topics.
Also in this issue are articles dedicated to anti-bias practices in action. You'll read about beginning (or continuing) a journey to understanding our biases and about fostering children's identity, agency, and voice about race through three empowering picture books.
As we struggle through uncertain times, I believe that early educators are the key to providing young children, families, and communities with creative, hopeful, and joyous learning experiences in the coming year.
Onward!
Rhian Evans Allvin
Rhian Evans Allvin is the chief executive officer of NAEYC. She is responsible for guiding the strategic direction of the organization as well as overseeing daily operations. Before joining NAEYC, Evans Allvin was a guiding force in Arizona's early childhood movement for more than 15 years, including serving as CEO of Arizona's First Things First.