From Good Guidance to Trauma-Informed Care: Meeting All Children's Behavioral Support Needs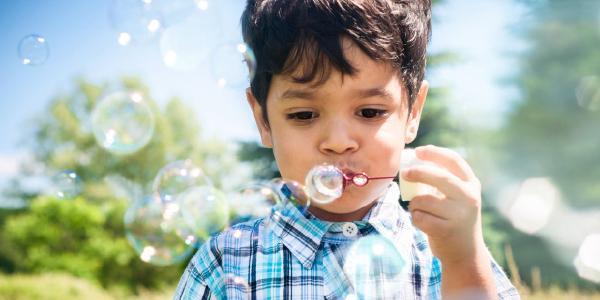 You are here
I am drafting this editors' note in the spring, when much of the country is living under stay-at-home orders in an effort to combat the spread of COVID-19. Most early learning programs and schools are closed. It's a frightening and unusual time, with huge impacts on early childhood programs, teachers, children, and families.
This cluster of articles was planned well before COVID-19 impacted the early childhood community. Our aim was to share an array of content that would enhance educators' knowledge about supporting young children who had experienced all types of traumatic events, would aid them in seeing children's strengths, and would help them to learn strategies and approaches for making early childhood settings places where children can cope, develop resilience, and flourish. We certainly did not expect that early childhood educators would be reading these articles in the midst of a global pandemic and would be experiencing what could be, for many, a shared traumatic event.
Early childhood classrooms are places where, with the support of knowledgeable early childhood teachers, children and families can thrive even in the face of adversity. They are places where art and writing materials and props for dramatic play are readily available so children can express themselves, share their experiences, and communicate what they know and understand. Early childhood classrooms are also places where educators observe children's behavior and expressions—including some that reflect traumatic events. The articles in this Young Children cluster offer a range of strategies and approaches for helping children who have experienced trauma, many of which may feel particularly relevant at this point in time.
Opening the cluster, David J. Schonfeld, Thomas Demaria, and Sairam A. Kumar, in "Supporting Young Children after Crisis Events," provide insights into how young children understand both large- and small-scale traumatic events. These traumatic events may be experienced by an entire community (such as a widespread flood or a health pandemic) or by individual children's families (death, divorce, or loss of income). Whatever the scale of the traumatic experience, the authors offer ideas for how teachers can support young children after such a crisis.
Sierra L. Brown, Allison McCobin, Stephanie Easley, and Kara E. McGoey, in "Supporting Anxious Children in the Preschool Classroom," offer strategies for recognizing and relieving anxiety through intentional activities drawn from the work of mental health professionals. Teachers can call upon these techniques to help all young children develop the coping skills they need to deal with stressors in the classroom and beyond.
It's key that educators are supported to be strong and healthy enough to be the champions of children and families with a history of trauma that they want and need to be. In "Preventing Compassion Fatigue: Caring for Yourself," excerpted from the upcoming NAEYC book Trauma and Young Children: Teaching Strategies to Support and Empower Children, authors Sarah Erdman, Laura J. Colker, and Elizabeth C. Winter focus on self-care strategies for teachers to help prevent compassion fatigue.
As the authors write in the preface to their book,
While the aftereffects of this pandemic are unknown at this time, there is a stronger need than ever to work to help mitigate the negative effects of trauma on children. Collectively, we must turn fears into positivity and work proactively to support children, families, and ourselves. More than ever, informed, compassionate, and high-quality early childhood educators are critical to the framework of society. We are grateful for the work you put in and your drive to continue to learn and improve for the good of the communities you serve. You are on the front line of giving meaning to a frightening time in history. The hope and assistance you offer children and families will enable children to go forward and flourish.

In "Exclusionary Discipline Practices in Early Childhood," Sarah C. Wymer, Amanda P. Williford, and Ann S. Lhospital highlight how, even without official suspensions or expulsions, teachers could still be practicing "soft" exclusionary punishments, leading to children still being excluded from learning opportunities. Among many tips for avoiding these sorts of practices, the authors offer four steps for addressing implicit biases and three key positive behavioral interventions.
Lastly, Ellen Galinsky, in "Words Matter: Moving from Trauma-Informed to Asset-Informed Care," stresses the need to remain hopeful about children, especially children who have experienced trauma. She emphasizes the value of focusing on the positive things children and adults are already doing and how to expand on those behaviors rather than dwelling on adversities.
As early childhood educators continue to be impacted by this crisis, we can look to each other for ideas and support. My hope is that this cluster of articles will bolster early childhood educators as they face, process, and recover from this difficult time together; share strategies; and build resilience for each other, children, and families.
—Susan Friedman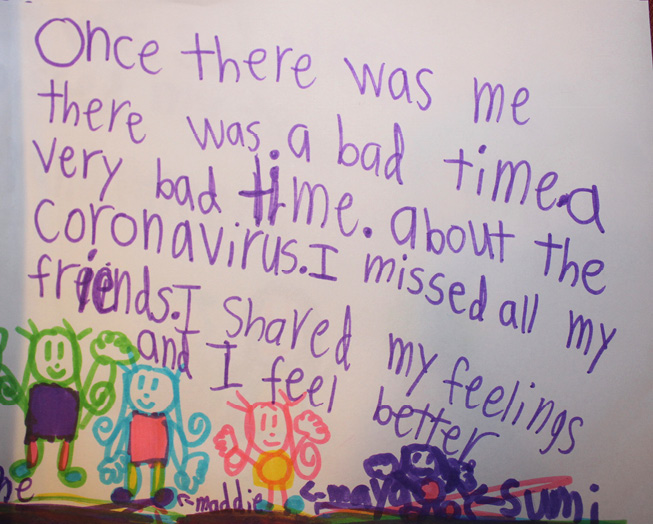 For the past few years, we've highlighted children's artwork in the introduction of Young Children. Here, I share the thoughts of a 7-year-old who authored and illustrated her own coronavirus story as she sorted through her understanding, feelings, and experiences learning about coronavirus and social distancing: "I wanted to write down my feelings about the Corona virus because I want it to end. And I think if I express my feelings, I won't feel so upset. And it turned into a book." We'd love to hear from you!
Send your thoughts on this issue, and on topics you'd like to read about in future issues of Young Children, to [email protected].
Would you like to see your children's artwork featured in these pages? For guidance on submitting print-quality photos (as well as details on permissions and licensing), see NAEYC.org/resources/pubs/authors-photographers/photos.
Susan Friedman
Susan Friedman is Senior Director, Publishing and Professional Learning at NAEYC.