The Reading Chair: March 2015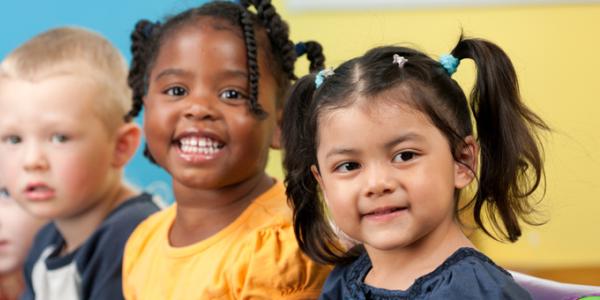 You are here
Isabel Baker Miriam Baker Schiffer
Tugboat, by Michael Garland. 2014. New York: Holiday House. 32 pp. Ages 1 to 5.
Tugboats and young children have something in common: they're both little, but they can do big things. In this book, each spread features a different large boat that needs the help of a tugboat, such as a cargo ship coming into port or a heavy barge full of coal being pulled along the river. The setting is the Harlem River, near the Willis Avenue Bridge in New York City, where all manner of ships come through—including a cruise ship, a fireworks barge, a garbage barge, and sailboats.
Graphite pencil and digital illustrations create vivid scenes with lots of movement, including the rush of water left in the tugboat's wake, wind in a boat's sails, snow falling over the river, and mist rising off the water in front of the skyscrapers. The language is simple enough for toddlers, but the content is complicated enough to interest kindergartners. A glossary offers extra details.
My Grandfather's Coat, by Jim Aylesworth. Illus. by Barbara McClintock. 2014. New York: Scholastic. 32 pp. Ages 3 to 7.
Follow the journey of a young tailor who comes to America, raises a family, and then watches it grow for generations. As immigration stories often do, this one features nostalgia—for the overcoat that the young tailor made to wear on his wedding day. Instead of leaving it in the past, the new husband wears the coat until it's frayed, and then he fashions the intact parts into a jacket, which he dons when he takes his daughter out to play. When the jacket becomes tattered, he turns it into a vest, and he puts it on for the grand opening of his very own tailor shop. Then it becomes a tie that he wears as he teaches his grand­daughter to ride a bike. Finally it's a mouse toy that he makes for his great-grandson. The ever-shrinking fabric stands in humble contrast to the bounty of his ever-growing family.
Aylesworth's story is a retelling based on the Yiddish folk song "I Had a Little Overcoat" and popularized among early childhood educators through Simms Taback's children's book Joseph Had a Little Overcoat. McClintock drew inspiration for the illustrations from an immigration program in the early 1900s that funded Jewish families who wished to leave crowded New York City and settle in small American farming towns, including the area in Connecticut where McClintock lives. This is a satisfying story about hard work, renewal, and the fact that even after nothing is left, you can still walk away with a great story.
Counting Chickens, by Polly Alakija. 2014. London: Frances Lincoln. 32 pp. Ages 3 to 7.
In Tobi's village, each child raises his own animal. Ade's cow has a calf. Tunde's sheep has two lambs. Bisi's goat has three kids. And Tobi's hen lays one egg, then two, then three, all the way up to seven. But while the other children enjoy watching their animals learn to feed and run and play, Tobi gets teased because his hen's eggs just sit still, not doing a thing. Well, the joke's on everyone else, because the village is soon overrun by chickens—Tobi's hen, her chicks, and their chicks . . . 50 in all! Readers are reminded that patience is a virtue.
This book juggles a lot. It's a counting book with a strong sense of place, as well as a story touching on common emotional struggles of childhood. It even teaches children about raising farm animals. Alakija, who lived in Nigeria for 15 years, renders earthy and expressive illustrations of village life in colorful acrylic and pencils on textured paper.
The Storm Whale, by Benji Davies. 2014. New York: Henry Holt. 32 pp. Ages 3 to 7.
In this stunning book about life by the ocean, a young boy, Noi, lives with his father and explores the seashore while his dad is off at work. Noi's freedom is liberating, but he leads a solitary life. That is, until he finds a beached baby whale on the shore that he decides to bring home as a new friend. When Noi's father discovers the whale in the bathtub, he shows Noi that the whale really needs to return to the ocean. The father and son say goodbye to the whale together. Noi's loneliness is palpable and painful, but his father's love is strong, and Noi's connection to nature is uplifting. His compassion brings such warmth and redemption to the story that the reader feels hopeful for Noi in the end.
The moving illustrations capture the intensity of the ocean as well as the charm and peacefulness of living at the water's edge. This is a great problem-solving story.
Take Away the A, by Michaël Escoffier. Illus. by Kris Di Giacomo. 2014. New York: Enchanted Lion. 56 pp. Ages 4 to 8.
Alphabet books should be pieces of art. They're a wonderful opportunity to tell a story, play with a new concept, or otherwise inspire. This ABC book is about much more than teaching the alphabet. Each double-page spread—one per letter—presents an inventive situation using two similar words, one with the featured letter and one without. "Without the A, the BEAST is the BEST." (A beast has won the scariest and hairiest contest.) "Without the B, the BRIDE goes for a RIDE." (A bride rides a Ferris wheel.)
Rich illustrations are full of personality (the jelly jar has an attitude, and the rat reclines on the beach). The extension opportunities are vast. Children can play the role of different letters and experiment with removing different ones from simple words.
The Scraps Book: Notes From a Colorful Life, by Lois Ehlert. 2014. New York: Beach Lane. 72 pp. All ages.
With 35 picture books for children under her belt, Ehlert looks back on her work and describes how she became interested in art at a young age and how she creates her art today. This 72-pager, chock-full with photographs, makes an excellent browsing book. Through photos and brief commentary, Ehlert describes her life as an artist. There's a photo of young Lois in her grandmother's garden, around the time she began to wonder if she could make books like those she saw in libraries. There's a photo of her parents, "who made things with their hands." There's a picture of Ehlert's paintbrush alongside her father's.
Readers get to see Ehlert's workspace today, stocked full of materials all the way up to the ceiling. She shares lists of words that inspire her, collections of items like ice fishing decoys that give her ideas, and early drafts of illustrations and writing that readers can compare to the finished books already sitting on their shelves. Her ideas come from surprising places. When her sister's cat brushed against her ankle as he ran out the door, she got the idea for Feathers for Lunch. Ehlert's narration welcomes children right in. "I'm messy when I work," she writes. She gleefully shares with readers that "Mother Nature gives me free art supplies!"
There's much to love in these pages. Ehlert reveals herself to be a generous spirit with whom the reader will want to spend time. She approaches her work with humility and dedication, and she embraces the ways in which it is freeing and pleasurable. Ehlert closes the book by telling readers, "I wish you a colorful life!" Don't be surprised if some of them head right over to the art table.
Isabel Baker
Isabel Baker, MAT, MLS, is president of The Book Vine for Children, a national company dedicated to getting good books into the hands of preschool children and their teachers. Isabel has worked as a children's librarian and is currently a presenter on early literacy and book selection.
Miriam Baker Schiffer
Miriam Baker Schiffer, MFA, is a writer in Brooklyn, New York. She consults on book selections for The Book Vine, in McHenry, Illinois. Miriam's children's book, Stella Brings the Family, was published by Chronicle Books in 2015.