The Reading Chair: May 2019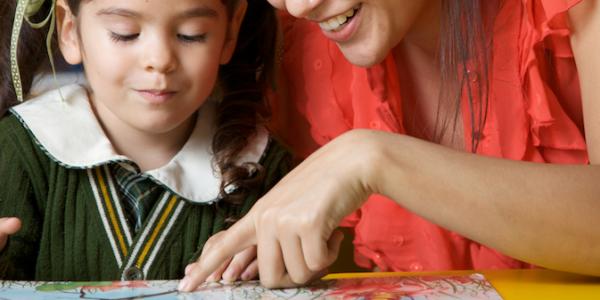 You are here
Isabel Baker, Miriam Baker Schiffer
Black Bird Yellow Sun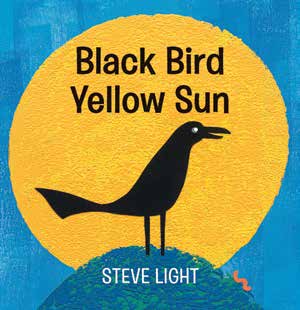 By Steve Light. 2018. Somerville, MA: Candlewick Press. 16 pp. Ages birth to 3.
In this striking board book for very young children, a black bird is greeted by the morning's yellow sun. The bird encounters more colorful objects as its day progresses: orange leaves, a red snake, grey rocks, and pink flowers. In this simple story, there is tension. Will the snake eat the bird? Will the bird eat the small orange worm that appears on each page? On the final spread, with the blue moon rising behind the bird and worm, readers can relax as the day ends peacefully. Colorful images are stamped onto the pages with cardboard shapes, leaving a ripple pattern in the ink. The texture invites young readers to touch and engage.
---
A Parade of Elephants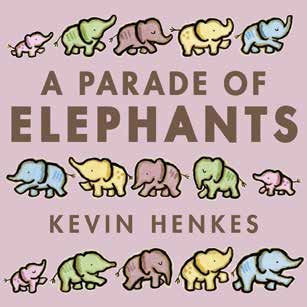 By Kevin Henkes. 2018. New York: Greenwillow Books. 32 pp. Ages birth to 5.
Children's book veteran Kevin Henkes has a deft way with words and illustrations that makes his books for very young children seem gentle and innocent, when in fact they're very sophisticated. This book invites readers to join five charming elephants marching in a parade. As they bounce along, readers encounter the concepts of counting (one to five), shapes (big, round) and positions (up, down, over, under, in, out). The parade ends with the reassurance of routine (heading to bed) and a burst of magic. The rhythmic text is simple but masterful.
---
Saffron Ice Cream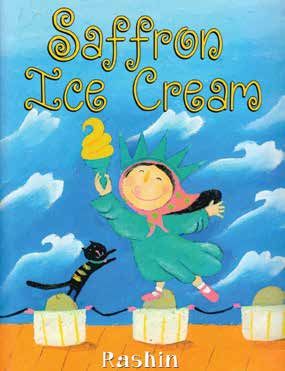 By Rashin Kheiriyeh. 2018. New York: Arthur A. Levine Books. 40 pp. Ages 3 to 7.
A girl named Rashin sets out on the New York City subway to the beach in Coney Island. She remembers her family outings to the beach in Iran, and she wonders how Coney Island will compare. She reminisces about the good friend who always came on her beach trips in Iran, the modesty rules strictly in force, and the saffron ice cream cones they enjoyed.
Rashin's immigration story is both complicated and full of promise. The text is frank about what it means to leave one's home. The brightly colored illustrations capture the wonder of New York (the diversity, the sights) and the love Rashin had for her life in Iran (her friends, the sea, the rolling hills). This beautiful story touches on many themes, including food, friendship, family, gender, multiculturalism, being "other," and how one adapts.
---
The Ugly Five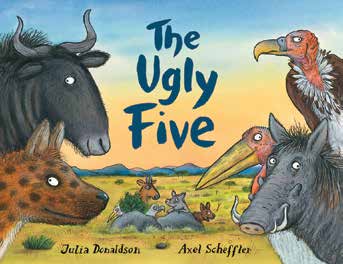 By Julia Donaldson. Illus. by Axel Scheffler. 2017. New York: Scholastic Press. 40 pp. Ages 3 to 7.
When on safari in Africa, it's common for visitors to seek out lions and elephants. But Julia Donaldson was taken with the ugliest animals, like the ungainly wildebeest, the stinky vulture, and the gangly marabou stork. The inventive rhyme—full of illuminating details and interesting vocabulary—and personality-filled illustrations bring these animals' most unappealing qualities to light with humor and affection. But how will Donaldson and Scheffler convince us that these animals are worthy of adoration? By showing them through the eyes of their babies! These awkwardlooking animals are fabulous parents. Donaldson and Scheffler incorporate science, social and emotional awareness, geography, rhythm, and rhyme into one feel-good package.
---
The Funeral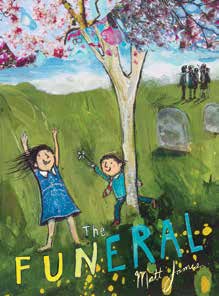 By Matt James. 2018. Toronto: Groundwood Books. 40 pp. Ages 4 to 7.
What's it like to be a child at an elderly relative's funeral? At a time when adults are somber, children embrace an opportunity to be with cousins, explore new surroundings while the adults are distracted, and have freedom from their daily routine. This brilliant story of one girl's experience at her great uncle's funeral captures that magical space children live in—set apart from the sadness of the day—and reminds the adults that life is for the living. Children may not fully understand the mourning at funerals, but they do get exposure to the idea of death. They learn that funeral rituals help us care for one another. This unique book is a wonderful launching pad for discussing what happens when someone dies.
---
Forever Favorites

In each issue we feature a classic book to (re)introduce teachers to old favorites.
Joseph Had a Little Overcoat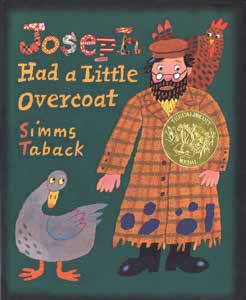 By Simms Taback. 1999. New York: Viking Books for Young Readers. 40 pp. Ages 3 to 6.
Simms Taback's beloved book Joseph Had a Little Overcoat, based on an old Yiddish folk song, may only be 20 years old, but with its unwavering popularity and timeless message, it's already a classic. Set in an Eastern European Jewish village, this tale follows the evolution of a poor farmer's coat. As wear and tear gets the best of it, Joseph transforms the coat into a jacket, then a vest, then a scarf, and eventually into a button. When the button is lost, Joseph has nothing left. So he makes a book about the coat, showing that you can always make something from nothing. Taback's signature, brightly colored folk art illustrations are printed on thick glossy paper. Diecuts reveal the garment's transformations from one page to the next. Sheet music for the folk song is at the back of the book.
Isabel Baker
Isabel Baker, MAT, MLS, is the founding director of The Book Vine for Children, a national company dedicated to getting good books into the hands of preschool children and their teachers. Isabel has worked as a children's librarian and is currently a presenter on early literacy and book selection.
Miriam Baker Schiffer
Miriam Baker Schiffer, MFA, is a writer in Brooklyn, New York. She consults on book selections for The Book Vine, in McHenry, Illinois. Miriam's children's book, Stella Brings the Family, was published by Chronicle Books in 2015.