The Reading Chair: May 2015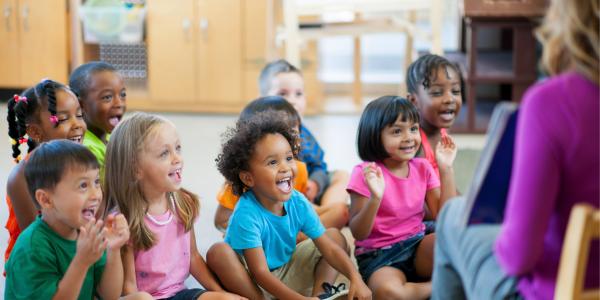 You are here
Isabel Baker Miriam Baker Schiffer
Animal Fun for Everyone!, by Marjorie W. Pitzer. 2013. Bethesda, MD: Woodbine House. 16 pp. Ages birth to 3.
I Like Berries, Do You?, by Marjorie W. Pitzer. 2013. Bethesda, MD: Woodbine House. 16 pp. Ages birth to 3.
These two photo-illustrated board books feature children with Down syndrome doing everyday activities. Animal Fun for Everyone! is full of tender photos of children spending time with house pets and farm animals. Accompanied by interesting verbs on each page, we see children petting, hugging, feeding, and holding their animal friends. The variety of animals is impressive, and readers will love seeing children interacting with each one. In I Like Berries, Do You?, children show readers how to eat an assortment of (mostly) healthy foods, including tasty yogurt, carrots, corn-on-the-cob, a chicken drumstick, and a colorful popsicle. Some foods require a spoon, and others need to be held with two hands. Each looks delicious.
Cats Are Cats, by Valeri Gorbachev. 2014. New York: Holiday House. 32 pp. Ages 2 to 5.
With an outrageous premise and a focus on unconditional love, this story will draw children right in. When Miss Bell buys a kitten, the two get along in every predictable way: she dangles string for him to bat, she feeds him food that he loves, and they curl up on the couch together to watch television. But when her little "Tiger" grows into a real tiger, he can't help causing quite a ruckus. Does she turn him out onto the street or hand him over to the zoo? Of course not. Miss Bell loves him just the same: "Cats are cats," she always says. Gorbachev's illustrations are full of expression, and children will love being in the company of the welcoming Miss Bell and her Tiger. Especially when one of the little fish she buys for Tiger suddenly develops into a huge shark. What will Miss Bell say about that?
Mama Built a Little Nest, by Jennifer Ward. Illus. by Steve Jenkins. 2014. New York: Beach Lane Books. 40 pp. Ages 2 to 8.
Birds everywhere build nests for their young, and they use an impressive range of engineering feats to get the job done. Fourteen species are featured here, one on each double-page spread, along with simple four-line poems that capture an essential aspect of each one's nest building. The rhymes follow an engaging pattern, sure to appeal to young readers: "Daddy built a little nest. / And then he built another. / And another. And another – / hoping to impress my mother." A few extra lines of text on each page, presented in smaller font, provide additional details for readers, including information on the materials and techniques different species use to build nests. The variety is remarkable. There's a grebe nest floating on the water, and an owl nest burrowed in the ground; there are birds that make new nests from scratch and others that make their homes in nests that are already built. Ward's love of birds is clear from her writing, and she discusses it in more detail in a note at the end of the book.Jenkins's illustrations, made from cut paper, contain great depth and feeling. His website, www.stevejenkinsbooks.com, provides great information about making books and creating the artwork for his illustrations.
Little Roja Riding Hood, by Susan Middleton Elya. Illus. by Susan Guevara. 2014. New York: G.P. Putnam's Sons. 32 pp. Ages 4 to 7.
Writing a rhyming book with lines that flow easily is a challenge. Sprinkle in 38 Spanish words, and the job is even more difficult. But author Elya accomplishes it with grace in this hip and funny take on Little Red Riding Hood. Roja (Red), as her family affectionately calls her, is taking soup to her grandmother who lives in the woods. As she makes her way there in an all-terrain vehicle, a bandana-wearing wolf stops her along the path. He takes her red cape and heads to Grandma's house to cause trouble. Grandma, who wears pajamas decorated with peace signs, is in bed working on her laptop when the wolf barges in. Unlike many who have come before her, this abuela isn't fooled by the intruder. Grandma is clutching her Santo figurine (who gives the wolf a skeptical look) when Roja bursts in to save her grandmother just in time, throwing the hot soup on his head. Elya had always wanted to tell a version of this story in which Red Riding Hood saves the day, rather than a local woodcutter. Illustrator Guevara incorporates humor and personality on each page. If readers look closely, they will see other fairy tale characters hiding in the illustrations.
Queen Victoria's Bathing Machine, by Gloria Whelan. Illus. by Nancy Carpenter. 2014. New York: Simon & Schuster. 40 pp. Ages 4 to 8.
In this piece of historical fiction, readers get to know Queen Victoria, the long-reigning British monarch who took the throne almost 200 years ago. Rather than be put off by a stuffy queen wearing layers of fancy clothing, the reader immediately finds Victoria relatable. Sweating under her petticoats, the weary queen looks out on the ocean and wishes that she could escape the expectations of royal modesty to take a cool swim. Her devoted husband and children work to find an answer to her dilemma. Whelan (National Book Award winner for Homeless Bird) narrates the story with brilliant, smooth-flowing rhyme ("'My dear,' said Prince Albert, 'if it is your wish to dabble and splatter and swim like a fish, there must be a way to transport you with ease, while keeping the populace from glimpsing your knees.'"). Carpenter's illustrations use whimsy and wit to reveal the great love Albert and Victoria share for each other and for their children. Readers will delight in the inventive solution that enables one monarch to relish the freedom to be herself and enjoy the natural world around her.
Isabel Baker
Isabel Baker, MAT, MLS, is president of The Book Vine for Children, a national company dedicated to getting good books into the hands of preschool children and their teachers. Isabel has worked as a children's librarian and is currently a presenter on early literacy and book selection.
Miriam Baker Schiffer
Miriam Baker Schiffer, MFA, is a writer in Brooklyn, New York. She consults on book selections for The Book Vine, in McHenry, Illinois. Miriam's children's book, Stella Brings the Family, was published by Chronicle Books in 2015.