The Reading Chair: May 2018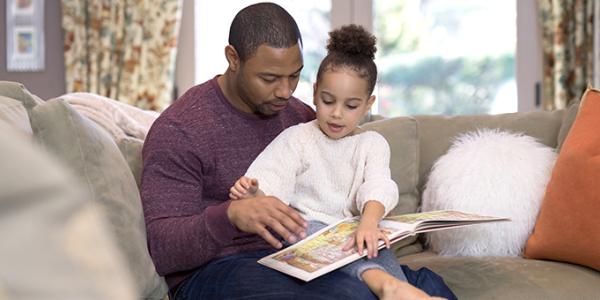 You are here
Isabel Baker, Miriam Baker Schiffer
 

New children's books too good to miss and one forever favorite!

Littles and How They Grow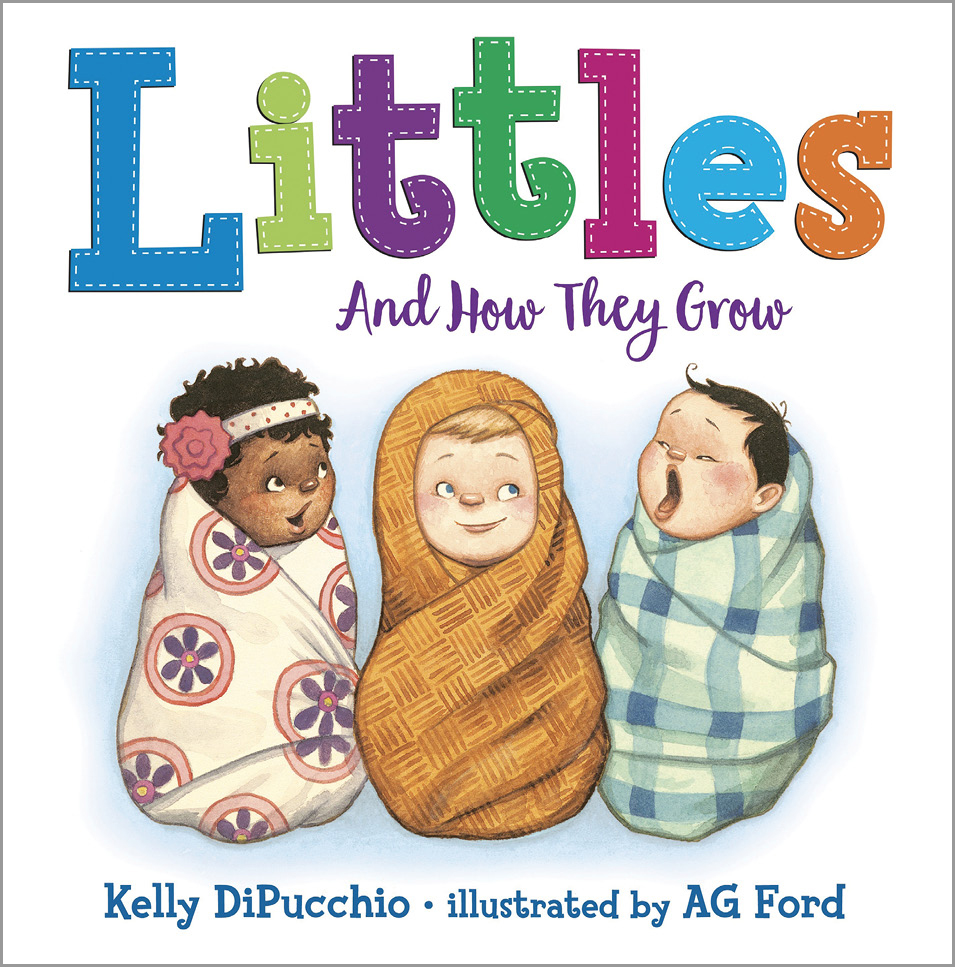 By Kelly DiPucchio. Illus. by AG Ford. 2017. New York: Doubleday. 24 pp. Ages 1 to 4. 
This book is an ode to babies and those who love them. The sweet text touches on essential topics: cuddles, teething, feeding, tantrums, and snuggly sleep. The babies are irresistibly cute. DiPucchio and Ford made sure to include diverse families (two moms, one dad, one mom, mixed race families, grandparents, twins), and they present lots of ways of caring for babies (stroller and sling; nursing, bottles, and store-bought baby food). Simple rhymes roll off the tongue and tie the book together. 
 
---
Who Am I? An Animal Guessing Game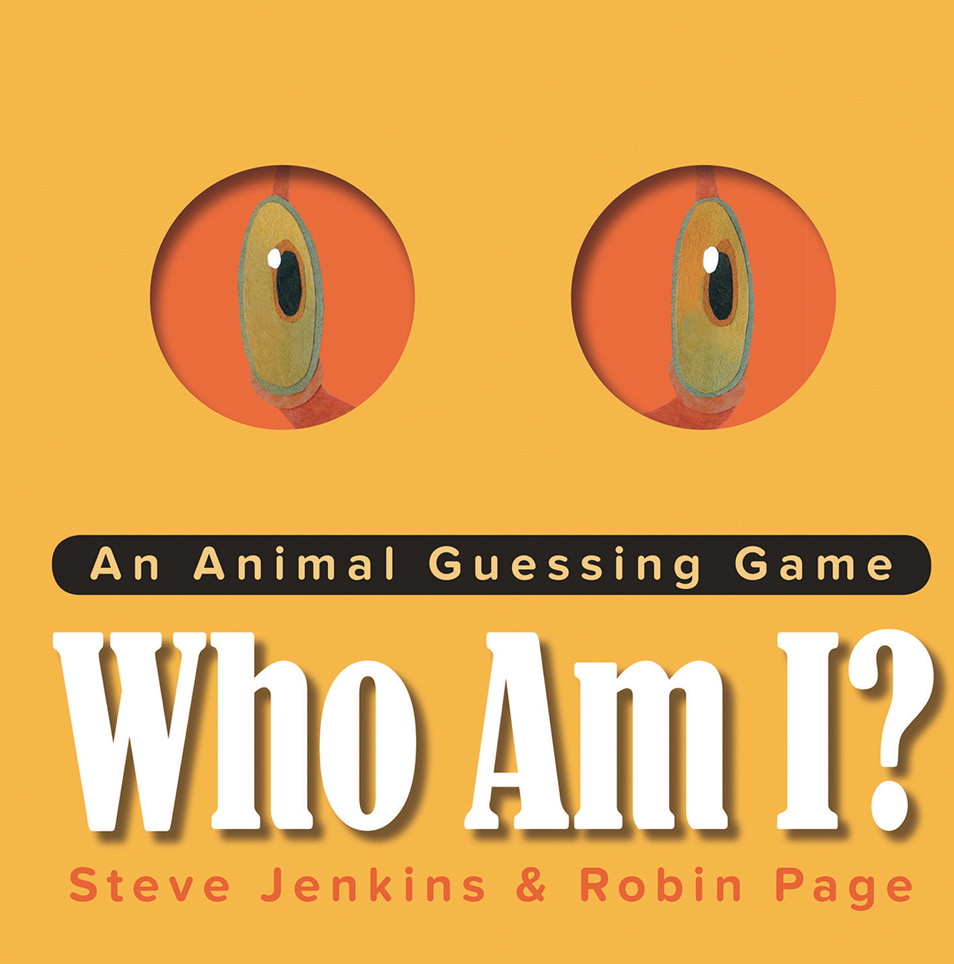 By Steve Jenkins and Robin Page. 2017. New York: Houghton Mifflin Harcourt. 40 pp. Ages 2 to 6.
Jenkins and Page, masters of mixing science and art for young readers, have created a colorful guessing game in which children can inspect snapshots of an animal's life (its body, its habitat, its food) and guess what animal it is. The engaging animals, beautifully rendered in cut and torn paper collage, seem to make eye contact with the reader. Back matter provides extra information about each animal.
---
Baby Monkey, Private Eye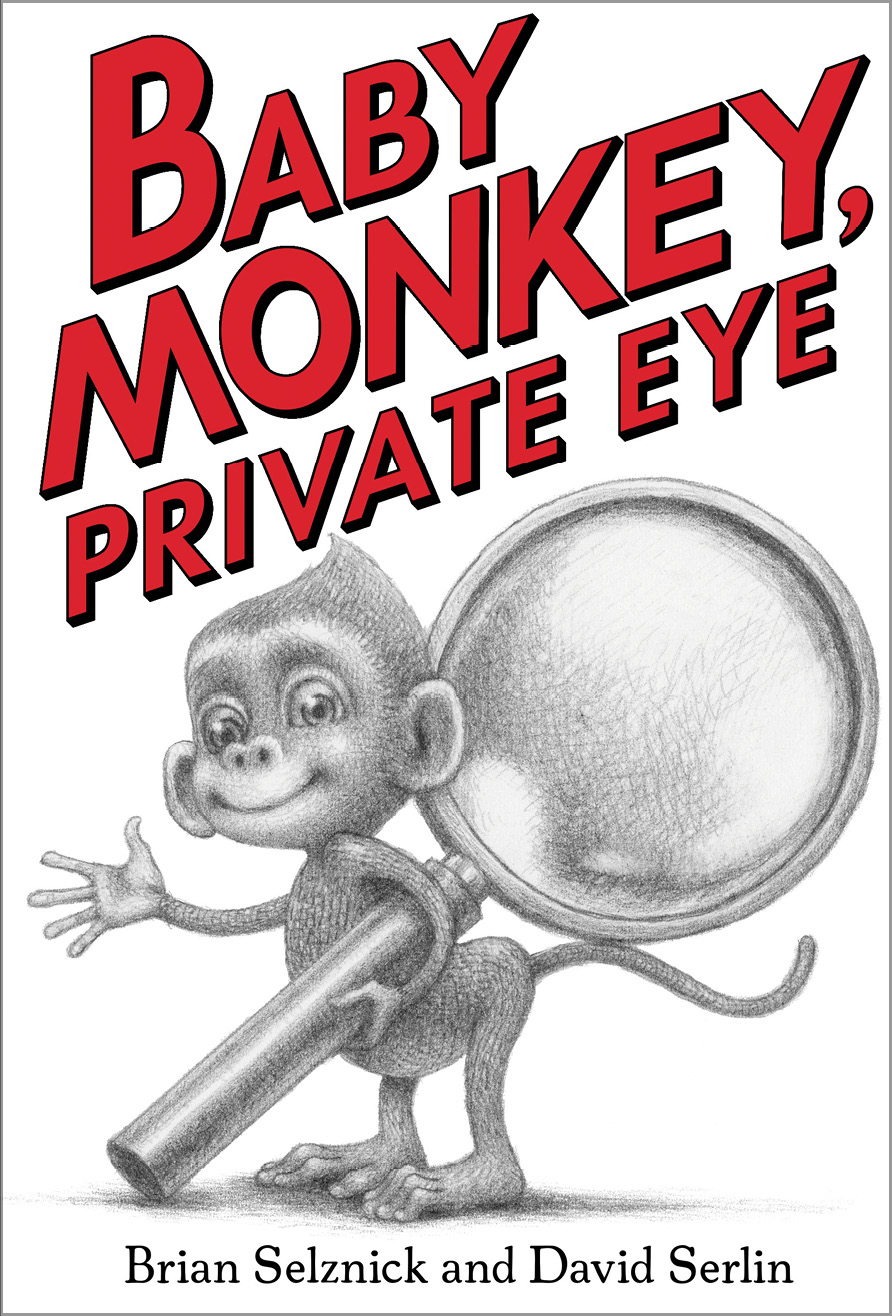 By Brian Selznick and David Serlin. 2018. New York: Scholastic. 192 pp. Ages 4 to 8.
We are so excited about this brilliant new book! It's a drama-filled tale of an adorable baby monkey who sets out to solve big cases.
Brian Selznick (Caldecott Medal winner for The Invention of Hugo Cabret) and David Serlin (writer and historian, first time children's book author) present the tale in an original new format—a five-chapter chunky page-turner chock-full of engaging black-and-white illustrations and very sparse text—perfectly suited for young readers. 
Selznick's masterful drawings were created with a few aids: he cast a rubber 3-D model of the monkey to ensure he drew it well from all angles. He created a miniature version of the detective's office to better draw the backdrop for much of the book's drama. And Serlin posed as the human characters in the book so that Selznick could render their expressions. Full of tension, these cases are a joy to read.
---
A Perfect Day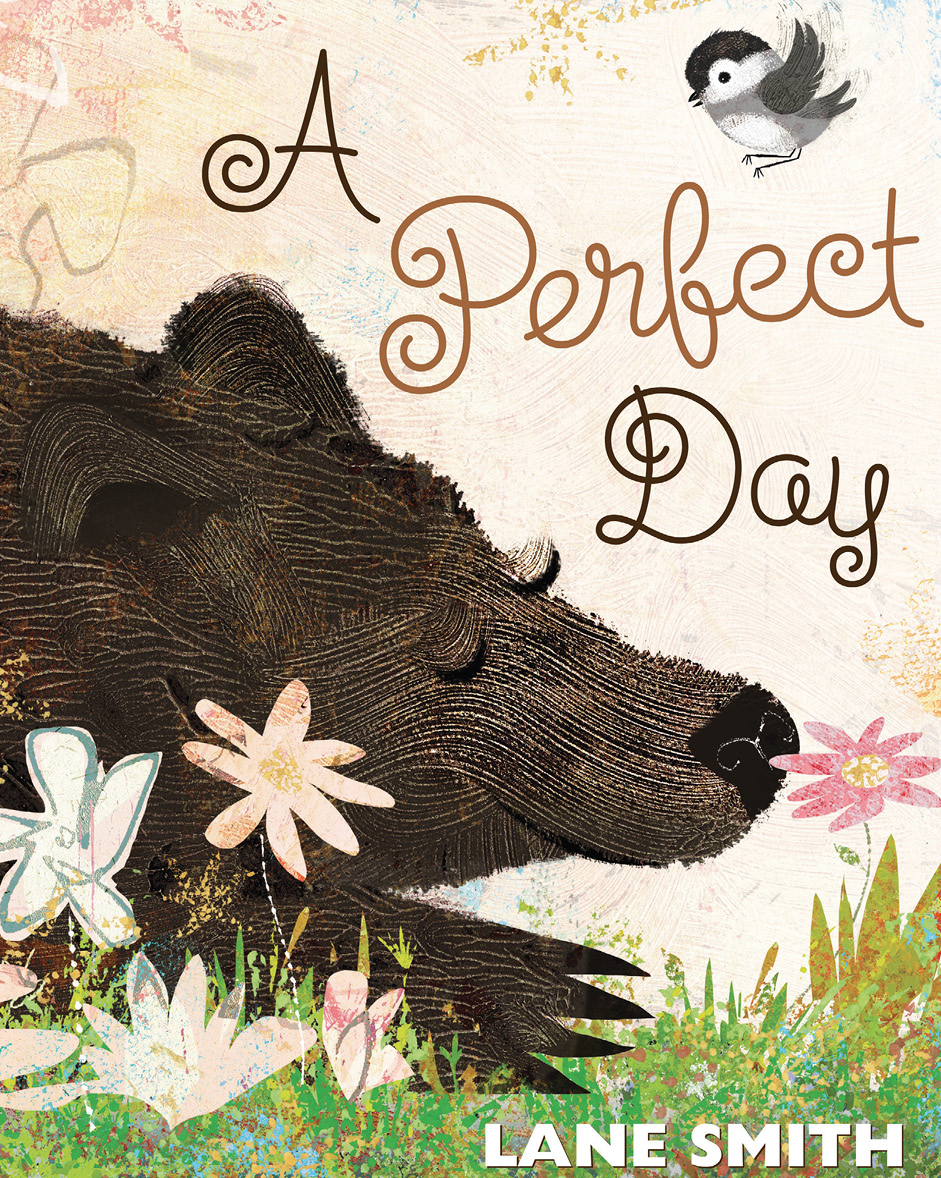 By Lane Smith. 2017. New York: Roaring Brook Press. 32 pp. Ages 2 to 6.
If you judge this book by its cover, you might think it's a feel-good story. It does start out that way, with a cat, a dog, a bird, and a squirrel showing us why they so appreciate living in a little boy's backyard. But then a bear arrives, taking over their space and upsetting their tranquility. You may guess who ends up having a perfect day.
The humor may be a bit uncomfortable, but this tale will prod young readers to consider how one person's win can be another person's loss, how perspective matters, and how we can learn from viewing things through someone else's eyes.
The story has great rhythm and pacing. The colorful and multitextured illustrations convey the wide range of feelings that come up.
---
Mr. Crum's Potato Predicament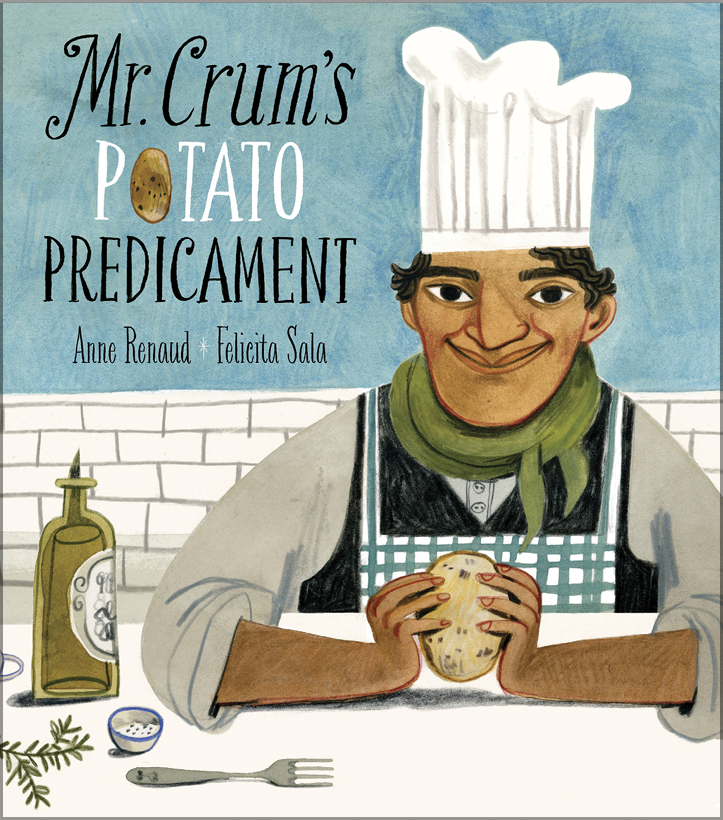 By Anne Renaud. Illus. by Felicita Sala. 2017. Toronto: Kids Can Press. 32 pp. Ages 4 and up.
Based on a legend, this is the story of the potato chip's invention over 100 years ago in upstate New York. George Crum, a beloved and playful local chef, was faced with a picky customer who kept sending his potatoes back, saying they were too thick and undercooked. Again and again, Crum remade the dish, adjusting it slightly. Finally, when he'd had enough, George decided to play a joke on the customer and make the potatoes so thin they were like paper and so crispy they snapped. To his surprise, they were a hit! The potato chip was born. 
The book's art is warm and expressive, infusing lots of personality into a diverse cast of characters. The pages and endpapers feature serving pieces and kitchen tools of the time, setting the scene. And the well-told story will draw readers in and have them cheering for Mr. Crum.
---
Forever Favorites

In each issue we feature a classic book to (re)introduce teachers to old favorites.
The Runaway Bunny: A 75th Anniversary Retrospective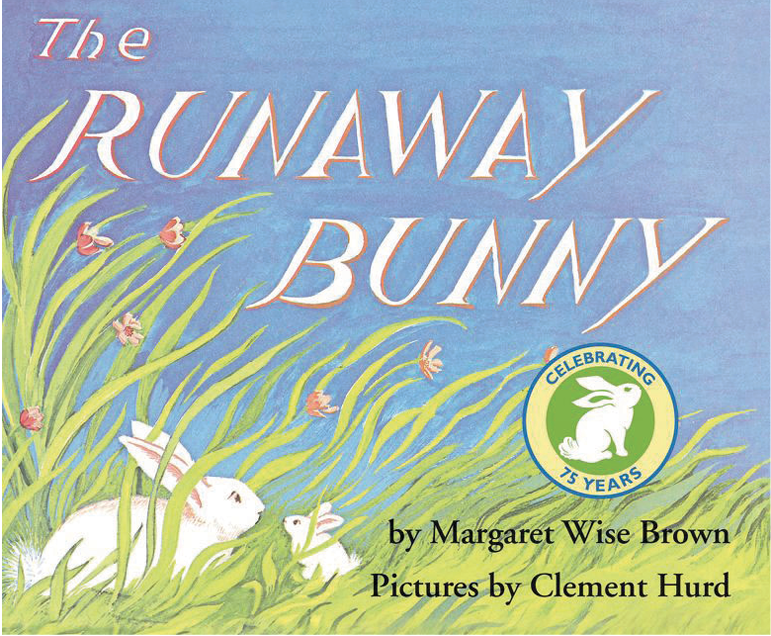 By Margaret Wise Brown. Illustrated by Clement Hurd. With Leonard S. Marcus. 2017. New York: HarperCollins. 64 pp. Ages 2 to 6.
In celebration of the 75th anniversary of one of the most well-known picture books of all time, a new clothbound edition is available that includes the original book, a 32-page retrospective including an essay by historian Leonard Marcus, and archival material about the book's creation.
The story itself remains the same. A young bunny tells its mother that it plans to run away, inventing all sorts of escape plans. A child's desire to separate from its parent and experience independence is on full display. The bunny's mother doesn't discourage her child from leaving home. But for each of the bunny's fantasies, she offers a clever strategy for finding her child.
The pages alternate between black-and-white and color. At the time of the book's original publication, this strategy decreased the high costs of color printing. But Hurd used the constraint to further the book's theme of a parent offering unconditional love. The escape fantasies are in black-and-white. But the mother finds and rescues her child in vibrant color.
Isabel Baker
Isabel Baker, MAT, MLS, is president of The Book Vine for Children, a national company dedicated to getting good books into the hands of preschool children and their teachers. Isabel has worked as a children's librarian and is currently a presenter on early literacy and book selection.
Miriam Baker Schiffer
Miriam Baker Schiffer, MFA, is a writer in Brooklyn, New York. She consults on book selections for The Book Vine, in McHenry, Illinois. Miriam's children's book, Stella Brings the Family, was published by Chronicle Books in 2015.