The Reading Chair: May 2020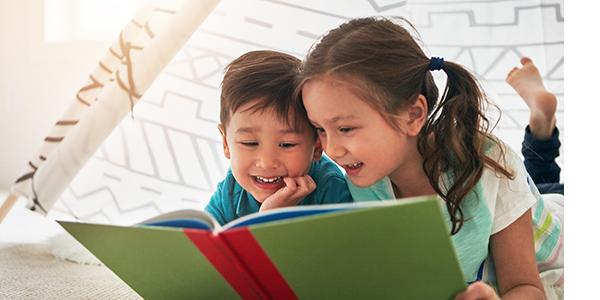 You are here
Isabel Baker, Miriam Baker Schiffer
Giggly Wiggly: Playtime Rhymes

By Michael Rosen. Illus. by Chris Riddell. 2019. Somerville, MA: Candlewick Press. 18 pp. Ages 0 to 3.
This lively board book is full of rhythm, rhyme, wordplay, and invitations to get moving with a lineup of animal friends. Rosen's original poems ("Wiggly Wiggly," "Finger Story," "Lunchtime," and more) are calls to action—specifically, the acts of wriggling, jiggling, bouncing, and boinging. Rhythmic and rhyming text are essential for children and, even when the youngest don't know the meaning of a word or phrase, this kind of text invites them to dive right in. This is an excellent addition for the age 0 to 3 crowd.
---
B is for Baby

By Atinuke. Illus. by Angela Brooksbank. 2019. Somerville, MA: Candlewick Press. 40 pp. Ages 3 to 7.
When a big brother sets out on his bicycle to see his Baba, carrying a basket of bananas on the back, he doesn't realize that his baby sister is hiding in the basket and coming along for the ride. Set in West Africa, this is a sweet story about a day in the life of one family, told with words that start with the letter B (the baobab tree, bus, bridge, bougainvillea, bungalow, and baboon make appearances too!). The beauty of this story is its simplicity. With lots of open space on the pages and alliteration stringing the sparse text together, readers can home in on what matters: the sense of love in this multigenerational family as they uncover a humorous mishap. Brooksbank is excellent at capturing body language and facial expressions as she brings these characters to life.
---
Vroom!

By Barbara McClintock. 2019. New York: Farrar, Straus and Giroux. 32 pp. Ages 4 to 7.
Barbara McClintock has written and illustrated many notable books for children and is known for her delicate line work and detailed illustrations. This book is a thrilling departure from her usual style.
Filled with descriptive language, this is the story of a little girl who drives a race car with gusto. She takes off right out of her own bedroom window and drives on roadways around the world, across different landscapes and terrain, and through all kinds of weather. A poof of curly orange hair almost as large as she is sticks out from under her helmet as she holds the wheel and looks straight ahead with fierce determination. Her final destination? Home. She drives up the stairs and into her room, just in time to hop into bed with a yawn.
The book is autobiographical for McClintock, who was gifted a beloved silver toy car as a child and now drives a real silver sports car around her hometown. 
---
Make a Wish, Henry Bear

By Liam Francis Walsh. 2019. New York: Roaring Brook Press. 40 pp. Ages 3 to 7.
They say not to judge a book by its cover. In this case, the juxtaposition of the tender and tidy illustrations against the outrageous premise of this story offers a wonderfully humorous read. Henry Bear finds himself in a terrible predicament—when he blew out his birthday candles, he wished for parents who would be more fun. But he got too much of a good thing: parents who keep him up late, feed him junk food at every turn, and suggest he watch more TV, even if it means being late for school. It's altogether too much, and Henry Bear waits with anticipation for a redo on his next birthday.
In our recommendations, we steer away from books that present parents as incapable or incompetent—but this book is different. Children love birthdays and making wishes, and this one honors the possibility that the magic may be real. The story also reminds children of what they already know deep down: they need adults who will provide healthy structure, even if children think that all they want is chocolate cake for breakfast.
---
When Pencil Met Eraser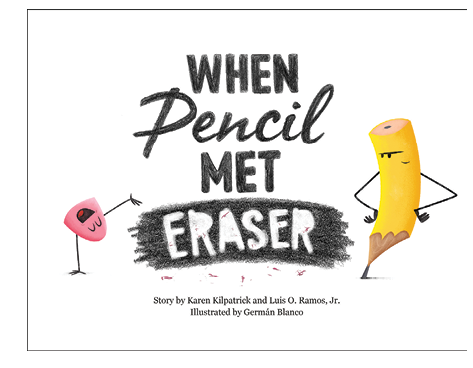 By Karen Kilpatrick and Luis O. Ramos, Jr. Illus. by Germán Blanco. 2019. New York: Macmillan Publishing Group. 40 pp. Ages 3 to 8.
Pencil likes to work alone. So, when Eraser comes along and removes elements of Pencil's work, Pencil is not happy at all. In fact, he's furious! Eraser proudly adds walkways through a dense forest, smooths rough waters, and opens space in the treetops so we can see the stars—but Pencil wants none of it. Until, that is, Pencil comes to appreciate Eraser's contributions and realizes that they make a fine team.
Preschool and early elementary readers have a lot in common with Pencil. They are experiencing formal teamwork for the first time—in classrooms, on peewee sports teams, and in friendly games. Sportsmanship requires shifting focus away from one's own contribution and learning to celebrate collaboration with others, just like Pencil does. Friendship follows.
With this book, extension possibilities are plentiful, including new art techniques and team building activities.
---
Forever Favorites

In each issue we feature a classic book to (re)introduce teachers to old favorites
Bug City

By Dahlov Ipcar. 2019 (1975). Berkeley, CA: North Atlantic Books. 32 pp. Ages 3 to 8.
Dahlov Ipcar, who died in 2017 at the age of 99, was the first woman and youngest artist to have a solo exhibition at the Museum of Modern Art in New York City at the age of 21. Her works are among permanent collections of major American museums, including the Metropolitan Museum of Art in New York City. With 30 children's books under her belt, she's a popular author in children's literature.
This book from 1975 features a family living in Bug City, a fanciful place where bugs live in houses, shop in stores, and work together. Ipcar had fun using real bug names to assign uses to the bugs. The grocery store sells asparagus beetles and potato bugs. The zoo houses tiger moths and an ant lion. Soldier ants march in the parade. Ipcar's wordplay makes us smile. But alongside her imaginativeness, Ipcar remains loyal to reality. Her detailed illustrations and name labels offer a visual encyclopedia to young readers who want to study the abundant varieties of bugs.
 

Isabel Baker
Isabel Baker, MAT, MLS, is the founding director of The Book Vine for Children, a national company dedicated to getting good books into the hands of preschool children and their teachers. Isabel has worked as a children's librarian and is currently a presenter on early literacy and book selection.
Miriam Baker Schiffer
Miriam Baker Schiffer, MFA, is a writer in Brooklyn, New York. She consults on book selections for The Book Vine, in McHenry, Illinois. Miriam's children's book, Stella Brings the Family, was published by Chronicle Books in 2015.