Supporting the Educators Who Support Children and Families— The Team Behind the Teacher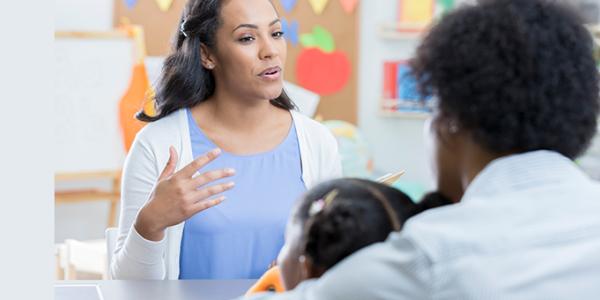 You are here
M. Deanna Ramey
The education and care of young children is a rewarding but demanding job—far more complicated than most casual observers realize. Effective early childhood educators are curious, flexible, and reflective. They are collaborative with colleagues, have great rapport with parents, and are in tune with children's needs and interests. These professionals manage broad tasks such as planning schedules, implementing curriculum, and documenting learning, while handling daily routines almost taken for granted, like tying shoelaces, patting backs at naptime, and drying tears. Even the most experienced educators can find juggling these responsibilities challenging at times.
When the demands of the profession are straining, it is important that those who work with young children and their families know that they can turn to others in their schools or centers, the community, and field for help and support. They don't have to go it alone. Early childhood educators, from preservice teachers to longtime veterans, have a broad network of resources—coteachers, counselors, faculty, parents, and facilitators, to name a few—on whom they may rely for support in all aspects of their practice. In this issue of Young Children, we present a collection of articles demonstrating some of the ways individuals, both inside and outside of classrooms and care settings, provide support to those working with young children.
In the field of early childhood education, it is often the case that professional development is structured as a workshop or presentation in which a facilitator, acting as "expert," gives a talk to or leads activities for a group of participants. Jennifer Gerdes and Terri Jefferson present an alternative to traditional forms of professional development in their account of a professional learning community.
The authors' description of the 12-week program geared toward family care providers is illustrative of the power of reflective, participant-driven professional development.
Highlighting principles they share in their book Coaching With Powerful Interactions, Judy Jablon and Amy Laura Dombro challenge readers to consider their coaching stance. Emphasizing that the way you present yourself is as important as what you are presenting, the five principles of a Powerful Interactions coaching stance are valuable to all early childhood professionals—particularly those who find themselves in leadership roles.
Despite careful planning and preparation, early childhood settings can sometimes be unpredictable. Nonie Lesaux and her colleagues suggest that by modeling self-regulation and creating a regulated environment, teachers of young children can better manage the challenges they encounter and, at the same time, promote healthy development of their children. The authors explain the importance of self-regulation and offer teachers four research-based guiding principles for supporting their own self-regulation and enhancing early childhood environments.
Time and time again, positive relationships prove to be a key component of high-quality early childhood education. In her article focusing on coteacher relationships, Marie Masterson highlights the impact that good communication and positive interactions between colleagues have on the "emotional tone" of the classroom. Stressing that such productive relationships require planning and attention, Masterson outlines strategies for creating and maintaining responsive partnerships.
Often when we think of artifacts, we conjure up images of historic or even ancient objects representative of life in past eras. Jenny Walker presents a new interpretation of artifacts, positioning them as valuable instruments preservice teachers can use to make meaning of their student teaching experiences. In an effort to teach their students reflective practice, Walker and her colleagues at an early childhood education college in New Zealand developed a workshop in which instructors and student teachers chose significant objects—artifacts—to serve as props representing their identities as teachers and learners. Walker enlightens readers with her description of the workshop and the personal experiences of the participants.
Sara Michael-Luna reminds us that parents and families can provide significant support to teachers, particularly when it comes to understanding their children and how best to teach and care for them. Reporting on research from an ethnographic study of an Italian-English bilingual preschool, the author identifies four areas of parent knowledge that support the practice of early childhood educators, and explores each through the lens of classroom application. Although the focus is on bilingual classrooms, all educators can benefit from the guidelines and suggestions in this informative piece.
The articles in this cluster provide just a few examples of the many ways teachers can be supported in their practice. Good teachers help themselves by identifying and making the most of the resources that are available. Every early childhood educator brings particular dispositions and strengths to the setting in which they work. The best in the profession, however, recognize that they don't always have all of the answers. Rather, they strive to build on their personal strengths by seeking help when needed and tapping into the knowledge and talent others offer. In turn, these valuable educators contribute to excellence in the field by demonstrating a willingness to provide support to their colleagues.
— M. Deanna Ramey, Editor in Chief
---
Photograph: Getty Images
M. Deanna Ramey
M. Deanna Ramey was formerly editor-in-chief of Young Children.