A Natural Choice: Learning Outdoors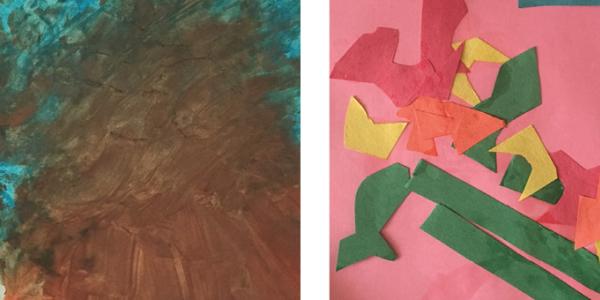 You are here
"Let's go on a creature hunt!" exclaimed 3-year-old Dima.
I was taking a small group of 3- to 6-year-olds on a hike in the woods. I had imagined us winding through the trees, stopping to appreciate different animals' homes and searching for wildflowers. But just a few hundred yards into our expedition, a five-inch-deep trickle of a stream inspired a new plan. Now, our hike became an investigation of critters in the mud. My little group was bursting with ideas about the types of things we would find in the stream: tadpoles, dinosaur eggs, crawfish, bugs with "80 million legs."
This was an afternoon of summer fun, not part of a program or a planned activity. I was struck by the abundance of learning opportunities the moment presented—they seemed as endless as the creatures bubbling from the children's imaginations. Following my little group's lead, we created some "creature catchers" with sticks and leaves, then built an observation pool with mud walls in the stream (after a bit of negotiating, we had decided that we wanted to examine the creatures without harming them).
From identifying, reading about, and drawing the creatures to recreating their habitats, this one experience in nature could have filled weeks of learning in a classroom. Many of the instructional options I envisioned were based on this Young Children cluster about learning outdoors, which I had worked on in the months leading up to that afternoon hike. Whether you are in a large city or rural community, these articles are filled with ways to help children experience the wonders of nature.

The cluster begins with in-depth looks at two wonderful—and wonderfully different—nature-based explorations. The first is an emergent project with kindergartners on trees as animal habitats, and the second is a planned yet flexible project with second-graders that combines science, poetry, visual arts, and technology.
As Melissa Fine describes in "'There's a Hole in the Tree!' Kindergartners Learning in an Urban Park," frequent visits to a local park, and all the learning that ensued, turned the children into environmental stewards determined to save trees.
In "Capturing Nature's Beauty through Multiple Lenses," Karen Capraro shares how she resolved the tension she felt between meeting standards and ensuring the children have time to interact with nature. In collaboration with art teacher Lorraine Downes and technology teacher John Arango, Capraro created an outdoor classroom that combined studies of native plants, of photography as an art form and observation tool, and of the history of photographic technology.
The next two articles take a step back, analyzing the benefits of outdoor learning for child development.
Alicia W. Deaver and Lindsay E. Wright help us gain a broader perspective in "A World of Learning." By describing explorations of nature by teachers and children in several different early childhood settings, they show how playful learning in and about nature advances children's physical, sensory, cognitive, social, and emotional development.
Taking a closer look at ways to advance children's cognitive development, Sue Mankiw, Janis Strasser, and Lisa Mufson Bresson show the wealth of topics and inquiries outdoor spaces provide in "Big Questions in the Great Outdoors." Adapted from Mankiw's contribution to the book Big Questions for Young Minds: Extending Children's Thinking, this article demonstrates how intentionally asking and helping children answer a variety of questions while they experience nature builds children's knowledge and engages them in thinking critically and creatively.
The last two articles in this Young Children cluster describe ways to expand outdoor learning. One looks at becoming a nature-based program; the other offers afterschool extensions for educators and families.
"Using Principles of Nature-Based Preschools to Transform Your Classroom," by Rachel A. Larimore, offers details of nature-based preschools and how they integrate learning opportunities indoors, outdoors, and in the beyond (i.e., more natural, wild spaces). For traditional preschools seeking to add outdoor experiences, Larimore describes small shifts that teachers can make to ensure meaningful learning in nature.
"From Puddles to Pigeons: Learning about Nature in Cities," by Marion Goldstein, Lisa Famularo, and Jamie Kynn, rounds out the cluster with hands-on, nature-based science inquiries for families to engage their children in. In partnership with PBS Kids, the authors identified the barriers preventing families—especially those in cities—from engaging in playful outdoor science explorations. They developed an online toolkit that knocks down those barriers, using videos, activities, and tip sheets for educators and families.
If you have not yet experienced the joys of learning outdoors and you live in the northern half of the United States, you might be tempted to put this issue on the shelf and dust it off in the spring. On behalf of the authors in this cluster and the children in your care, I ask you to resist that temptation. Bundle up and head out—endless possibilities (and creatures) await.
—Lisa Hansel
---
We'd love to hear from you!

Send your thoughts on this issue, and on topics you'd like to read about in future issues of Young Children, to [email protected].
Would you like to see your children's artwork featured in these pages?

For guidance on submitting print-quality photos (as well as details on permissions and licensing), see NAEYC.org/resources/pubs/authors-photographers/photos.
Lisa Hansel
Lisa Hansel, EdD, is the editor in chief of NAEYC's peer-reviewed journal, Young Children.