The Reading Chair: November 2018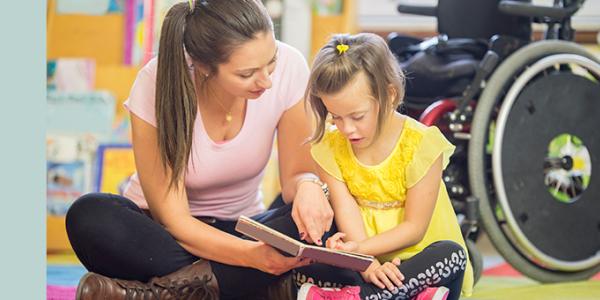 You are here
Isabel Baker, Miriam Baker Schiffer
New children's books too good to miss and one forever favorite!

---
Trucks to the Rescue!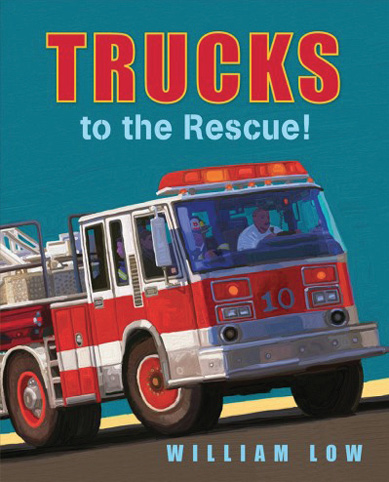 By William Low. 2017 (board book edition). New York: Henry Holt. 20 pp. Ages birth to 4.
There is so much packed into this little board book. Throughout, readers come across a roadway problem on one spread and a truck coming to the rescue on the next. When a traffic light is out, a bucket truck comes to help. When a broken pipe floods the street, a vacuum truck arrives to clean up.
William Low is a masterful artist. His painterly style gives young readers the chance to see clear-cut images of trucks rendered with an artful quality that isn't often seen in board books.
This feel-good book full of urgent problems and satisfying solutions provides enough depth to occupy curious preschoolers.
---
The Big Umbrella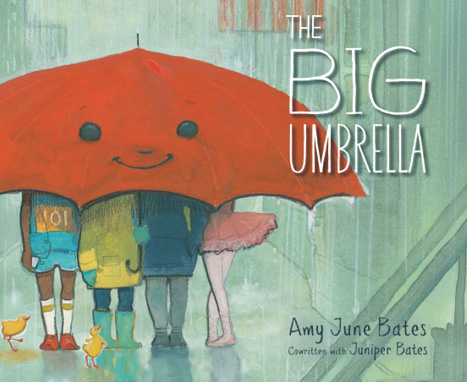 By Amy June Bates. Cowritten with Juniper Bates. 2018. New York: Simon & Schuster Books for Young Readers. 32 pp. Ages 2 to 7.
Umbrellas are magical objects that provide safe retreats during turbulent weather. But what if you kept squeezing more and more people beneath one, and what if it expanded to shelter them all? In this inventive rainy day story set in a big city, an umbrella covers everyone, from a ballerina to a person in a wheelchair to an imaginary creature or two. This book flouts the notion that an umbrella is a single-user object, and reminds us that a diverse group can weather any storm if they stick together. Beautiful watercolor and gouache illustrations capture the dark skies, the bright red umbrella, and the colorful energy of the community huddling beneath it.
---
Owl Bat Bat Owl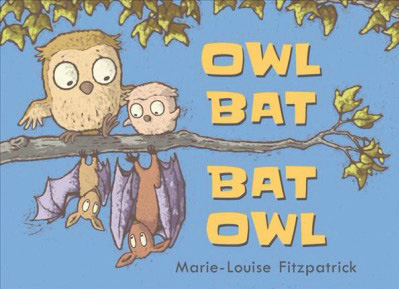 By Marie-Lousie Fitzpatrick. 2016. Somerville, MA: Candlewick Press. 16 pp. Ages 2 to 7.
Wordless books give children a chance to practice narrating stories themselves, boosting their confidence and language development. This book is the wordless story of two families living on opposite sides of a branch. A mama owl and her babies perch atop the branch, and a mama bat and her babies make their home on the underside, hanging upside down. The mothers are wary and protective when their babies take an interest in each other. But suddenly, a gust of wind knocks all the winged creatures from the tree, and the mothers now must work together to rescue their babies. Soon enough, the families are friends.
Children are the heroes here, showing their parents how to be friendly and take a risk, even as the adults are stuck fearing something new or "other." The charming illustrations offer ample opportunity to practice reading facial expressions. Try reading the book upside down (as the book suggests) to see what it's like to be in someone else's shoes.
---
The Runaway Egg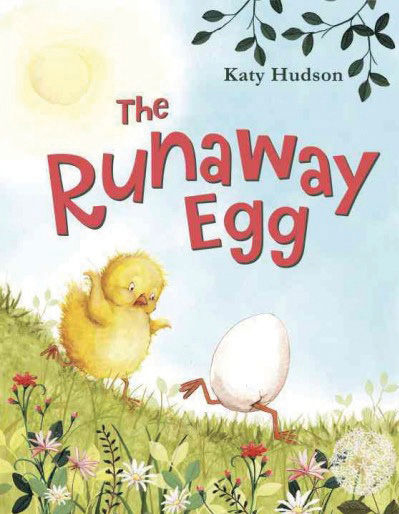 By Katy Hudson. 2017. New York: Random House Children's Books. 32 pp. Ages 3 to 7.
The prospect of a new sibling can cause mixed emotions in an older child. In this funny take on the ever-topical subject, a chick is tasked with keeping an eye on his little brother, who is still unhatched. Bored, the big brother takes a nap. That's when two little legs emerge from the egg. The egg runs off, with the frantic big brother struggling to catch up. It leads his big brother on an adventure around the farm before finally settling back into the nest just before Mama arrives home.
Children may feel that this book accurately depicts infants: they are often either boring or nerve frazzling; but one eventually becomes quite fond of them despite it all. Hudson's illustrations pop with personality. From the larger-than-life farm animals, to the detailed expressions on the chick's face, to the way the egg's movements are captured, this book will delight and amuse its audience.
---
Zoo-ology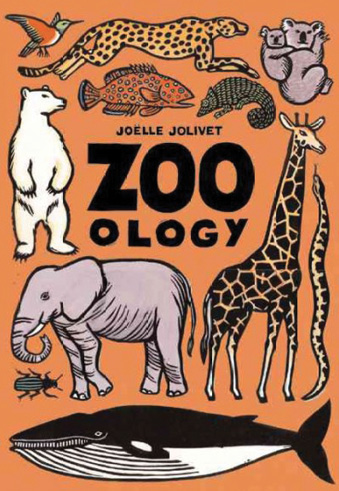 By Joëlle Jolivet. 2003. New York: Roaring Brook Press. 32 pp. Ages 3 to 8.
This is an exquisite animal-browsing book. Printed on huge pages— one foot wide and one-and-a-half feet tall—readers have the pleasure of looking at scores of bold animal illustrations on each spread. Animal groupings are labeled according to traits that are accessible to children: hot, cold, feathered, horned, in the trees, in the seas, and more. (Classification is an important element of STEM learning, too.) Each animal is named, and no further text exists, but readers can spend hours examining and comparing the mix of common and unusual species. Have you ever wondered about the differences between a kudu, an Arabian oryx, a deer, a zebu, a buffalo, and a yak? Take a long look! Back matter on the final pages contains a listing of all animals in the book, each with its own secret (or interesting detail). Keep an eye out for the chameleon, who blends in on each page.
---
Forever Favorites

In each issue we feature a classic book to (re)introduce teachers to old favorites.
Abiyoyo

By Pete Seeger. Illus. by Michael Hays. [1994] 2001 (book and CD edition). New York: Simon & Schuster Books for Young Readers. 48 pp. Ages 3 to 8.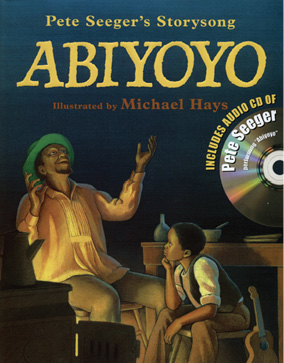 Singer-songwriter Pete Seeger created this beloved tale decades ago when his young children demanded a bedtime story. He adapted it from a South African folktale. Paired with Hays's illustrations, the book remains gripping.
The tale involves a father and son who are ostracized in their own town for their eccentric ways. The son never stops his pesky ukulele playing, and the father's barrage of magic tricks is annoying. Yet it's these skills—music and magic—that enable the father and son to disarm a humongous monster. When the duo saves the townspeople, the father and son's unique habits are viewed with far more generosity.
Seeger weaves together themes of good versus evil and inclusiveness. Hays deftly renders the townspeople's expressions and the expansive landscape, but it's his skill at portraying the monster that is particularly stunning.
Isabel Baker
Isabel Baker, MAT, MLS, is the founding director of The Book Vine for Children, a national company dedicated to getting good books into the hands of preschool children and their teachers. Isabel has worked as a children's librarian and is currently a presenter on early literacy and book selection.
Miriam Baker Schiffer
Miriam Baker Schiffer, MFA, is a writer in Brooklyn, New York. She consults on book selections for The Book Vine, in McHenry, Illinois. Miriam's children's book, Stella Brings the Family, was published by Chronicle Books in 2015.