Ensuring Best Practice: Program, State, and National Quality Improvement Initiatives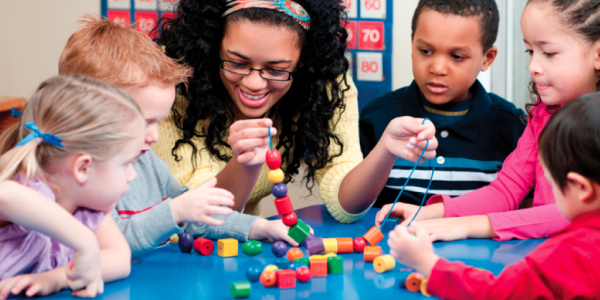 You are here
At NAEYC, we believe all children need access to high-quality, developmentally appropriate early learning experiences. We envision a future in which higher education programs, state early learning and financing systems, professional development opportunities, and research and policy are aligned to support quality at all levels. In this issue of Young Children we highlight best practices and quality improvement initiatives currently taking place in different settings across the country.
In their article "Professional Development at Its Best: North Carolina's Pre-K and Kindergarten Demonstration Program," Sharon Ritchie, Eva C. Phillips, and Carla Gravitte Garrett describe a statewide initiative to improve teacher quality that allows teachers to see best practice in action and have meaningful opportunities for reflection and discussion.
In "QRIS: Empowering Family Child Care Providers as Leaders," Jennifer Cortes and Rena A. Hallam write about a relationship-based quality improvement model in the state of Delaware in which family child care providers receive ongoing professional development connected to their own professional goals.
Allison Swan Dagen and Aimee Morewood, from West Virginia University, describe an online professional development model implemented across West Virginia to improve educators' early literacy teaching, in "Strengthening Early Literacy Through Online Collaboration and Mentoring."
Will Parnell, Allison Schnur, and Lynn Green, in "Caring for Children With Severe Allergies: Establishing Protocols for EpiPens and Other Medical Needs Through Collaborative Practices," explore programs' and teachers' need for policies and guidance as they teach children who have severe allergies.
In "Enhancing the Quality of Toddler Care: Supporting Curiosity, Persistence, and Learning in the Classroom," Lauren E. Worley and Carla B. Goble describe the need for toddler teachers to respect toddlers' innate drive to explore and learn. The authors outline what quality looks like in a toddler program—a great example for professionals at all levels looking to improve quality early learning experiences for toddlers.
Louise Derman-Sparks and Evelyn Moore describe their involvement as teachers in the 1960s in the Perry Preschool Project in "Two Teachers Look Back: The Ypsilanti Perry Preschool"—the first of a special two-part series in Our Proud Heritage. (Look for part two in the November 2016 issue of Young Children.) The authors reflect on how much of what was learned in this project still resonates today as best practice.
NAEYC, as well, is undertaking significant quality improvement work at the program, state, and national levels as part of the association's ongoing work.
NAEYC Accreditation of Programs for Young Children is committed to continuous quality improvement and the use of feedback from stakeholders to enhance and streamline the accreditation process. We have compiled data from program records, early childhood educators, program administrators, coaches, assessors, state administrators, and other stakeholders to identify and prioritize enhancements that build on our 30-year experience in accreditation. Turn to "We Listened! Major Improvements to NAEYC's Accreditation System for Early Learning Programs Are Under Way," in NAEYC News, to read about the five widespread challenges we will be addressing in the upcoming months.
NAEYC Accreditation of Early Childhood Higher Education Programs system and our system of national recognition of early childhood baccalaureate and graduate degree programs through our partnership with the Council for the Accreditation of Educator Preparation (CAEP) serve as levers for advancing high-quality preparation of early childhood professionals. At the heart of both of these quality improvement systems is an examination of the way programs assess their candidates' knowledge and application of knowledge in relation to NAEYC's 2010 professional preparation standards.
In our policy work, NAEYC advances quality improvements through position statements, research briefs, and other timely reports, communications, and alerts to disseminate knowledge and enhance policy and practice at all levels. One recent example of a timely statement is "Standing Together Against Suspension and Expulsion in Early Childhood," in NAEYC News, jointly signed by over 30 national organizations. The statement and the accompanying online resources provide support for the creation of systems, policies, and practices that reduce disparities across race and gender, preventing— and eventually eliminating—expulsions and suspensions in early childhood settings.
We hope the articles in this issue prove useful as you think about best practices and quality improvements for your own classroom, program, state system, or professional development model and the work that you do with young children. We invite you to learn more about NAEYC's quality improvement efforts at naeyc.org.
As always, we'd love to hear what you think of this issue. Email us with your thoughts at [email protected].
—Susan Friedman
Susan Friedman
Susan Friedman is Senior Director, Publishing and Professional Learning at NAEYC.