Rocking and Rolling. Caring for the Mental Health of Infants and Toddlers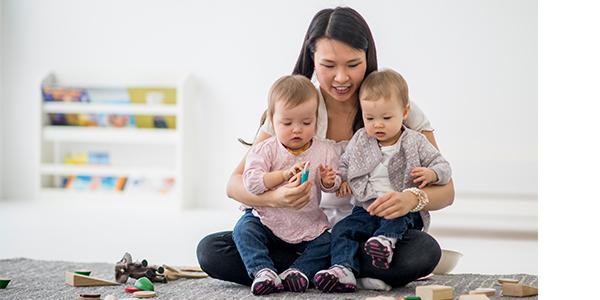 You are here
LaTanya feels a tug at her leg as she stands at the counter. "Did you come over to say hi, Max?" she asks the 18-month-old looking up at her. He nods and reaches toward her. As she picks him up, he holds tight to her and snuggles his head against her neck. "You seem sad, Max," LaTanya says. She feels him nod his head. "Why don't you come with me and see what Olivia and Amir are doing."
LaTanya walks over to a rug and sits down near two toddlers who are playing with dolls and baby items. Max tightens his grip. "You can stay here on my lap, Max. I want to see what Olivia and Amir are doing." The two toddlers look up when they hear their names. Amir holds out a baby bottle to show LaTanya. "Ba," he says. "You're feeding your baby a bottle," LaTanya says. "Ba," Amir repeats.
"My baba!" Olivia says and takes the bottle from a startled Amir, who quickly begins to cry. LaTanya sighs. "Not again," she thinks as she takes a deep breath to calm herself. "Olivia," she begins. "No! Mine!" Olivia shouts, as she takes both bottles and runs to another corner of the room. LaTanya feels a mix of sadness and irritation at Olivia, who can be so sensitive to the feelings of other children and willing to share. But these behaviors have become less frequent as COVID-19 has disrupted Olivia's daily schedules and routines.
LaTanya turns her attention to Amir, whose crying has turned to ear-piercing screams—a sound she has never heard from him. LaTanya feels her pulse quicken, and to her surprise, tears well up in her eyes. "What is happening to us?" she thinks. Then she tells Amir: "Your cry startled me. I can see that you are very upset right now. I am going to take a deep belly breath to calm down." LaTanya takes a deep breath, consciously slowing her breathing. Then she continues to offer comfort to soothe Amir, Max and Olivia's emotions.
A year has passed since COVID-19 began upturning our lives, causing fear and stress in our health, relationships, and livelihoods. In addition to the pandemic, we have grappled with racial, political, and other social divides and tensions, and many communities have suffered the ravages of natural disasters. It's not an overstatement to say that we are living through an extended time of crises that have challenged, overwhelmed, and exhausted us physically, financially, socially, and emotionally. Adults have turned to self-care, mindfulness, and seeking the support of friends (and sometimes chocolate, naps, and binge-watching) to manage our mental health each day.
Yet greater attention needs to be paid to the mental health of our youngest children in these trying times. This begins with an understanding of infant and early childhood mental health (IECMH), a concept that may be unfamiliar or uncomfortable to some.
At its most basic, "mental health" is the emotional and social well-being that affects how we think, act, and feel about ourselves and others. Infant and early childhood mental health is "the developing capacity of the child from birth to 5 years old to form close and secure adult and peer relationships; experience, manage, and express a full range of emotions; and explore the environment and learn—all in the context of family, community, and culture" (ZTT 2017, 1). The field of IECMH goes further, helping us understand
how circumstances can put babies' and toddlers' social and emotional well-being in jeopardy
the indicators in very young children's behavior that let us know they are suffering
supports and interventions that protect babies' and toddlers' mental health during stressful times and that restore their social and emotional well-being
Adults may believe that young children are immune to the effects of early adversity and trauma (Osofsky & Lieberman 2010, 123) and, therefore, may miss opportunities to intentionally support infants' and toddlers' mental health and well-being during stressful times. Studies of prevention and intervention services and systems during children's earliest years have shown positive and lasting effects compared to waiting until children are older (Mann et al. 2007; Miles et al. 2010; National Scientific Council on the Developing Child 2010). In order to be part of an effective safety net for young children's emotional well-being, we need to understand their unique vulnerability to trauma and extended stress during the first few years of life.
Possible Behaviors of Concern: What to Look For

A decrease in appetite, changes in bowel movements, and/or changes in sleep patterns
A marked change in activity level (less curious or engaged; more lethargic and disinterested; unable to sit still; full of unfocused energy)
A marked change in level of engagement (reduced ability to pay attention and persist at a task they previously found interesting; more listless roaming)
A reduced tolerance for frustration, which may present as fussiness, whining, or irritability
More aggression or anger with little or no provoking; an explosive response that is out of proportion to any apparent trigger
An increase in seeking comfort and attention from an early childhood educator, such as wanting to be held more than usual
An increase in self-soothing behaviors, such as thumb-sucking or rocking
Developmental regression, such as a 2-year-old who was successfully using the toilet for several months but has recently had several accidents, or an 18-month-old who was adding new words to their vocabulary daily but is talking less and using gestures instead
When Caregivers' Well-Being Puts Babies' Well-being in Jeopardy

Starting from birth, children construct an understanding of themselves, other people, and the world around them built on the daily interactions they have with their caregivers, which include both family members and early childhood educators (Tronick & Beeghly 2011). Infants notice patterns, and they create meaning and expectations based on what they observe and experience. They're wired to tune in to the faces and voices of the important people in their lives (Yale et al. 2003).
When interactions with these important people are consistently warm and responsive, babies and toddlers develop a sense of safety and confidence and a positive view of themselves. Trusting that their social and emotional needs will be met, they can go about the business of exploring, learning skills and ideas, solving problems, and building resilience in the face of challenges.
At some point, stress is bound to encroach on a caregiving relationship, especially during times of trauma or disaster. Economic insecurity, the presence of violence or substance abuse, or adults' own mental health can interrupt or prevent caregivers from noticing a young child's cues and from establishing a predictable pattern of warm, enjoyable interactions (ZTT 2017). When caregivers notice that they've been distracted, less engaged, or less responsive than usual and then make an effort to repair the relationship, infants and toddlers will almost always be eager to reconnect (Weinberg & Tronick 1996). But the longer a lack of consistent, responsive caregiving goes on, the more the foundation may be shaken, and the greater the impact on the young child's emotional well-being (ZTT 2017).
To promote positive IECMH, prevention and early intervention is key. For example, through self-awareness, self-care, and reflective supervision, early childhood educators can learn how to regulate their own emotions to be fully available to infants and toddlers (Osofsky & Lieberman 2011). Also, adults can hone their abilities to identify and appropriately respond to infants' and toddlers' emotions and behaviors. (See "Becoming A Behavior Detective: Applying a Developmental and Contextual Lens on Behavior" by Claire D. Vallotton et al. for a step-by-step cycle for doing so.)
How Do Infants and Toddlers Tell Us They Are Hurting?

Babies' and toddlers' behaviors tell us a great deal about their emotional health. (See ZERO TO THREE Journal's Spring 2021 issue, specifically, " 'Angels' in Early Childhood Education: The Role of Early Childhood Educators in Fostering Young Children's Social-Emotional Wellness" by Dorinda Williams and Kathleen Mulrooney.) Identifying their strengths as well as their needs can help direct early childhood educators and other adults to address IECMH. As LaTanya (the teacher in the opening vignette) discovered, behaviors will vary depending on temperament, age, and individual differences. Early childhood educators need to watch for noticeable, persistent changes from what is typical for a certain child and what they might expect based on commonalities in development. If a baby or toddler is newer to your classroom or program, look for behavior that is unexpected for children the same age and talk with the family about whether they see the behavior at home.
There are some common behavioral indicators that may reflect a stressed or distressed baby or toddler (ZTT 2017), as outlined in "Possible Behaviors of Concern: What to Look For," on page 36. When determining whether a behavior is concerning, keep in mind you are noticing, not diagnosing. Consider how each behavior might appear depending on the age of the child. You are noticing in order to provide additional comfort, support, and encouragement. If a child doesn't respond or their behavior becomes more concerning, talk to the family about consulting an infant and early childhood mental health specialist. Also talk with an administrator about the potential to team with specialists and provide services under the Individuals with Disabilities Education Act. (To read more about early intervention services, see "When in Doubt, Reach Out: Teaming Strategies for Inclusive Early Childhood Settings" by Christine M. Spence et al.)
When Distressing Circumstances Are Widespread and Long-Lasting

When a baby or toddler has experienced trauma, significant loss, or other stressors that impact their well-being, teachers and caregivers who provide comfort, warm connection, and consistent responsiveness will help buffer the child from long-term, harmful mental health effects. But what happens when the trauma, loss, or stressors affect an entire classroom or program, such as during this time of multiple crises? What happens when they affect an entire community—including teachers?
Of course, adults will feel strong emotions at times, particularly amid ongoing chaos or in stressful circumstances. But when working with infants and toddlers, it's important to be aware of our own emotional "temperature" and to have a toolbox of self-care methods to reduce the impact of our stress response. (See "Cultivating Self-Awareness in Our Work with Infants, Toddlers and their Families" by Holly Hatton-Bowers et al.) As little ones get older, acknowledging and naming our emotions and talking in simple terms about what we do to calm ourselves will provide a model of self-care and regulation that toddlers can learn from.
Try It

Here are a few suggestions for ways to support everyone's mental health when the stress levels are rising in your classroom:
Focus on joy. One of the best antidotes to anxiety and stress is doing something that brings you delight, makes you smile or laugh, and gets the endorphins flowing. In your classroom of babies and toddlers, you probably know what some of those things are: music that makes everyone giggle and wiggle; movement, whether it's dancing with a baby in your arms or twirling around with toddlers until you fall on the floor from dizziness; playing outside in the leaves, snow or the sand. When it's clear that everyone is fussy, including the teachers, it's okay to take a "joy break."
Be honest. There's no point in pretending everything is normal and we're all fine. It's not, and we're not. Commit with coworkers, fellow educators, or friends to practice managing your own mental health and to touch base with each another when you need a wellness check.
Be gracious. When everyone is feeling stressed and anxious, we find ourselves more irritable, less patient, more forgetful, and less kind and charitable. Remind yourself often that everyone is doing the best they can under difficult circumstances.
Ask for help. As Mr. Rogers once said, "Look for the helpers." Commit to building a mental health safety net for yourself, the children and families in your program, and your coworkers and colleagues. That means knowing who you can call on for informal as well as professional support.
Get more information. Several online sites offer support and suggestions for combatting stress. These include
Think About It

How do the infants and toddlers in your setting express their emotional well-being? Have you noticed changes in these expressions among your group of children over the past weeks or months?
In what ways do you gather information from each child's family about their emotional health and needs?
How do you typically respond to each child's emotion expressions? How does your own emotional well-being affect your ability to be responsive?
What changes in yourself, your colleagues, and/or parents and other caregivers are you noticing (for example, a decrease in focus or memory, fatigue, changes in appetite or sleep, irritability)?
Rocking & Rolling is written by infant and toddler specialists and contributed by ZERO TO THREE, a nonprofit organization working to promote the health and development of infants and toddlers by translating research and knowledge into a range of practical tools and resources for use by the adults who influence the lives of young children. The column and references for this article can be found online at NAEYC.org/resources/pubs/yc/columns.
---
References

Mann, T., S. Powers, J. Boss, & L. Fraga. 2007. "Infusing Mental Health Supports and Services into Infant and Toddler Environments." In Social and Emotional Health in Early Childhood: Building Bridges Between Services and Systems, edited by D.F. Perry, R.K. Kaufmann, & J. Knitzer, 257–280. Baltimore, Maryland: Paul H. Brookes.
Miles, J., R. Espiritu, N. Horen, J. Sebian, & E. Waetzig. 2010. "A Public Health Approach to Children's Mental Health: A Conceptual Framework. Washington, DC: Georgetown University Center for Child and Human Development, National Technical Assistance Center for Children's Mental Health.
National Scientific Council on the Developing Child. (2010). "Persistent Fear and Anxiety Can Affect Young Children's Learning and Development, Working Paper No. 9. from http://developingchild.harvard.edu/resources/persistent-fear-and-anxiety-can-affect-young-childrens-learning-and-development
Osofsky, J.D. & A.F. Lieberman. 2011. "A Call for Integrating a Mental Health Perspective into Systems of Care for Abused and Neglected Infants and Young Children," American Psychologist 66 (2): 120-128.
Tronick, E., & M. Beeghly. 2011. "Infants' Meaning-Making and the Development of Mental Health Problems," American Psychologist 66 (2): 107–119. https://www.apa.org/pubs/journals/releases/amp-66-2-107.pdf 
Weinberg M.K. & E.Z. Tronick. 1996. "Infant Affective Reactions to the Resumption of Maternal Interaction After the Still-Face. Child Development 67 (3): 905-914. https://pubmed.ncbi.nlm.nih.gov/8706534/ 
Yale M.E., D.S. Messinger, A.B. Cobo-Lewis, & C.F. Delgado. 2003. "The Temporal Coordination of Early Infant Communication." Developmental Psychology 39 (5):815-824. https://pubmed.ncbi.nlm.nih.gov/12952396/
ZERO TO THREE. 2016. Shelter from the Storm: A Guide for Early Care and Education Providers. (In English and Spanish) https://www.zerotothree.org/resources/1662-shelter-from-the-storm-resources-for-early-care-and-education-professionals
---
Copyright © 2021 by the National Association for the Education of Young Children. See Permissions and Reprints online at NAEYC.org/resources/permissions.
Kathy L. Reschke
Kathy L. Reschke, PhD, is senior content specialist for ZERO TO THREE. Dr. Reschke contributes to the design and development of competency-based professional development products and services. She developed the content for the ZERO TO THREE Critical Competencies for Infant-Toddler Educators™ course manuals, online course, and coaching program. [email protected]