De Nuestra Presidenta. "No es el nombre que te llaman, sino el nombre a que contestas"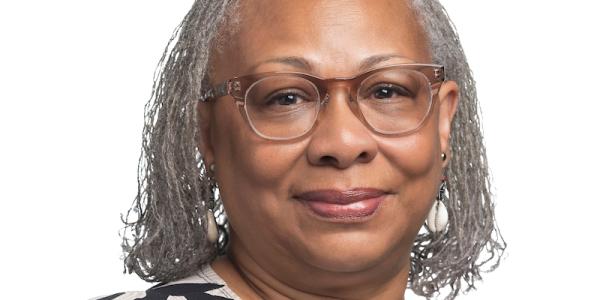 You are here
Esta es una frase que he escuchado toda mi vida, más frecuentemente de líderes del movimiento de los derechos civiles como Ralph Abernathy, y otros líderes africano-americanos, como Maya Angelou, especialmente con relación a los nombres despectivos que se han llamado a las personas de raíces africanas.  
Esta frase también ejemplifica la tensión en nuestro ámbito sobre cómo se nos identifica y cómo nos identificamos nosotros mismos. He luchado con esta tensión anteriormente. A veces dependía de quién era mi interlocutor en una conversación o del contexto en que me hallaba, pero muchas veces ocurrió dentro de un ambiente educativo. No obstante, he resuelto la tensión por mi cuenta y he decidido que sí importa "el nombre que te llaman" y "el nombre a que contestas".  
Mientras crecía, yo escuchaba una versión de esta frase de mi madre cuando era niña escolar y mis compañeros de clase se burlaban de mí sin cesar. Durante mi primera infancia, era una niña muy delgada, usaba lentes y era una estudiante lista. Mi familia se había mudado a Milwaukee (Wisconsin) desde Allensville (Kentucky), y yo tenía un acento acusado. A causa de todos estos factores, viví momentos terribles en que se mofaban de mí y me ponían nombres. Hasta podría decir que era el acoso.  Cuando le contaba estas experiencias a mi madre, siempre me decía que no trata de desquitarme, que encontrara a un adulto y que le contara lo que pasaba. Luego me decía, "Ann, las palabras no te pueden lastimar". Pero las palabras sí me lastimaban, me humillaban y sí importaban.  
Durante el transcurso de mi carrera profesional, me hice directora de un programa universitario de cuidado infantil en Milwaukee Area Technical College (MATC). En mi primer día de trabajo en el programa de MATC, los empleados habían colocado un cartel de bienvenida arriba del portón de la entrada del centro. El cartel llevaba las palabras "Bienvenida Srta. Ann". Me agradaba esta señal prometedora de las relaciones que se desarrollarían allí. Sin embargo, posteriormente en la misma mañana cuando les expresé mi agradecimiento a los miembros del personal, también les comuniqué discretamente que "Srta. Ann" me resultaba un poco ofensivo. Así se hablaban las personas esclavizadas a otros esclavizados que eran percibidos como superiores a los demás. Esta expresión se origina en la tensión entre los esclavizados de la casa y los del campo en el pasado. Aunque me parece que algunos empleados sabían de este dato histórico, recuerdo ver una expresión de choque en la cara de cierta empleada en particular mientras me pedía disculpas. Lo que me llamaban y a lo que yo contestaría . . . esas palabras importaban.  
Posteriormente aquel día algunas maestras todavía tenían presentes esta cuestión, y me preguntaron qué me llamarían los niños. Respondí, "Pueden llamarme "Ann" o "Srta. Terrell", según lo que pueden articular en su nivel de desarrollo". Algunos maestros estaban muy en contra de esto, ya que creían que los niños no me respetarían si les permitiera llamarme mi nombre de pila. Les contesté que el respeto con que me trataran no sería determinado por lo que me llamaban, sino por la relación que yo desarrollaré con ellos. La ausencia de "Srta." no tendría ningún impacto. Lo que me llamaban y esas palabras no importaban.  
Los que trabajamos en el campo de la primera infancia comprendemos el poder y las matices sutiles de las palabras. Se nos ha llamado niñeras con sueldo, trabadoras de guarderías y otros títulos despectivos. Nuestros lugares de trabajo se refieren como centros de guardería. Para mí, esto fomenta la idea entre el público de que lo que ocurre durante el día del cuidado infantil podría ser similar a lo que pasa en una guardería para perros: que no más "jugamos con niños" y les damos meriendas. En realidad, aquí en Wisconsin un anuncio de una campaña en pro de la vacunación contra el COVID-19 decía, "Los educadores y los trabajadores de cuidado infantil ya son elegibles para las vacunas de COVID-19". Me tomó por sorpresa la formulación del anuncio y me preguntaba quiénes habían aconsejado a los productores. La elección de palabras debió de haber sido algo más exacto, como "los educadores, inclusive los maestros de cuidado infantil, ya son elegibles para las vacunas de COVID-19".  
Realmente sí importan lo que nos llaman y los nombres que aceptamos porque se trata de cómo se nos percibe y también cómo nos percibimos a nosotros mismos. Los nombres indican el respeto, y afectan el financiamiento de nuestro campo.  
En la documentación del borrador de Power to the Profession y ahora en el Marco unificador de la profesión de la educación en la niñez temprana, se recomienda que quienes trabajamos en la profesión de la educación infantil tengamos tres nombramientos—Educador Infantil I, II y III—y que todos los educadores de la primera infancia tengan una licencia para practicar su profesión. En la conclusión del documento de Power to the Profession se encuentran las siguientes palabras:  
El Marco Unificador, al establecer claramente quiénes somos los educadores de la primera infancia y cuáles son nuestras responsabilidades, nos aporta a nosotros y a todos nuestros aliados la oportunidad de obtener las inversiones públicas significativas y sostenidas que nuestros niños y familias necesitan [. . .] (2)
¿A qué nombre o título contestará usted?
Les deseo todo lo mejor,
Ann
---
Copyright © 2021 by the National Association for the Education of Young Children. See Permissions and Reprints online at NAEYC.org/resources/permissions.
Ann McClain Terrell
Current president of NAEYC (National Association for the Education of Young Children)