NAEYC Explores Family Engagement in Families & Educators Together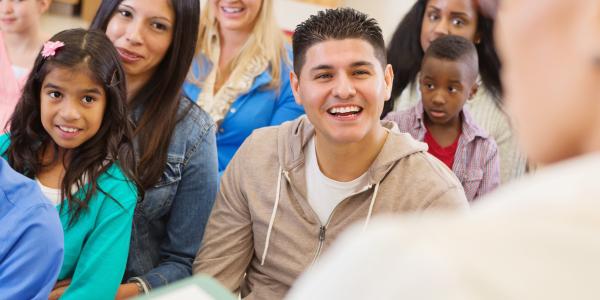 You are here
Home
/
NAEYC Explores Family Engagement in Families & Educators Together
For Immediate Release:
July 15, 2019
Media Contact:
Gill Walker
gwalker@naeyc.org
202-350-8857
New NAEYC Book Explores Family Engagement in Early Childhood Education

The National Association for the Education of Young Children Launches New Book, Families and Educators Together
Washington, D.C.-- The National Association for the Education of Young Children (NAEYC) announces the publication of Families and Educators Together: Building Great Relationships that Support Young Children, by Derry Koralek, Karen Newmeth and Kelly Ramsey. 
Research has proven time and again that when families are active participants in their children's care and education, everyone benefits—children, families, and educators. NAEYC's newest book, Families and Educators Together: Building Great Relationships that Support Young Children, illustrates ways educators can engage families in early childhood communities so that together, families + educators = thriving children. The book offers practical ideas to develop a culture of family engagement in all aspects of early childhood programs, from curriculum planning to addressing children's individual needs. 
Relationships with families have always been a cornerstone of children's success and well-being. Each chapter of the publication focuses on cultivating positive, supportive partnerships between educators and families including supporting diverse languages and cultures.
This valuable resource is a compelling call to action for a strengths-based approach to partnering with families. With examples of effective practice, reflection questions, family engagement stories, and other tools and information, this resource is useful for educators and teacher preparation programs to support a family-strengthening framework for partnering with families.
-Jamilah R. Jor'dan, PhD, Interim Dean, College of Education and Professor, Department of Early Childhood and Bilingual Education, Chicago State University
Email jgamble@naeyc.org for author interview availability.
Families and Educators Together  is available for purchase in the NAEYC online store. For more information on this book and other resources, visit NAEYC.ORG/resources/pubs. 
###
NAEYC is the foremost professional membership organization committed to transforming the lives of young children and delivering on the promise of high-quality early learning. NAEYC represents 60,000 early childhood educators who care for, educate, and work on behalf of young children, birth through age 8. Learn more about NAEYC at www.NAEYC.org.