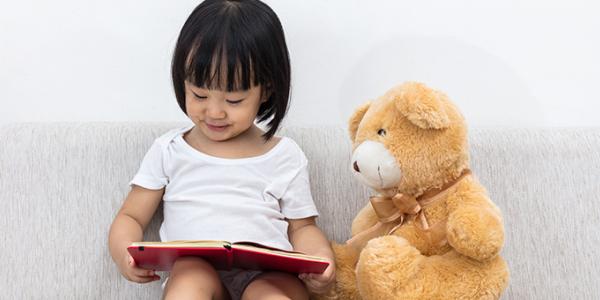 You are here
Young children enjoy many kinds of poems. And as they listen, they hear rhythms, sounds, and language patterns important for literacy development. Encourage the poet within your child with these poetry books and ideas.

Here's a Little Poem: A Very First Book of Poetry
collected by Jane Yolen and Andrew Fusek Peters. Illus. by Polly Dunbar. 2007.
Selected with young children in mind, each poem relates to their day-to-day lives. The book includes many different kinds of short poems, from the silly "Dressing Too Quickly" to "The No-No Bird" about a child's tantrum. Children can explore works by a variety of poets, including Jack Prelutsky, Margaret Wise Brown, and Langston Hughes.
 

In Aunt Giraffe's Green Garden
by Jack Prelutsky. Illus. by Petra Mathers. 2007
Each of the 28 poems tells a unique rhyming story. Many mention specific U.S. locations. The humor, word choices, and topics are all perfect for preschoolers.
 

Read a Rhyme, Write a Rhyme
compiled by Jack Prelutsky. Illus. by Meilo
So. 2005.
Short poems describe topics like birthdays, rain, and turtles. "Poemstart" activities offer the first few lines of a new poem with ideas for finishing it. Read the first few lines out loud,then invite children to make up their own endings.
Try this!
Encourage rhyming. Read a short rhyming poem. As you reread it, stop before reading the second rhyming word to invite your child to finish the rhyme himself. It's OK if children suggest words that don't make sense or don't rhyme.
Learn new words. Read a poem that introduces a new word or uses a familiar word in an unusual way. Ask, "Do you know what this word means? What other words could you use instead?"
Talk about what poems might mean. Some poems describe emotions or moods children have experienced. Others describe nature. Some have more than one meaning. After reading a poem, ask, "What do you think the poet was feeling? Have you ever felt like that?" Or "What do you think the poet was describing?"
Create poems. Discuss interests and feelings. Or go outside to find an inspiration in nature. Write down your child's words as she says them. Offer art materials so your child can illustrate her work. Remember, poems do not have to rhyme and can be about anything at all.
---
Source: Adapted from S. Friedman, 2008, "Poetry Books for Preschooler," Now Read This!,Teaching Young Children 2 (1): 1.