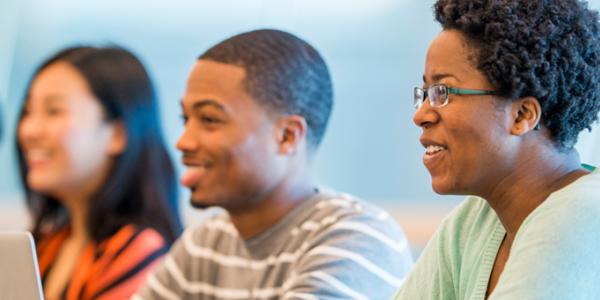 You are here
High-quality early educators serve a vital role in ensuring all young children have equitable access to developmentally appropriate, high-quality early learning. NAEYC promotes a shared vision of excellence in the preparation of early childhood professionals through accreditation and other initiatives that are responsive to the needs of individual children and communities, and that aim to advance the profession. Learn more about NAEYC Higher Education Accreditation and Recognition, the Professional Preparation Standards, the Higher Education Directory, and other initiatives here.
Congress also has an important role to play in supporting our nation's higher education system through the Higher Education Act (HEA). Its potential reauthorization—the first since 2008—presents a unique opportunity for Congress to help build a stronger current and future early childhood education profession and help set our nation's young children on a path to success. As part of our organization's commitment to supporting educators, students, and parents, NAEYC recommends that any reauthorization include a focused effort to increase: the quality of early childhood educator preparation programs; the postsecondary education and credential attainment of early childhood educators and leaders; and the pipeline of potential educators and leaders across our nation.
---
What is the Higher Education Act?

Like it's elementary and secondary education counterpart, the Higher Education Act was originally created in 1965. Last comprehensively reauthorized in 2008 as the Higher Education Opportunity Act (HEOA) (and amended several times since), the overarching law governing higher education programs and student loan programs will likely be updated in its next reauthorization to address ever-growing issues of affordability and cost; equitable access and completion; information availability; and accreditation and oversight, among many other issues.
---
How does the Higher Education Act work, particularly with respect to early childhood education?

The implementation of the Higher Education Act is managed by the US Department of Education, which administers federal grants and loans, including Pell grants, and develops regulations that guide states and institutions of higher education in the implementation of the law. HEA is made up of eight titles; although all are important and there are many opportunities to elevate early childhood education and educators, NAEYC's priorities for improvement are in Title II, which governs teacher quality provisions and Title IV, which governs student aid.  
We are focused on these areas because Title II grants are designed to improve teacher preparation and we believe they can do more to address early childhood teacher preparation programs in particular. Aligning them to the professional preparation standards would provide greater quality assurance on what educators must know and be able to do, as well as a great ability to create articulated two and four-year degree programs. In addition, it will be critical to focus on adequate financial assistance and supports so that current and future educators can earn a degree and keep up with the rising costs of college expenses. HEA must also attend to the mixed delivery system of early childhood education and ensure that funding for loan forgiveness programs for early childhood educators is equitably accessible across all child care, Head Start, and prekindergarten settings.
---
Read NAEYC's latest recommendations, signed on to by a coalition of national and state organizations, regarding our collective recommendations for the reauthorization of the Higher Education Act. 

---
How does the Higher Education Act support children, families, and educators?

By supporting the pipeline and quality preparation of early childhood educators, the Higher Education Act and institutions of higher education can provide the necessary tools for teachers to positively impact children's learning and development at a critical stage of their development. In addition, by improving the quality of programs that prepare early childhood educators and leaders, HEA can have a direct impact on improving the quality of early childhood programs themselves. Attending to the alignment of professional development systems can also support educators working in a variety of settings and sectors to deliver high-quality early childhood education to all children, in their earliest years and beyond.
---
How can you support the Higher Education Act?

Sign up for NAEYC's America for Early Ed and Children's Champions email alerts and updates so you can take action when the time is right!
Talk to faculty and students at institutions of higher education in your community. What do they need to support early childhood education and educators?